How to expertly scoop your ice cream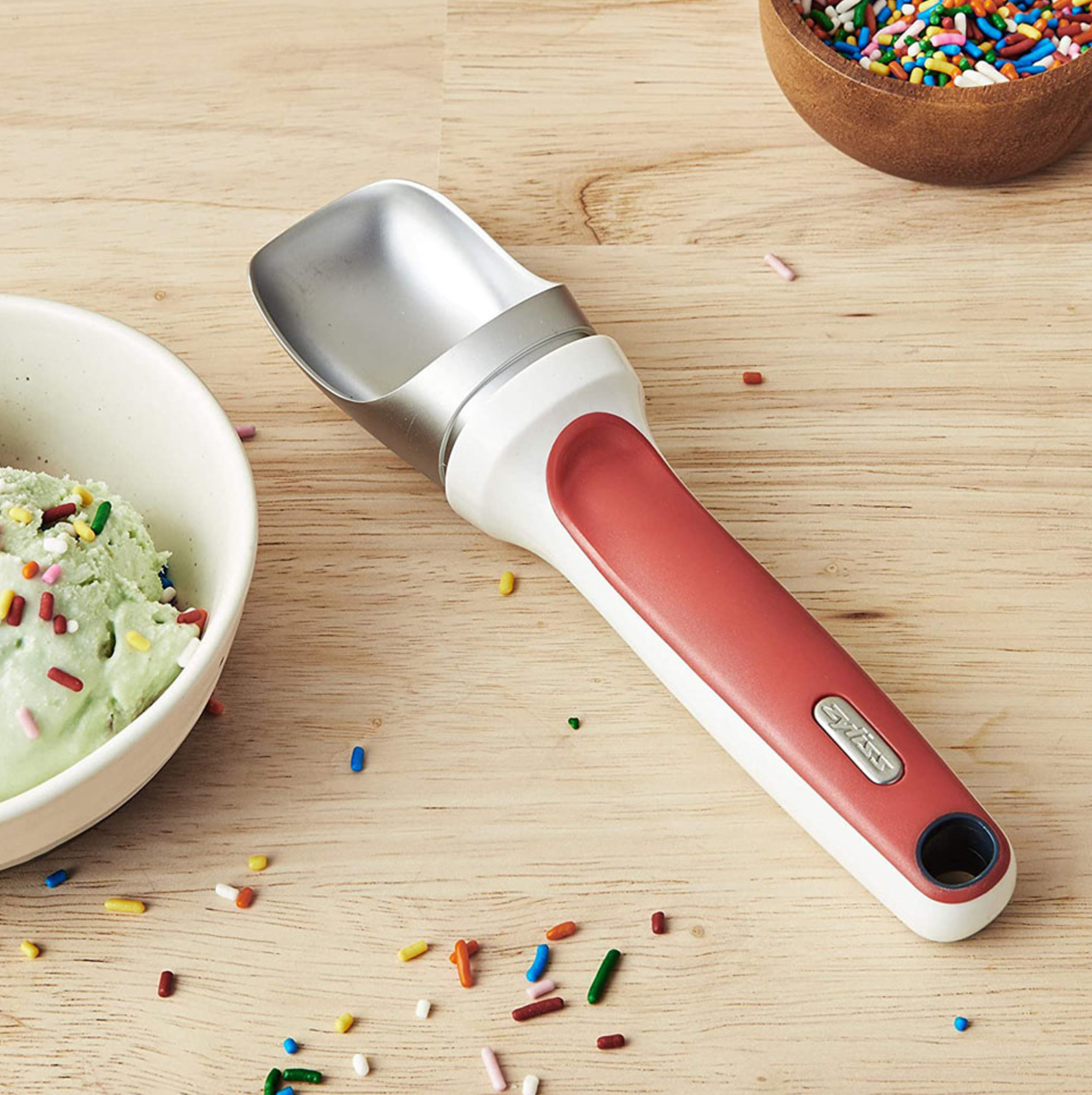 Refreshing and delicious — ice cream is the ideal treat to keep you cool as the weather hots up. And is there anything more satisfying than a perfectly round portion of the creamy dessert? Although a rustic dollop still tastes good, these tips on how to expertly scoop your ice cream will take your frozen dessert game to the next level and impress your dinner guests. So, read on to learn how to wield your ice cream scoop with confidence!
Keep it cold
Before we get onto the intricacies of the scooping action, perfecting the condition of your ice cream is a crucial aspect of your dessert prep. You'll need your ice cream to be cold and solid, but not rock hard.
It's a good idea to know the exact temperature of your freezer. Different appliances tend to vary, and this can affect when you need to remove your ice cream to get it to the ideal temperature for scooping. Aim to keep your freezer at -18℃ (0℉) to keep your ice cream (and any other food) fresh and safe to eat.
Let it thaw
This piece of advice might sound contradictory to the last point. Still, temperature is key when it comes to expertly scooping ice cream. Although you want to store your iced desserts at -18℃, that isn't the optimum temperature for enjoying the creamy richness ice cream has to offer. 
The ideal eating temperature is between -15 and -12℃ (5-10℉). You don't necessarily need to check it with a thermometer — though you can if you wish. However, you want to let the ice cream thaw slightly so you can get a smooth, full scoop. 
The ideal texture is firm but pliable. If you're eating ice cream from a cardboard carton, a gentle squeeze on the sides of the packaging should help you assess whether it needs more thawing.
Ice cream in a hurry
If you don't have time to wait for your dessert to thaw and are wondering how to scoop hard ice cream, then don't worry. Our Zyliss Right Scoop Ice Cream Scoop is constructed from heavy-duty zinc, which retains warmth so you can get through even the frostiest of gelato quickly and efficiently.
Another option for scooping ice cream in a hurry is to use a warm knife to score a grid across the surface of the entire tub. Then follow the next steps.
Using the right ice cream scoop
If you've ever tried to scoop ice cream with a dessert spoon, you'll know it doesn't achieve that professional aesthetic. Of course, it eventually gets the job done, but slicing away takes a lot longer and doesn't offer the same feast for the eyes. 
An ice cream scoop, as the name suggests, is the top tool to go for. But what should you look for in an ice cream scoop?
Ideally, you want something with a comfortable, ergonomic handle. This feature is essential in making sure it doesn't slip and make a mess — even if you get a bit of melted ice cream over it! If you struggle with dexterity in your hands, a good handle will also make the task easier, especially if you're serving lots of guests.
You also ideally want a scoop with sharp edges so it can glide through your ice cream or frozen desserts effortlessly. This aspect can be especially useful if you go for textured ice cream with pieces of fruit, chocolate, or cookie dough mixed in. And, of course, a scoop with a wide bowl is key to serving up a generous portion in a single smooth motion. 
You may see suggestions of heating the scoop by running it under hot water. However, ice cream experts seem to agree that a dry, room temperature scoop is most effective. If you've already thawed the dessert to the optimum temperature, then a hot spoon would just melt it further. 
Go in from the sides
Now you've got your dessert at the perfect temperature and have your equipment at the ready, it's time to expertly scoop your ice cream.
Holding the handle firmly, you want to use the side edge of the scoop to glide through the ice cream in either a circular motion or in an 'S' shape. You may like to try each movement to see which achieves the roundest, most even balls. 
It's best to make the motion swift, so the ice cream doesn't melt too much before it reaches the bowl or cone.
Hide any messy scoops!
We're sure that with a good-quality ice cream scoop and expert technique, your dessert will look fabulous (and taste even better). However, if you have any messy ice cream balls, don't worry. You can always add another one on top to cover it!
Alternatively, you can add extra flavour and texture to your dessert whilst cunningly hiding any less-than-perfect portions with some delicious toppings. Broken biscuit pieces, healthy berries, and crushed meringue all make excellent ice cream additions. Crushed nuts can add a bit of texture. 
If you fancy adding a healthy vitamin boost to your pudding, you could always serve your ice cream alongside a fresh and vibrant fruit salad.
And for an elegant look, a zest grater is your best friend when it comes to covering up any misshapen scoops. So whether you go for lashings of grated chocolate for your ice cream or lemon zest for your sorbet, you can sprinkle the toppings across the bowl for an artistic appearance. You can grate toppings over ice cream cones, too. 
Serve
And now your dessert is ready to go. Serve and enjoy! Whether you go for rich ice cream, refreshing sorbet, or a light yet creamy frozen yoghurt, learning how to expertly scoop can add the finishing touch to your pudding. 
And once you've enjoyed your treat, clean up is a doddle with Zyliss ice cream scoops. Just pop the whole thing into the dishwasher for easy maintenance.
-----
Liked this? Read more related articles from the experts at Zyliss: