Easy-Peasy Pinwheel Pizzas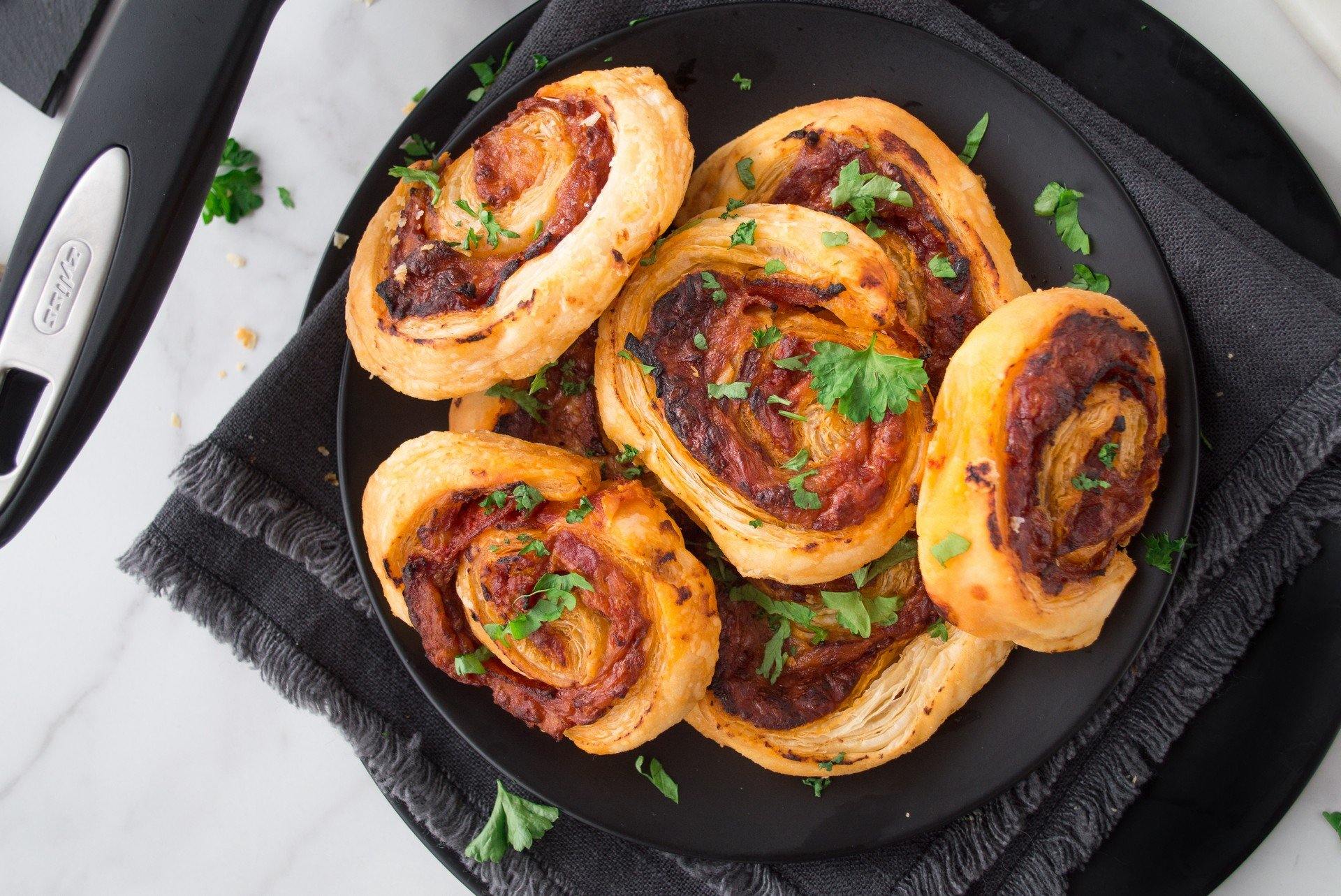 Prep: 5 mins
Cook: 45 mins
Product(s)
Superior Ceramic Induction Safe Saute Pan 28cm
Ingredients
For the sauce:
1tbsp olive oil

1 small red onion

1 clove garlic, crushed

1tbsp tomato puree

1 yellow pepper, finely diced

300ml tomato passata

1tbsp smoked paprika

Salt & pepper to taste
For the pinwheels:
375g puff pastry (14×10 inches sheet)

100g pepperoni

150g grated mozzarella

Fresh chopped parsley for garnish
Method
Heat up the olive oil in

Zyliss Cook 28cm Non-Stick Frying Pa

n and add onion and garlic. Fry over medium heat for a couple of minutes until golden brown. Add the tomato paste and yellow pepper to the pan and fry for a further 5-7 minutes until the pepper has slightly softened. Stir in tomato passata, smoked paprika and salt & pepper and cook over medium heat for 10-12minutes until the sauce has slightly reduced and thickened. Take off the heat and cool down.

Preheat the oven to 180C Fan/350F/Gas Mark 4 and line a baking tray with parchment paper. Set aside.

Sprinkle the work surface with a little flour and roll out the puff pastry. Evenly spread the tomato sauce over the pastry sheet, leaving 2-inch borders all around the sheet. Layer the pepperoni on top of the tomato sauce, sprinkle with grated mozzarella and roll the pastry from the bottom edge away from you in a shape of a tight roll. Cut the roll into even 2-3 inch thick slices with a serrated knife.

Place the pinwheels onto a baking tray (take care not to place them too close to each other as the pastry will puff out as they bake). Bake in the oven for 18-25mins or until golden brown.