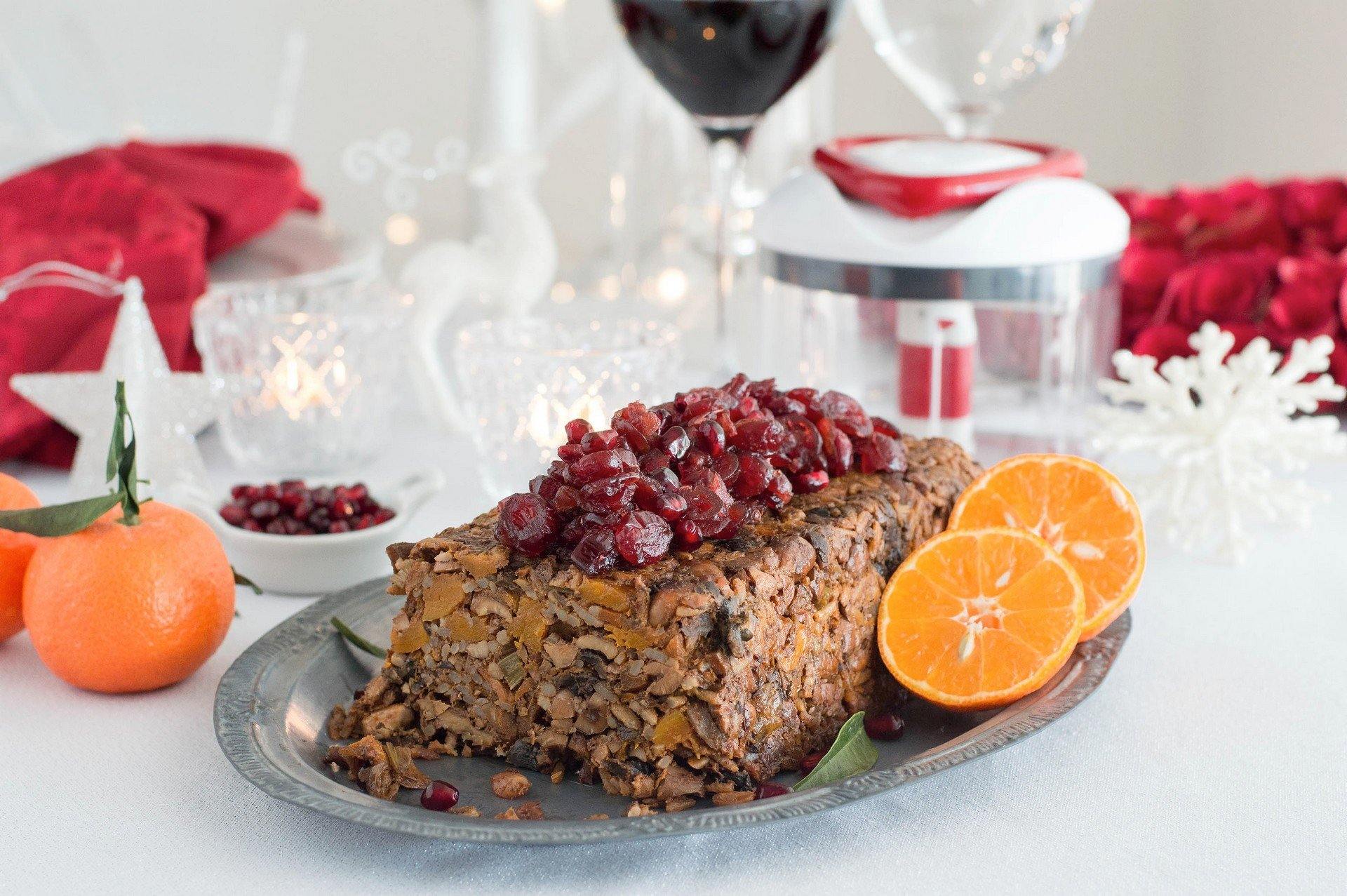 Prep: 20 mins
Cook: 2 hours
Product(s)
Ingredients
For nut roast:
200g mixed nuts

1 medium butternut squash (200g)

3tbsp olive oil

Salt & pepper to taste

2 flax eggs (2tbsp flaxseed meal mixed in with 6tbsp water)

1 medium onion, finely chopped using Easy Pull

2 garlic cloves, minced

1 carrot, roughly chopped using Easy Pull

3 celery sticks, roughly chopped using Easy Pull

200g mushrooms, roughly chopped using Easy Pull

2tsp smoked paprika

1/4tsp nutmeg

1tsp cinnamon

¼ tsp ground cloves

¼ tsp chilli flakes or to taste

1tbsp tomato puree

Zest of 2 satsumas

150g cooked brown rice
For cranberry topping:
1 cup dried cranberries

2tbsp maple syrup

10tbsp water

1tsp cinnamon

¼ tsp ground nutmeg

1/4tsp ground cloves

Pomegranate seeds for garnish (optional)
Method
Preheat the oven to 170C. Grease a loaf tin with olive oil and line with parchment paper. Set aside.
Spread the nuts on a baking tray and toast in the oven for 10-15 mins until golden brown. Cool down and chop roughly using Easy Pull.
Peel the butternut squash. Cut in half & scoop out the seeds. Dice into small cubes and roast in the oven for 25-30 mins until soft.
Whilst the squash is roasting, prepare the flax eggs by mixing 2tbsp ground flaxseed with 6tbsp water. Mix well and set aside.
In the meantime, heat up 1 tbsp olive oil over medium heat in a big pan. Fry the onion for a couple of minutes until just softened. Add garlic, carrot, celery, mushrooms, all the spices, tomato puree, satsumas' zest and rice and cook for 5-10 minutes.
Add roasted squash into the pan with the stuffing, season with salt & pepper and cook for a further 2 minutes.
Transfer the stuffing from a pan into a mixing bowl, add chopped nuts and flax eggs and mix well. Tightly pack the stuffing into a greased loaf tin lined with parchment paper. Cover with foil and roast for 1 hour and 20 mins, taking the foil off for the last 20 mins of roasting time.
To prepare the cranberry topping, mix all topping ingredients in a small saucepan and heat over medium heat. Simmer for 10-15 mins until the cranberries have softened and most of the water absorbed.
Remove the nut roast from the oven and allow to cool for 5-10 mins before taking it out of the tin. Transfer to a serving plate, top with cranberry topping and pomegranate seeds if using.