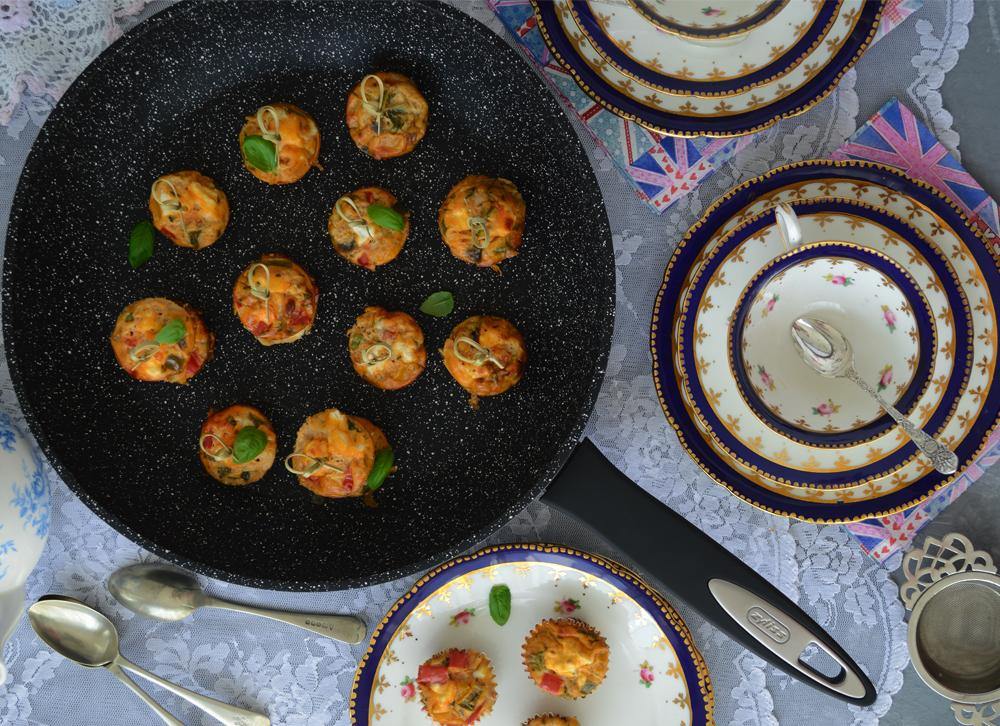 Prep: 5 mins
Cook: 35 mins
Product(s)
Ultimate Non-Stick Induction Safe Frying Pan
Ingredients
1 tbsp olive oil + extra for greasing

1 medium size red onion, finely diced

1 tsp coconut sugar (or normal sugar)

½ red bell pepper, finely diced

½ yellow bell pepper, finely diced

½ green bell pepper, finely diced

1 medium tomato, finely diced

1 tsp smoked paprika

1/8 tsp red chilli flakes (optional)

Salt & pepper to taste

5 eggs, lightly beaten

30g goats cheese

A bunch of fresh basil, finely choppe
Method
Preheat the oven to 180C fan. In a medium size pan, fry the red onion with 1 tbsp olive oil on a medium heat for 2-3 minutes. Add sugar, stir well, reduce the heat to low and fry for another 5 minutes until the onion has softened.
Add the peppers into the pan and fry over high heat for a couple of minutes. Mix in the tomato, smoked paprika and chilli flakes (if using), season with salt & pepper and cook for a further 5 minutes until the vegetables have softened. Take the pan off the heat and let it cool down.
Beat the eggs. Mix the cooled vegetable mixture into the eggs and stir well.
Grease the mini cake tin with olive oil (or you can use paper cake cases instead). Gently spoon 1 tablespoon of the egg mixture into the cake tin, add a layer of crumbled goats cheese and top with more egg mixture (ensure not to overfill the moulds).
Bake in the oven for 15-20 minutes until golden and cooked through.
Let the quiches cool down slightly before running the knife around the moulds to release the quiches from the tin.