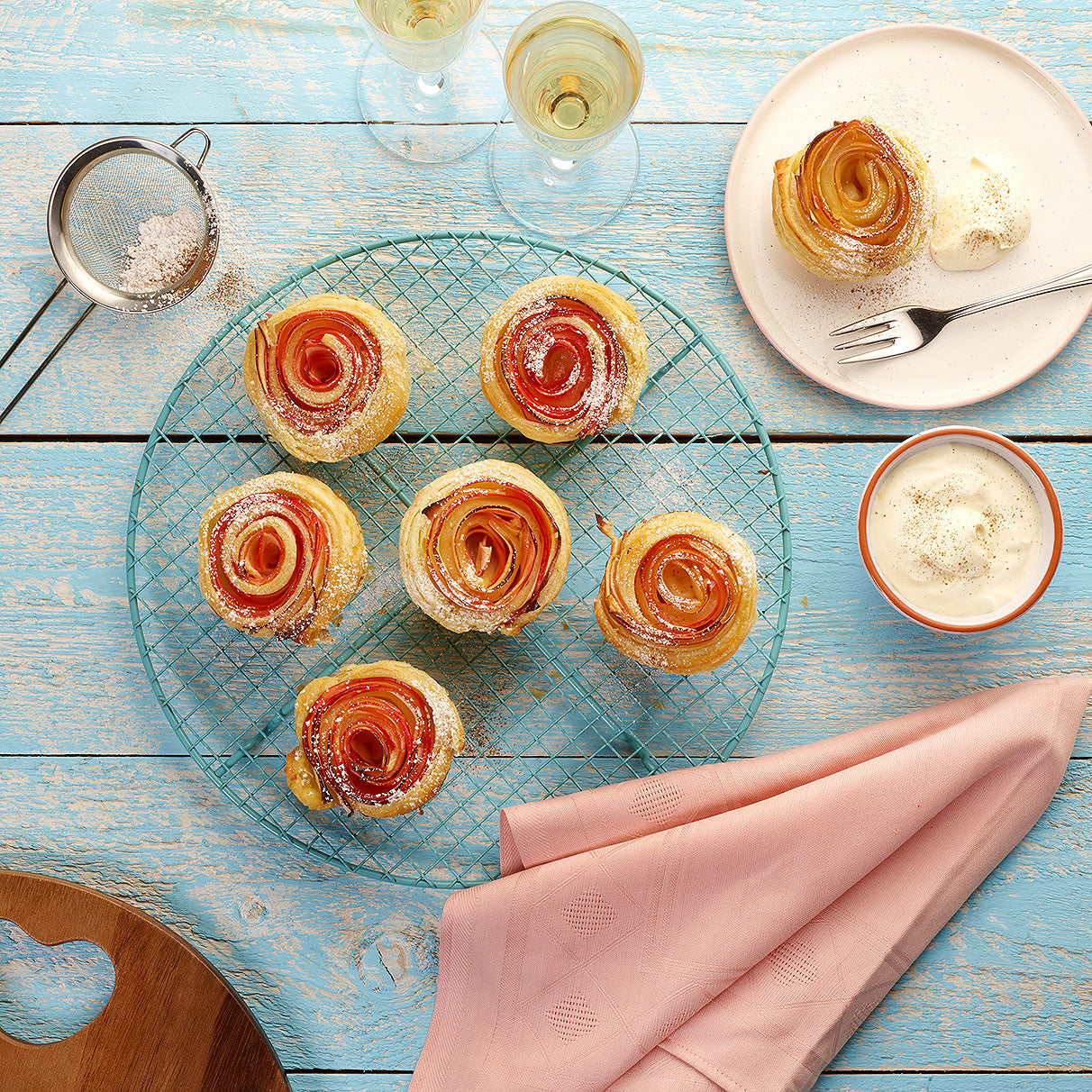 Prep: 40 mins
Cook: 20 mins
Product(s)
Ingredients
25g unsalted butter, melted

2 x 320g packs ready-rolled puff pastry sheets (remove from fridge 20 minutes before using)
4 large red-skinned eating apples
2 tbsp. lemon juice
2 tbsp. apricot glaze
1 tbsp. icing sugar
½ tsp ground cinnamon
Cream or crème fraiche, to serve
Method
Preheat the oven to 220C/200C fan/Gas Mark 7. Use a little of the melted butter to grease 8 holes of a 12-hole muffin tray. Place a baking sheet in the oven to heat up (this helps to ensure a crisp pastry base).

Spiralise the apples into sheets using Zyliss SpiraSlice sheet blade. Cut all the sheets in half widthway so you have lots of long thin strips of apple. Drizzle with the lemon juice.
Unroll one pastry sheet, keeping it on the paper. Using a rolling pin, roll the pastry a little thinner to make a 38 x 24cm sheet. Cut into 4 long strips each about 6cm wide. Brush each strip with some of the apricot glaze.
Lay some of the apple slices, overlapping, along the top edge of one strip of pastry. Don't worry if some of the slices break. Fold up the bottom half of the pastry to just cover the lower edges of the apple slices. Press down gently then roll up tightly from one side to make a 'muffin-shaped' pastry. Gently ease the pastry into one greased muffin hole.
Repeat to make 3 more pastries then unroll the second pastry sheet and make another 4 pastries. Brush the tops with the rest of the melted butter. Place the muffin tray on the hot baking sheet in the preheated oven and bake for 20-25 minutes until the pastry is crisp and golden. If the apples start to over-brown before the pastry is cooked just cover the tops loosely with foil.
Use the tip of a palette knife to gently ease the pastries out of the muffin tray. Transfer to a wire rack. Cool for 5 minutes. Mix together the icing sugar and cinnamon and sift over the pastries. Serve warm or cold with cream or crème fraiche, if liked.