Vegetarian Whipped Feta and Mint Dip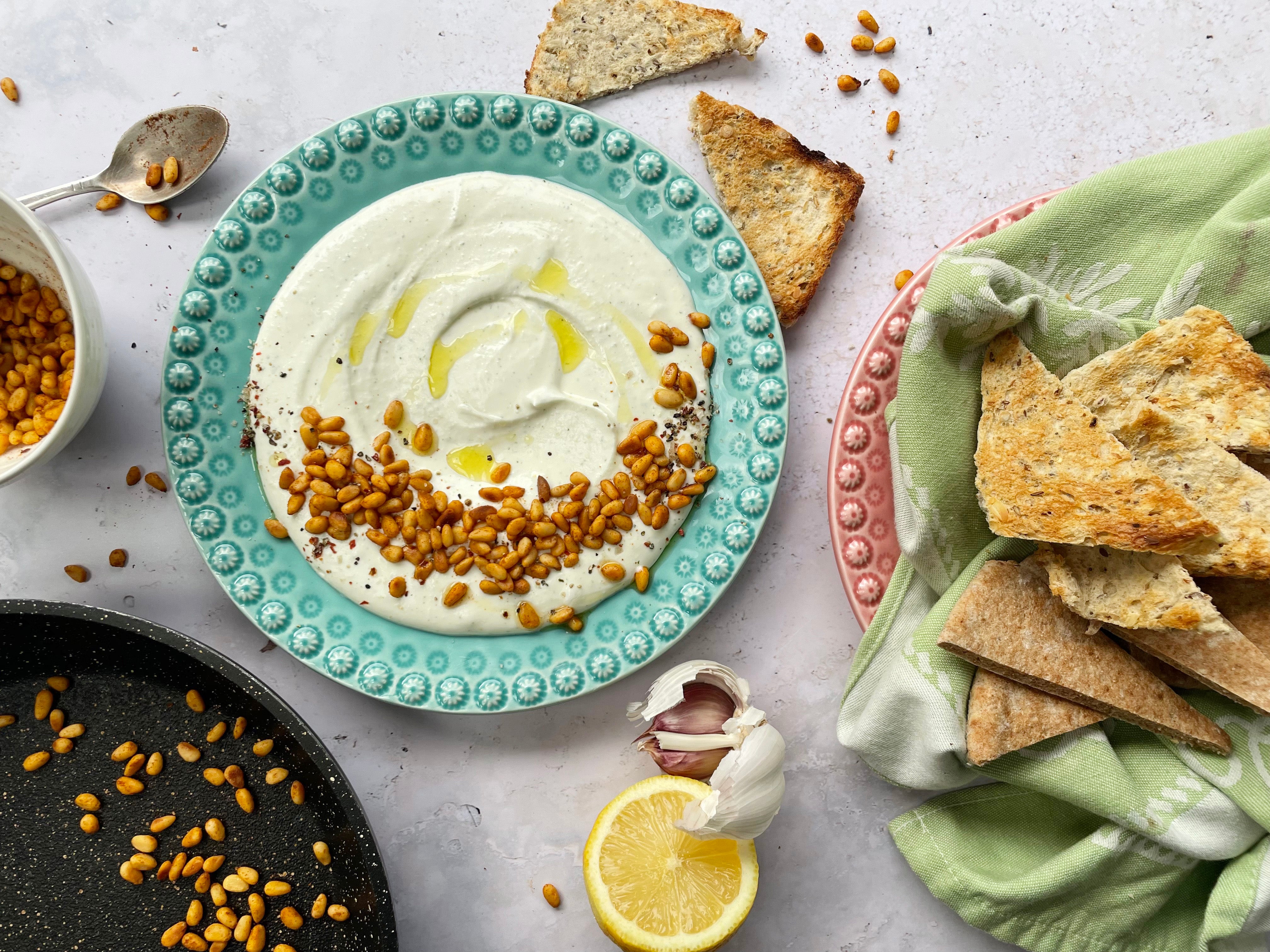 by Dominic Franks from DomInTheKitchen.com @DomInTheKitchen
I've seen a few versions of this dip in many of the supermarkets and also all-over social media recently, so I thought I'd turn my hand to it.  It's so incredibly easy to make and ultimately so wonderfully delicious, I can see why it's so popular.  This kind of dip is perfect for summer picnics or fun social gatherings and will be loved by adults and even the kids too.  It works particularly well served with some crispy toast or warm pitta, but crunchy vegetables would be nice too.
Kitchen Tools Needed:
Zyliss Zyliss Ultimate Non-Stick Frying Pan

Prep:  10mins
Cooking time: no cooking
Difficulty: Easy
Serves: 6-8
Ingredients:
For the whipped feta dip
1 block feta
2 tablespoons Greek yoghurt
1 tablespoon fresh mint leaves – roughly chopped
1 garlic clove – peeled
1 teaspoon olive oil
The zest and juice of one lemon (or a few slices of preserved lemon)
Salt and pepper to taste
For the toasted pine nuts
A handful of toasted pine nuts
1 teaspoon smoked paprika
TOAST THE PINE NUTS
Start with the pine nuts.  Place your pan onto a medium heat and allow the pan to come up to temperature.
Add the pine nuts and allow them to gently toast until they turn a glorious golden brown. They will need constant supervision and frequent tossing.
Once they golden, take them off the heat and toss in the smoked paprika.  Set aside.
Place all the ingredients into a food processor and whizz for a couple of minutes until everything is whipped and creamy.  Add salt and pepper to taste.
Pour out into a shallow bowl, drizzle with olive oil and sprinkle the toasted pine nuts on top. You can add some finely chopped preserved lemon too.
Tip: The dip will keep in the fridge for 4 days.