Torta di Rose "Rose Cake"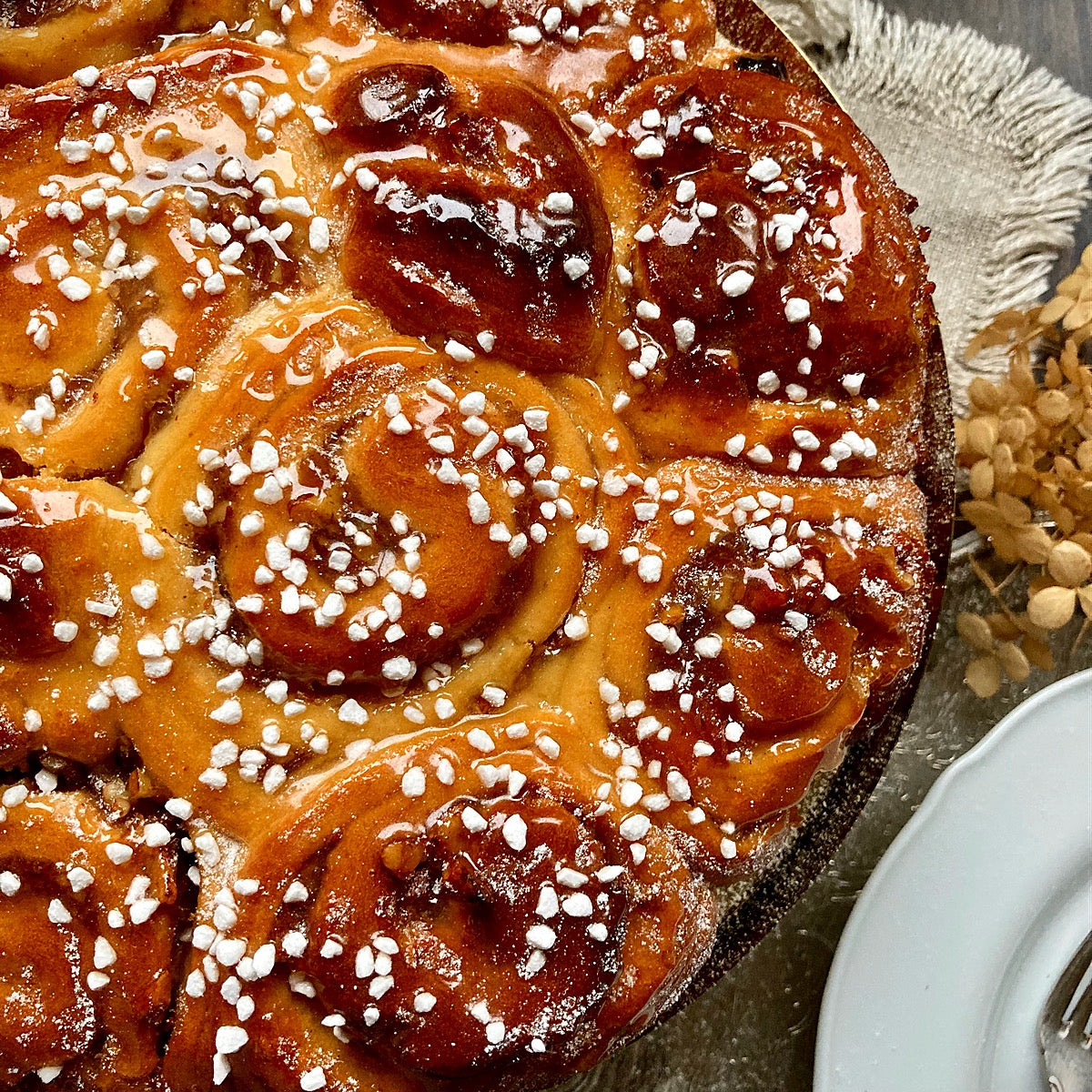 This yeasted cake is a great tear and share which will be enjoyed by all the family. I remember being the first bake after the newest kitchen gadget bought by my mother and it was a real surprise. Traditionally served with simply butter and sugar, my version is using a cinnamon and apple compote, with crunchy pecans to be in theme with Christmas festivity.
Kitchen tools needed: Zyliss Non-Stick Carbon Steel Pop-Out Cake Pan
Prep: 20 mins + proofing and shaping time 
Cook: 40 mins
Difficulty Medium
Serves 10-14 depending on size of the roses
Ingredients
For the dough:
300g 00 flour – also fine sponge flour
200g strong bread flour
21g fast action yeast
100g caster sugar
1 ½ tsp of vanilla paste
1 grated lemon peel
2 large eggs
150ml warm milk
1 tsp fine salt
80g softened unsalted butter
For the butter filling:
100g unsalted butter
100g caster sugar 
For the jam filling:
220g of your favourite jam, I used apple and cinnamon compote
50g finely chopped pecans
For the finish:
1 tbsp honey. I melted this for 20 seconds in the microwave
Caster sugar
Icing sugar
Method
In a large bowl, sieve the flours and mix the fast action yeast.
Create a well and in the middle of this, add sugar, vanilla paste, the eggs lightly beaten and the grated lemon zest.
Combine everything with a fork and add the milk little at the time, and the salt.
To the mix, add the softened butter and work the dough for about 10 minutes on a surface until all wet ingredients are incorporated.
Place the dough in the same bowl, cover with clingfilm and let it rise until double in size. Depending on the temperature, this can take up to 3 hours. In the meantime, prepare your butter filling by creaming the butter and slowly adding the sugar.
Once the dough has risen, remove from the bowl and firstly flatten this using your hands, and then with the help of a rolling pin, create a rectangular shape about 35x50 cm. At this point, spread your chosen filling, leaving just 1 cm from the edges and roll on itself from the longest side.
With the help of a knife or a dough scraper, cut as many or as little rounds of the same size, and place in the lined baking tin. Leave the dough to rise for a second time for about 20minutes.
Pre-heat your oven at gas mark 6/200°C static or 190° fan assisted. Bake on the medium shelf for about 20minute. Then cover in foil and finish baking.
Brush the surface with honey and sprinkle with sugar crystals and icing sugar.

 
TIP: 
Place in smaller tins to make lovely gourmet

 

gifts.
Before eating, reheat a little.
Preserve in an airtight container and consume within 48 hours.