Lamb Kofta Burger, Tahini-Ziki-Mayo, Za'atar Wedges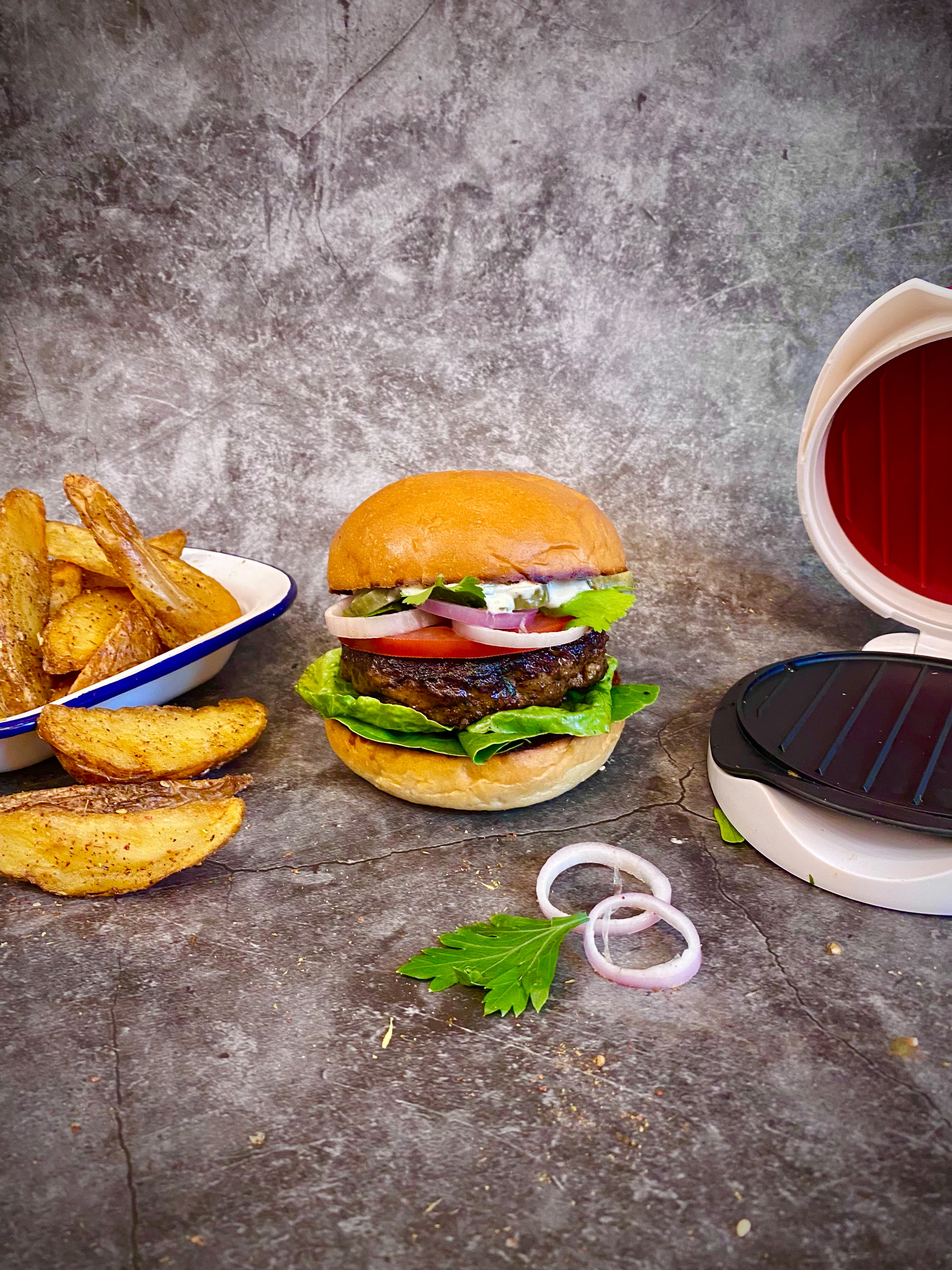 By James Bacon @jamesbaconcooks
This recipe comes from two of my favourite late night bites - yes you guessed it, kebabs and burgers! However, this isn't just for late night munchies, it sits nicely as a Sunday BBQ burger alternative or midweek dinner with friends. The lamb is nicely spiced to create a super tasty and succulent patty, that is complimented fantastically with my "Tahini-Ziki-Mayo", and along with the Za'atar potato wedges - this meal has it all. Go on, give it a try!
Kitchen tools needed: Zyliss  Burger press, Zyliss Easy pull food processor Zyliss folding Mandolin food slicer Zyliss knife set Zyliss superior ceramic frying pan.
Ingredients for the Lamb Kofta Burger Patty
1kg of lamb mince
2 tsp coriander seeds
2 tsp cumin seeds
1/2 tsp pepper corns
1/4 tsp turmeric
1/2 tsp chilli powder (you can double this for spicy version or leave it out totally for a milder version)
1 handful of fresh coriander leaves (finely chopped in Zyliss Hand pull chopper)
1 handful of fresh parsley leaves (finely chopped in Zyliss Hand pull Chopper)
1 medium onion (grated)
1 1/2 tbs of Sea Salt
1 egg yolk
Ingredients for the Burger
4 burger buns
1 large tomato (I used a beef tomato and sliced with Zyliss Mandolin)
2 banana shallots or 1 red onion (sliced with Zyliss Mandolin)
2 sliced burger pickles
1 little gem lettuce or shredded iceberg lettuce
a good dollop of Tahini-Ziki-Mayo (see below)
fresh coriander leaves (optional)
fresh parsley leaves (optional)
Ingredients for the "Tahini-Ziki-Mayo"
2 tsp of tahini
3 tsp of Greek yoghurt
5 tbs of Mayo
juice of 1/2- 1 lemon (depends how sharp you like it)
1/4 of a cucumber (grated and water squeezed out)
1 tbs of gherkins of burger pickles (finely chopped)
a pinch of Salt and Pepper
Ingredients for the Za'atar Wedges
4 medium Maris Piper potatoes
1 chicken stock cube or pot
1-2 tbs of Za'atar
plenty of salt
Add all the ingredients for the kofta lamb patties into a large mixing bowl and combine with your hands or a fork (hands are best), then take a small piece of the mixture and form a tiny patty and cook in a frying pan so you can check for seasoning. When the seasoning is correct, separate the mixture into four and follow Zyliss burger instructions, and place the patties in the refrigerator for 1/2 an hour.
Wash the potatoes but don't peel them, then cut in half lengthways, then in half again and then, half again until you have wedges around 2cm thick.
Rinse well to remove starch then bring a large pan of water to the boil with the chicken stock cube/pot and a pinch of salt and boil until tender.
Drain the potatoes and let cool. While they boil you can mix all the ingredients for the "tahini-ziki-mayo", check for season and then refrigerate.
You can finish your wedges either by baking them (healthy way) or deep frying (not so healthy way). To bake, pre heat oven to 200c, place in baking tray with a good glug of olive oil and bake for 30 mins until golden and crunchy. Or alternatively heat a a pan of oil to 180c or set fry to 180c and fry until golden and crunchy, about 8-10 mins.
Make sure all your burger toppings are all out and ready to hand, then around 10 mins before the wedges are done start frying the burgers on a medium/high heat, they should take 4-5 mins on each side.
When they're done, build your burger.
Now all that's left to do is season those wedges, the best way to do this is to pour them in to a large bowl and then sprinkle with the salt and of course the Za'atar with one hand while shaking them round the bowl with the other hand.
TIP : 
To stop the juicy burger sliding around on the bun, put the patty on first as the bread will help absorb the juices. If you add lettuce/tomato first, the patty will slide and it could be messy!