Green Beans and Mushroom Risotto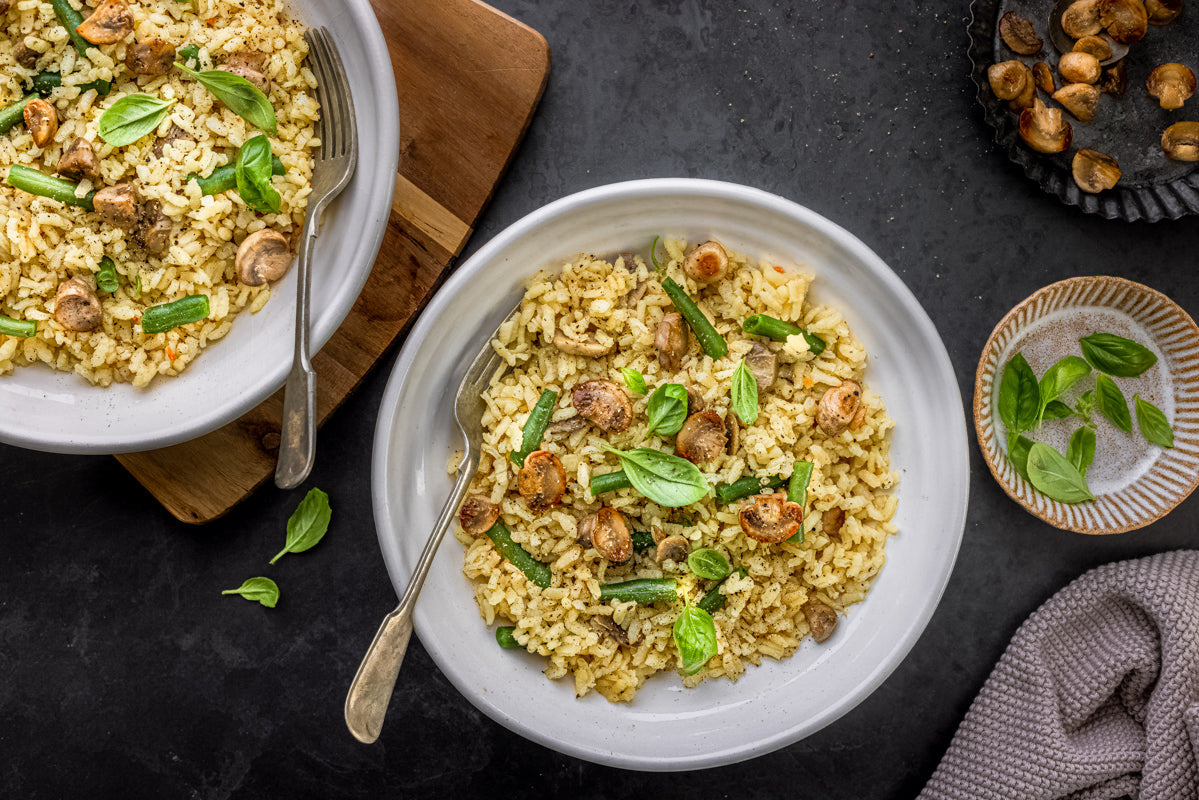 by Sandhya Hariharan - @sandhyaskitchen
This homemade Green beans and mushroom risotto is totally worth the extra effort!  It is really simple, easy to prepare, and tasty, so you will reach out for an extra serving.
For the best flavours, I like to cook the mushrooms until golden and then reserve some to pile on top. And it looks better too! 
If you don't want to use alcohol in the recipe, use a little more stock and a squeeze of lemon juice for the flavour.
You can serve it as a side dish along with a salad and Italian bread or enjoy it as a main dish.
Serves 3
Prep time - 5 minutes
Cook time - 30 minutes
2 tbsp olive oil
3 tbsp butter
200g Arborio rice
600 -700 ml Hot Vegetable Stock
70ml White wine
1 medium white onion, diced
2 cloves garlic, minced
250 g chestnut mushroom
100 g green beans
basil for garnishing
salt and pepper to taste
Method:
Heat oil in a shallow saucepan over medium flame.
Add onion, and garlic and sauté for 5 minutes or until translucent.
Add the sliced mushrooms, season with salt and pepper and cook for a further 7 minutes or until mushrooms are golden. If you like, reserve some to pile on the top.
Now add the risotto rice to the pan and sauté for 1 minute.
Pour the white wine and allow it to bubble.
Add the stock in 3-4 batches, making sure they are absorbed. Stir in between.
In the meanwhile, blanch the green beans in salted water and drain.
When adding the last batch of stock, add the green beans, and butter, season with salt and pepper and stir through. Cook for 2 minutes. Turn off the flame and allow it to rest for 5 minutes to absorb the liquid.
Spoon the risotto into bowls, pile the mushrooms, scatter the basil and serve.
Tip - If you love a classic Mushroom risotto, soak 50g of Porcini mushrooms in the hot water for 20 minutes. Add them along with chestnut mushrooms in the initial stage.