Vegetarian Stew with Cheesy Dumplings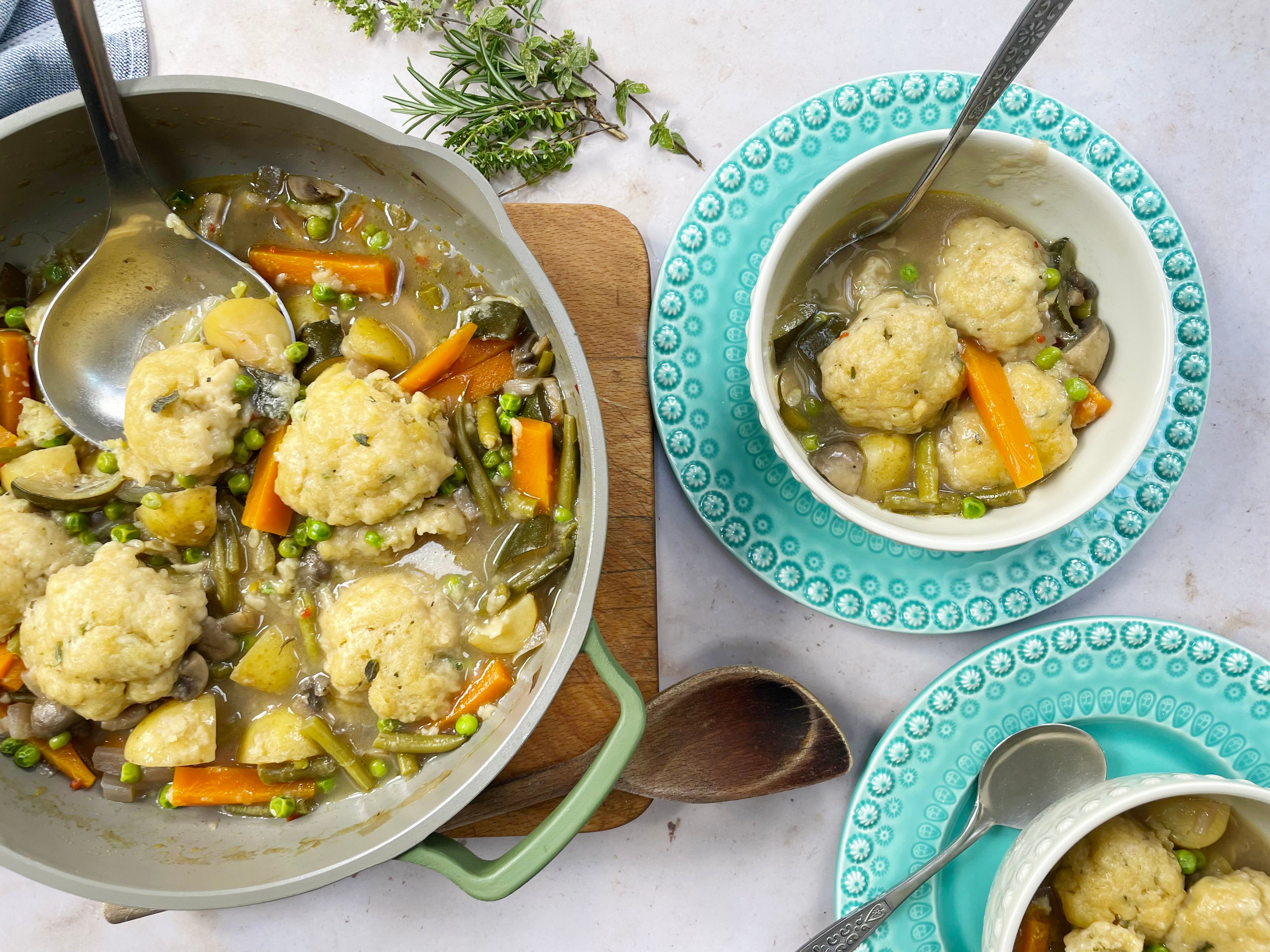 by Dominic Franks from DomInTheKitchen.com @DomInTheKitchen
This stew is really a celebration of the transition from summer to autumn. It uses up the last of the wonderfully sweet fresh summer vegetables such as new potatoes, green beans and peas all simmering in a light, white wine-based broth. But it's also hearty enough for these cooler evenings with the fluffy, cloud-like cheesy herb dumplings sitting on top.
It's one of my favourite go-to dishes that I make time and time again depending on which veg are in season and what I fancy to eat.  As the seasons progress I'll add more root vegetables such as swede and parsnips, or cabbage and cauliflower but for September I'm keeping it light and fresh.
Kitchen Tools Needed:
Ultimate Pro Saute Pan 28cm with a Lid
Zyliss Easy Pull Food Processor
Prep:  15mins
Cooking time: 1 hour
Difficulty: Easy
Serves: 2-4
Ingredients:
1 tablespoon olive oil
1 red onion – chopped
Roughly 6 button mushrooms – halved
1 medium courgette – chopped
1 teaspoon fresh rosemary - chopped
Salt and pepper
2 cloves of garlic – finely grated
1 carrot – peeled and cut into batons
6 new potatoes – chopped
A handful of green beans – chopped
A handful of frozen peas
1 tablespoon flour
800ml good quality vegetable stock
200ml white wine
For the cheesy herb dumplings
200g self-raising flour
100g cold butter - coarsely
50g strong cheddar cheese – coarsely grated
salt and pepper
Method:
Place your pan on a gentle heat and pour in a little olive oil. Stir in the onions until they begin to soften – roughly five mins, then stir in the mushroom and courgette and let them sauté for another 5 mins until they get a little bit of colour. 
Add the fresh rosemary, a generous pinch of salt and pepper and the grated garlic and stir well.
Add the carrots and new potatoes along with the green beans and stir in well.  Place the lid on, turn the heat down to its lowest and let the veg sweat for 5 mins.
Remove the lid and stir in the flour, then pour over the stock and white wine. Bring it to the boil and then reduce down to its lowest heat and let it gently simmer for at least 30 mins with the lid on. After 30 mins I turn off the heat and let the stew cool down by at least half before I cook the dumplings, (if not the next day – see TIP below for instructions.)
Place all the ingredients into a large bowl and season well.  Add a little cold water and bring it together with your fingertips until a light soft dough is formed.  Keep it all light and quick and try not to over-handle the dough.
Once you're ready to cook, ensure the stew it nice and hot and stir in the frozen peas. Divide the dough into roughly 8 or 10 little balls and place them onto the top of the stew.  Place the lid on the stew and let them cook on a gently heat for 15 minutes. Take the lid off and place them under the grill for 5 mins more if you want a crispy finish.

Tip: 
This is the kind of dish that always tastes better the next day.  So try making the stew on the day before you're due to eat it, take it off the heat and place it somewhere where nobody will take a spoonful, then make the dumplings fresh just before you're ready to eat.