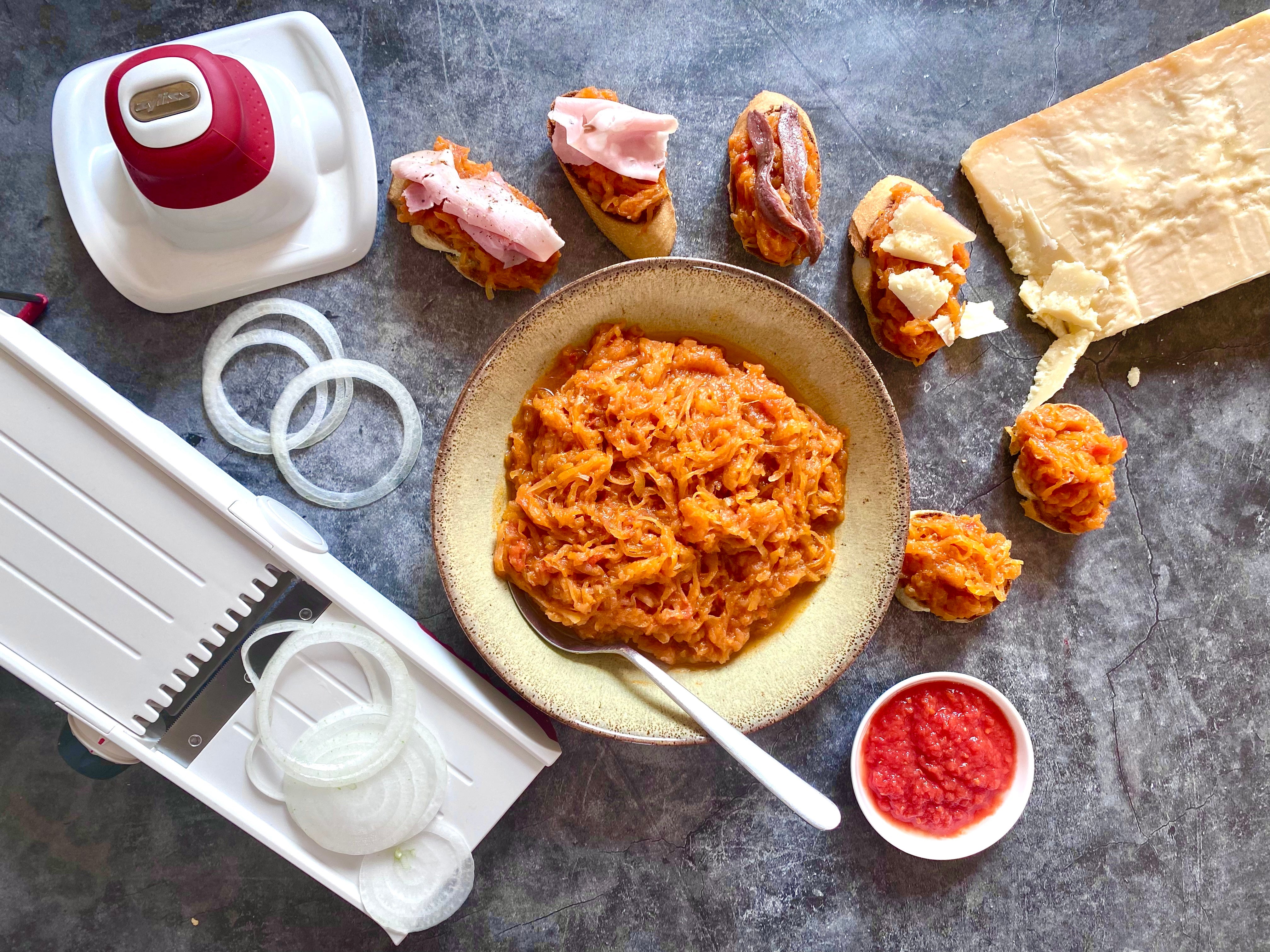 I found this dish by accident on my last visit to the Italian food capital Bologna.
Pronounced "Fridge-ee-ony" it's a really simple dish of slow cooked onions with a little Tomato that can be eaten hot or cold, with crusty bread or toast and you can even pimp it up with some other tasty toppings like cooked meat, Anchovies or shards of Parmigiano Reggiano cheese. It is so easy to make although it does take a bit of time so leave this one for a day off.
Kitchen tools needed: Zyliss folding Mandolin food slicer Zyliss superior ceramic Stock pot Large mixing bowl
Prep: 10 mins
Cook: 4—10 mins
Difficulty Easy
Serves 4

Ingredients:
2.5 kg of white Onions

1 can of whole plum Tomatoes

2 tsp of Lard (or for Vegetarians 1tsp of butter and 1tsp of olive oil)

1tbs of Tomato puree

1tsp Sugar

1 tsp Salt

1/2 tsp of fresh black Pepper
Method:
Start by peeling the onions and then slicing them on the Zyliss folding mandolin on the finest setting.

Then place them in the mixing bowl with a teaspoon of sugar and salt, mix and leave for at least 2 hours, but if you have the time leave for 4 hours as they will loose more water and come even sweeter and give them a stir every half an hour, to an hour.

In large a large stock pot, melt the lard or butter and olive oil and then add the onions with all the juices

Cook on a very low heat with a lid on for 2 hours stirring occasionally so they don't stick the the bottom.

Add the tomatoes, the tomato puree and black pepper and cook for another 1 and a half hours with the lid off to let the liquid reduce.

Serve in bowls to be shared with toasted bread and if you fancy, a selection of other tasty ingredients and toppings such as fresh basil, parmigiano reggiano, prosciutto and mortadella.
TIP: 
Try to keep an eye on it while cooking as to not let it stick and don't be tempted to increase the temperature this is a low and slow dish.