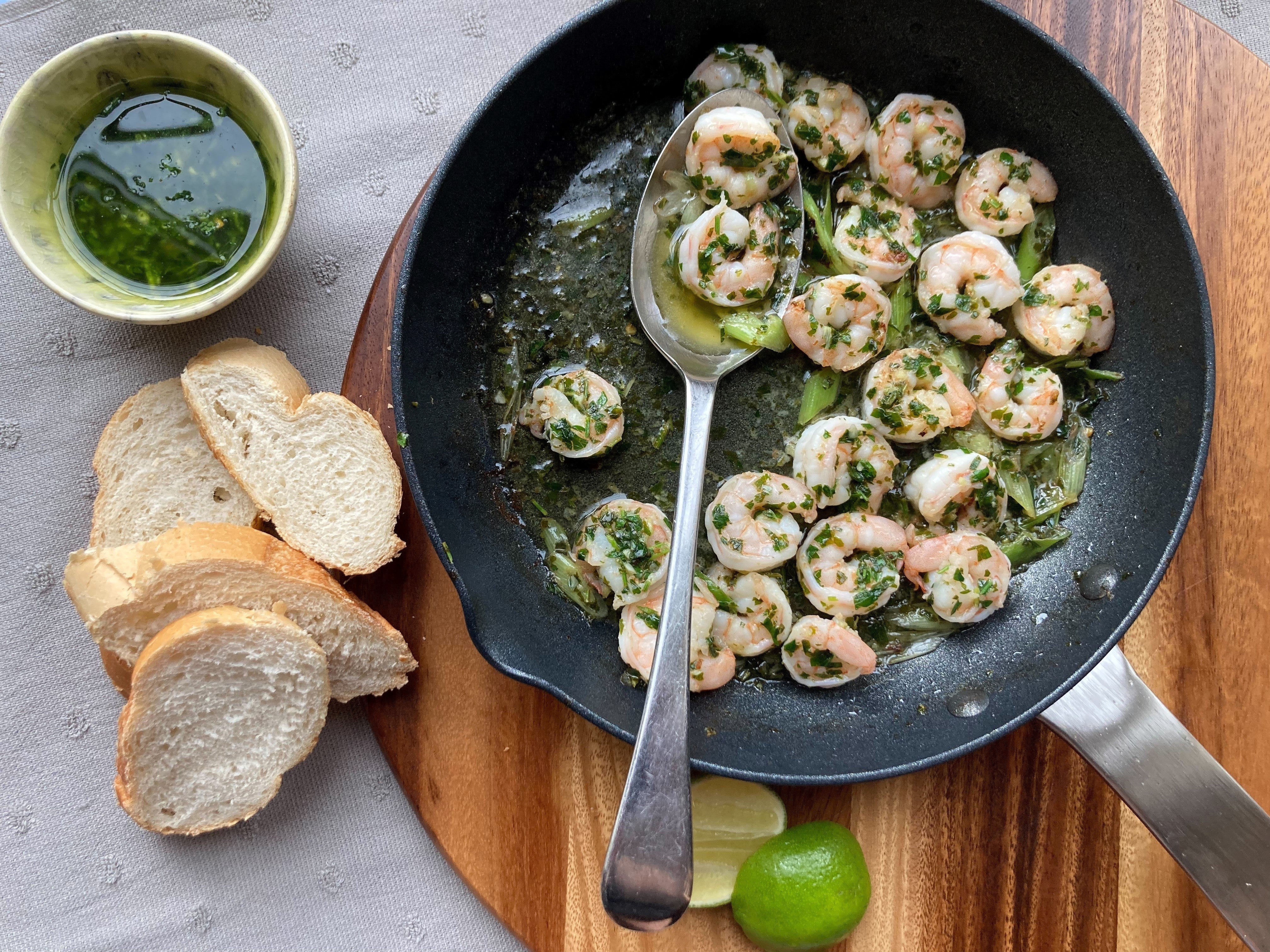 This quick and tasty pan-fried prawn dish makes a really flavoursome supper for two. Chimichurri is an Argentinian garlic and herb sauce that goes especially well with meat, fish and seafood. It's made in minutes using the super handy Zyliss Easy Pull Food Processor.
Kitchen tools needed: Zyliss Easy Pull Food Processor, Zyliss Superior Ceramic Frying Pan
Prep: 20 mins
Cook: 10 mins
Difficulty Easy
Serves 2
Ingredients:
20g fresh flat leave parsley, roughly chopped
20g fresh coriander, roughly chopped
2 garlic cloves
100ml olive oil
juice of 1 lime, plus extra wedges to serve
1tsp caster sugar
1 tsp crushed chilli flakes
1/4 tsp salt
3 spring onions, trimmed and diagonally sliced
250g jumbo king prawns, defrosted, if frozen and de-veined (see Tips)
crusty bread, to serve
Method
To make the chimichurri sauce place the herbs and garlic in the Zyliss easy Pull Food Processor with 1-2 tbsp of the olive oil and pull until finely chopped. Stop and scrape the chopped herbs down the side of the bowl every so often.
Transfer the chopped mixture to a bowl and stir in nearly all the remaining oil (reserving 1 tbsp) along with lime juice, sugar, chilli flakes and salt. Cover and chill in the fridge until you are ready to cook the prawns (see Tips).
Heat the reserved oil in the Zyliss Superior Ceramic Frying Pan over a high heat. Add the spring onions and prawns and cook over a medium high heat, stirring all the time, for 2-3 minutes until the prawns are pink and cooked through. Stir in half the chimichurri sauce and cook for a further minute.
Season with salt and freshly ground black pepper.
Serve from the pan with lime wedges to squeeze over and crusty bread to dip in the pan juices. Drizzle with some of the remaining chimichurri sauce, if liked.
Tips:
To de-vein prawns pat dry with kitchen paper then use a Zyliss Serrated Knife to score down the back of each prawn and reveal the dark vein. Remove and discard.
Add some fresh chopped chilli for an extra fiery flavour, if liked.
The sauce can be made 1-2 days in advance. Keep it covered in the fridge and give it a good stir before using. Any left over sauce can be served with char-grilled steak, grilled lamb or tossed through roasted vegetables.