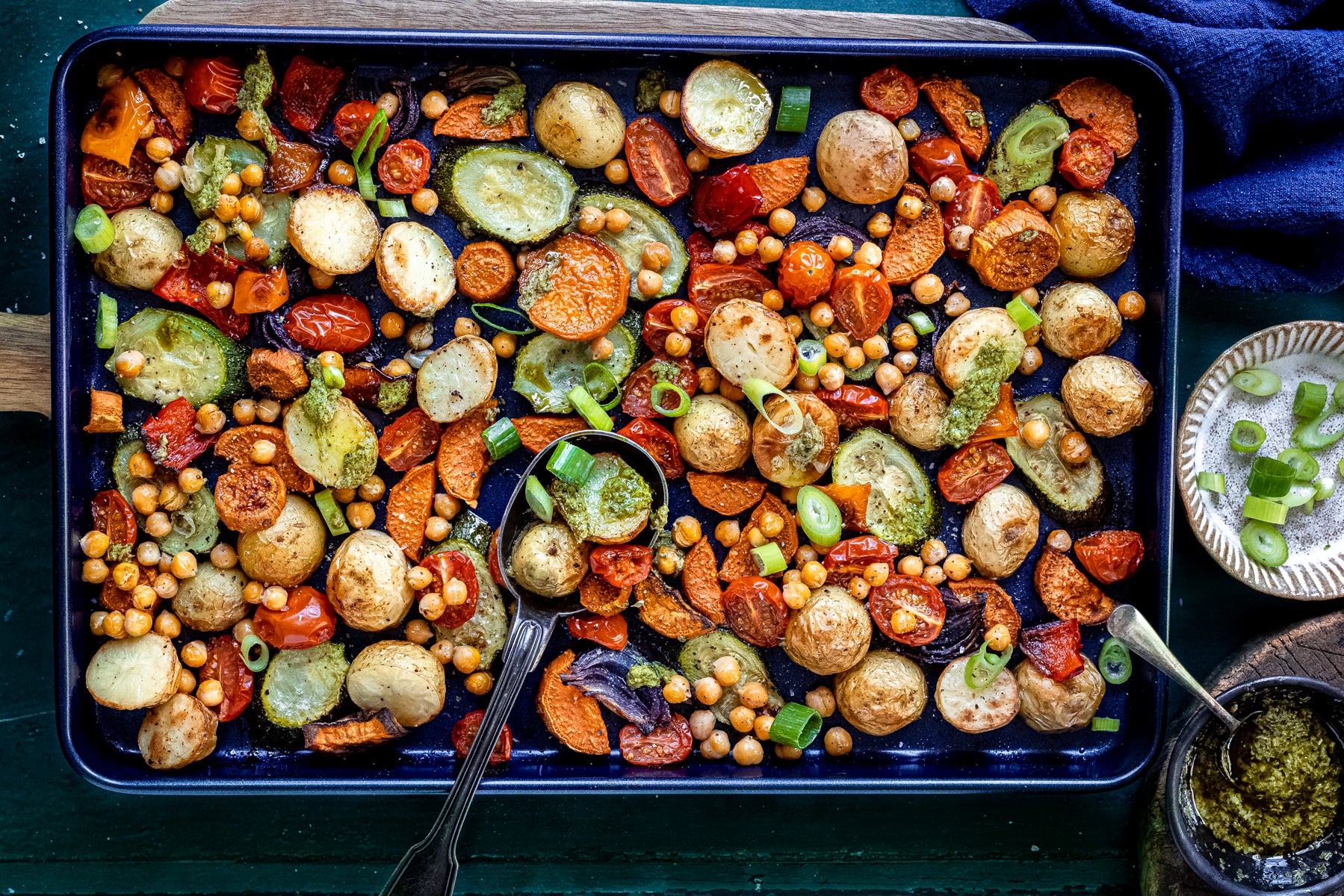 by Sandhya Hariharan @sandhyaskitchen
Tray-bakes are my ultimate comfort mid-week meal. Simply add the ingredients and seasoning to the tray bake and roast. A complete meal is ready with literally minimal effort.
This Chickpeas & Vegetable Tray Bake requires low effort; quick prep time and the oven does all the magic. Moreover, they are healthy and delicious too. With a few tasty ingredients, dinner is ready in less than an hour.
This recipe is versatile. Use the vegetables that you already have in your refrigerator and pantry. Aubergine and carrots work well in this traybake recipe.
Just before serving, add chopped spring onions and drizzle your favourite pesto.
Ingredients:
375g baby potatoes- sliced to half
250g courgettes – sliced to thick discs
200g sweet potatoes – peeled, sliced to discs
200g cherry tomatoes
1 cup mixed pepper – red and yellow
1 red onion, cut to wedges
1 can chickpeas, drained
1 tsp Garlic powder
2 Tbsp Olive Oil
Salt and Pepper to taste
Garnish with Spring onion
To serve with Pesto
Method:
Add the potatoes, sweet potatoes, peppers, onion and courgettes into a large baking tray. Drizzle with olive oil, season with salt, pepper and garlic. Use a pair of wooden spoons to mix them well.
Bake for 25 minutes. Give the tray a shake and add the cherry tomatoes and chickpeas.
Roast for another 8-10 minutes.
Remove the tray from the oven, taste and season as needed.
Garnish with spring onions, drizzle pesto and serve