Gluten Free Butternut Squash Soup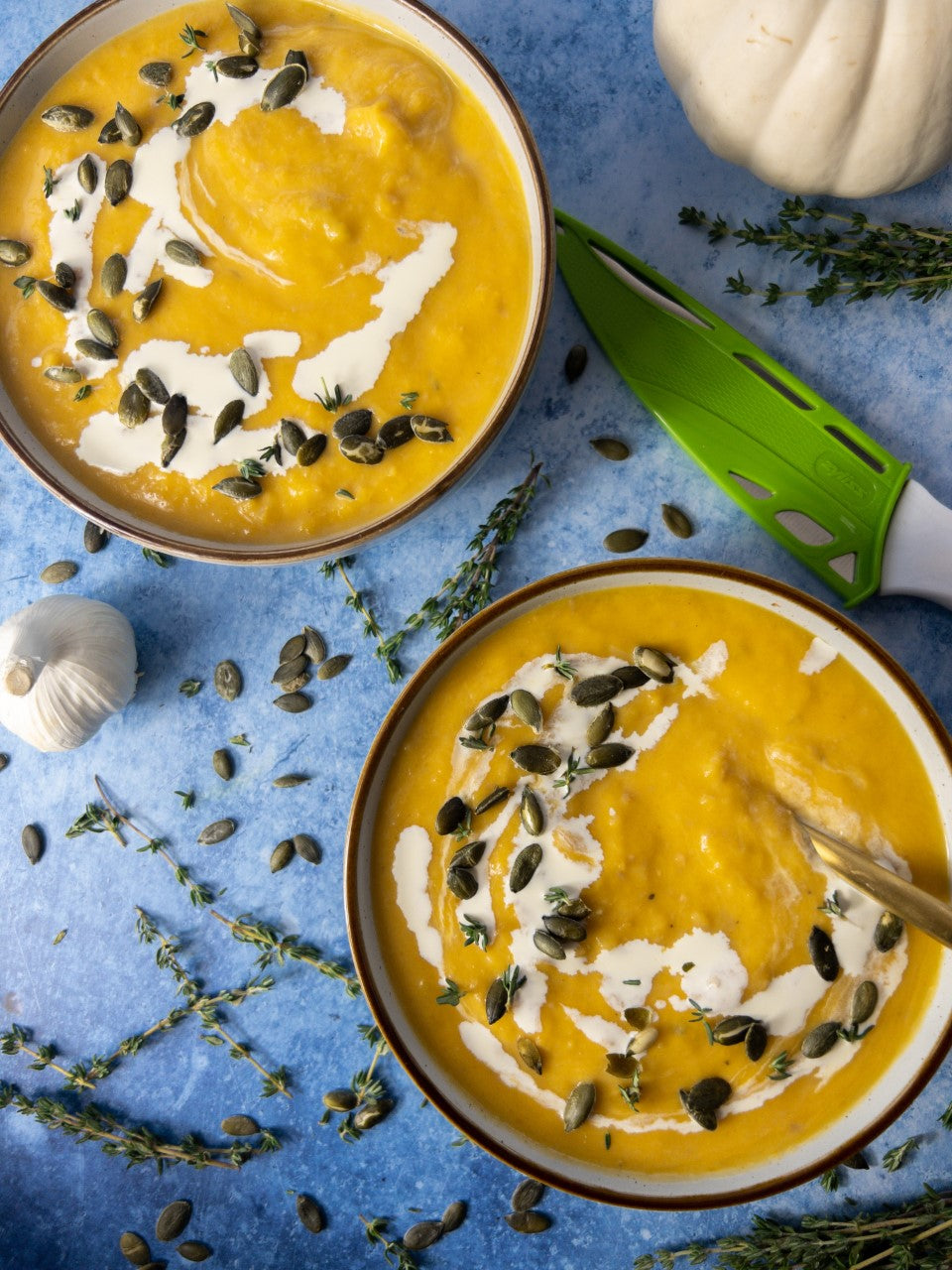 By Katrina Lander - @fitnessfodmap_ 
Soup season is officially upon us, and I can't say I'm upset about it! Who doesn't love a warming soup on a cold winter's day? For me personally, the best soups are those that pack flavour and have a thick texture to them.

I'm a big fan of cooking in season it has great benefits – you get the best flavour, perfectly ripe produce, it helps the environment and is more nutritious. Butternut squash is in season in Britain from September through to November so make sure you don't miss out on this delicious recipe.

I always make more soup than what is needed, leftovers are always a good idea. My recipe is gluten free, easy to follow and uses minimal ingredients. Substitute to a vegetable stock cube to make the soup vegetarian.

Kitchen tools needed: Zyliss Kitchen Knives, hand blender

Prep: 10 minutes
Cook: 30 minutes 
Difficulty Easy

Serves 4

Ingredients:
1 butternut squash (around 1kg) peeled, deseeded, and cubed
2 garlic cloves, roughly chopped
1 leek, roughly chopped
500ml hot chicken stock
1 medium potato, cubed
100ml double cream
Salt & pepper to season
Toasted pumpkin seeds (optional)
Fresh thyme (optional)
Method:
Heat 1tbsp olive oil in a deep saucepan over a medium heat. Add the garlic and leek, cook until softened.
Add the butternut squash and potato, stirring for a few minutes.
Add the stock, bring to a boil, cover, and reduce heat to a simmer for around 20 minutes, until the butternut squash is soft and tender.
Turn the heat off, stir through the double cream then whizz with a hand blender until smooth.
Season with a generous amount of salt and pepper.
Serve the soup with swirls of double cream, a scattering of fresh thyme and toasted pumpkin seeds.
Top Tips
Although I've removed the skin from the butternut squash in this recipe, you can leave it on. It's completely edible and is very nutritious, just ensure you blend the soup well as the skin is tough.
To toast the pumpkin seeds, heat a small pan over a low to medium heat and dry fry for a few minutes until the seeds have a fragrant nutty smell and are slightly browned. Ensure to keep an eye on them as they burn quickly