Katrina Lander's Gluten Free Festive Finger Food Perfect for Christmas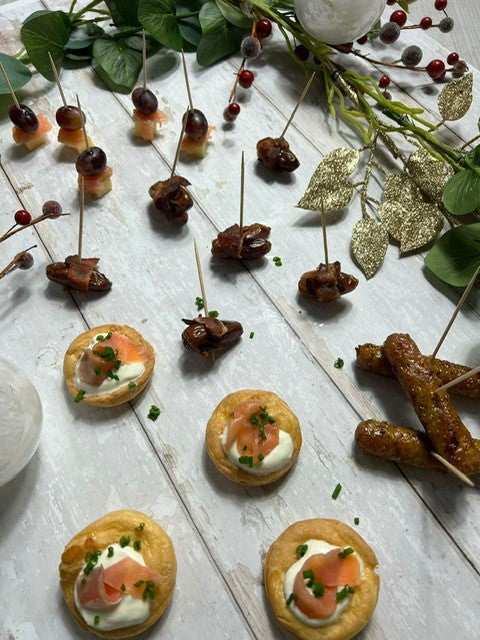 By Katrina Lander @fitnessfodmap_
I absolutely love the festive period, cosy nights in and hosting! I'm very lucky to have mixed nationality in my family, one of these being Spanish. When we get together, we have a mixture of Spanish and English food because why not have both!
Kitchen tools needed:
Honey & Mustard Chipolatas
Prep: 5 mins 
Cook: 25 minutes 
Difficulty Easy 
Serves 6 
Ingredients:
6 x Gluten free chipolata sausages

1 Tsp honey

1 Tsp Dijon mustard

1 Tsp Wholegrain mustard
Method:
Preheat the oven to 200C/Gas 6/fan oven 180C

Cook the gluten free chipolatas in a non-stick roasting tin for 20 minutes

Whilst your chipolatas cook, mix your honey and two types of mustards

Using a basting brush, brush the chipolatas all over with the honey and mustard mix. Return to the oven for 5 minutes, remove and enjoy whilst still hot.
Smoked Salmon & Crème Fraiche Mini Yorkshires
Prep: 10 mins 
Cook: 20 minutes  
Difficulty: Easy 
Serves: 6 
Ingredients 
Vegetable oil

45g Gluten free flour

25g Cornflour

50ml Semi skimmed milk

1 Egg

Pinch of salt

2 Tbsp crème fraiche

¼ Lemon juice

6 Slithers of smoked salmon

Chives to garnish
Method:
Preheat the oven to 220C/Gas 7/fan oven 200C. Add ½ tsp of your oil to each muffin hole and pop in the oven

Mix your gluten free flour, cornflour, egg, milk, and salt until you have a smooth mixture

Remove your tray from the oven and add 2 tablespoons of mixture to each muffin hole, quickly return to the oven (to ensure the oil stays hot) and leave for 20 minutes

Whilst your Yorkshires cook, mix your crème fraiche and lemon juice. Remove your Yorkshire puddings from the oven, add a teaspoon of crème fraiche, a slither of salmon and chopped chives to garnish.
Cheese, Salmon and Grape Sticks
Prep: 5 mins 
Difficulty: Easy 
Serves: 6
Ingredients 
6 Small cubes cheddar cheese

6 Slithers smoked salmon

6 Grapes
Method:
Using your Zyliss chopping board and knife cut 6 cubes of cheddar cheese. Stack a cube of cheese, slither of salmon and a grape onto a cocktail stick, repeat as many times as required.
Dates wrapped in Pancetta
Prep: 5 mins 
Cook: 3 mins
Difficulty Easy 
Serves 6
Ingredients:
6 Medjool dates

6 sliced pancetta
Method:
Turn up the heat to medium/high on a non-stick frying pan. Once hot add your Pancetta and fry both sides until crispy

Leave the pancetta to cool slightly before wrapping your dates, serve on cocktail sticks.
Top Tip; Buy your dates without stones to save time de-stoning.