One Pan Sausage and Butter Bean Stew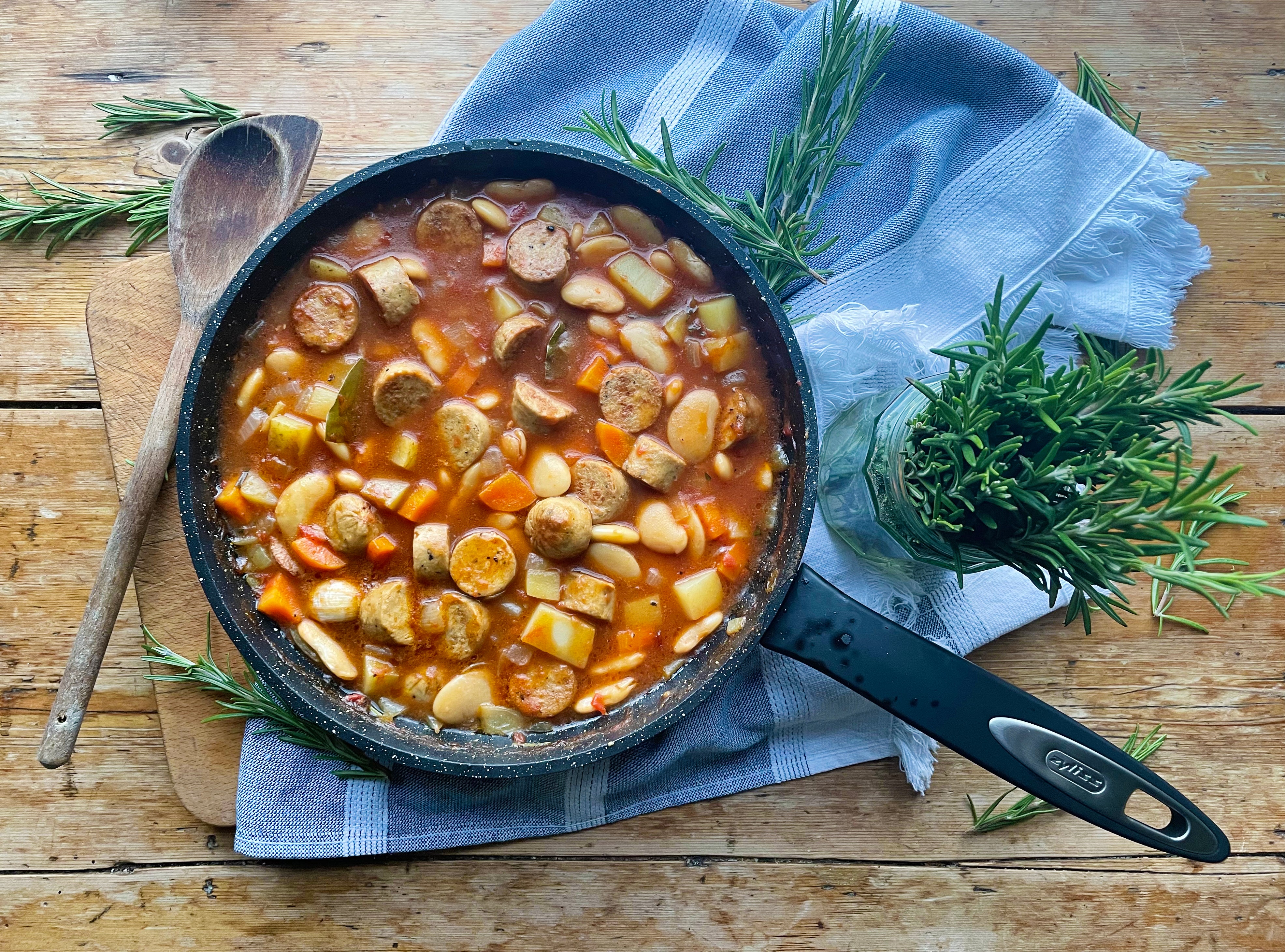 By Dom from DomInTheKitchen.com @DomInTheKitchen 
Humble ingredients come together to make this really easy classic one-pan-meal.
For me, a stew is the essence of a winter warmer meal.  Hearty and full of flavour from the slow cooking, it's like a great big hug of glorious taste! The great thing about this stew is that it's all made in one pan, the Zyliss Cook 24cm Ultimate Non-Stick Frying Pan.
I do love a one-pan-meal. You literally throw everything in, let it do its thing and then come back to a whole meal. And you really can throw in anything you like.  All your favourite meat and veg or whatever's left in the back of your fridge. I'm using veggie sausages but feel free to use your favourite sausages, simply follow the instructions just as I've written them out in the method. One-pan-meals also mean there's less washing up to do, which in my option is always a good thing!
Kitchen tools needed:
The Zyliss Cook 24cm Ultimate non-stick frying pan, one sharp knife and chopping board, Zyliss SmoothGlide Fine and Course Dual Grater.
Prep: 15 mins
Cooking Time: 1hr 30mins (longer if desired)
Difficulty: Easy
Serves: 2
Ingredients:
A little nob of butter
1 tablespoon olive oil
4 sausages – cut into chunks
1 small onion – finely chopped
1 small carrot – finely chopped
1 medium potato – finely chopped
2 cloves of garlic – peeled and finely grated or minced
A teaspoon of fresh herbs – chopped (I used rosemary and thyme)
1 teaspoon plain flour
½ litre good quality vegetable stock
½ tin (200ml) chopped tomatoes
1 x 400ml tin butter beans
Salt and pepper
Method:
Place the pan on a medium heat and gently melt the butter with a little olive oil. Add the sausages and sauté them for about 5 mins, turning frequently until they are nicely golden. Carefully remove them from the pan and set aside.
Using the same pan and keeping the oil and butter, add the onions and let them sauté for 4 mins until they begin to soften, then stir in the carrots, potato, fresh herbs and garlic and let them all sauté together on a medium heat for a further 6 mins.
Stir the sausages back in, then add a teaspoon of plain flour and stir it together to make sure everything is well coated
Add the butter beans and tomatoes, then stir in the stock.
Turn down the heat and let the whole stew gently bubble away for at least an hour and a half. Season half way through with salt and pepper to taste.
TIP:
The longer you leave this gently cooking the better it will taste.  It's even one of those dishes that tastes better the next day.  That's if you can be tempted not to tuck in straight away!
Shop the The Zyliss Cook 24cm Ultimate non-stick frying pan
More one pan meal ideas: https://www.dominthekitchen.com/tag/one-pot-meal