https://images.salsify.com/video/upload/s--ZT61QjqN--/c_limit,h_600,w_600/s5vxmgbodafopmcbfz9d.mp4
"• Includes 1 mm. and 3 mm. micro-serrated slicing blades that slice through tough and soft foods with ease, angled for easy slicing • Coarse and Fine acid-etched grating blades • Easy clip-in function to switch between the four blades • SmoothGlide pusher has a unique wedge design to secure food in place without damaging • Collapsible design for compact storage and quick clean-up • Non-slip grip on feet, bowl rest and handle • Dishwasher Safe • Guaranteed for 5 years "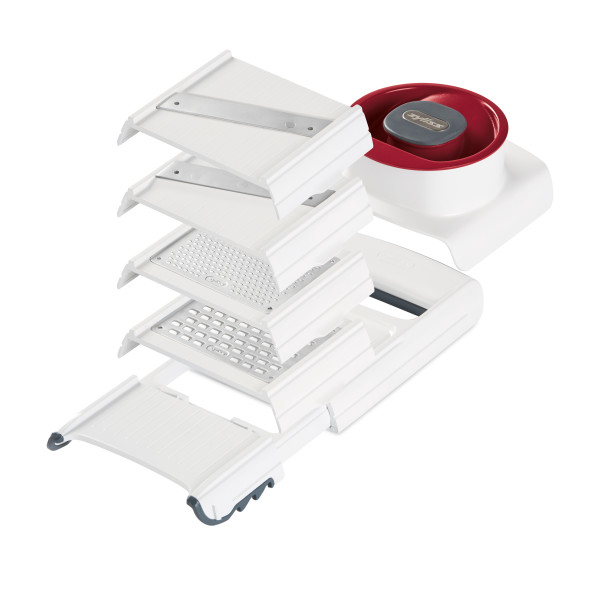 VERSATILE
With 4 blade options, you can choose from thick or thin slicing and coarse or fine grating.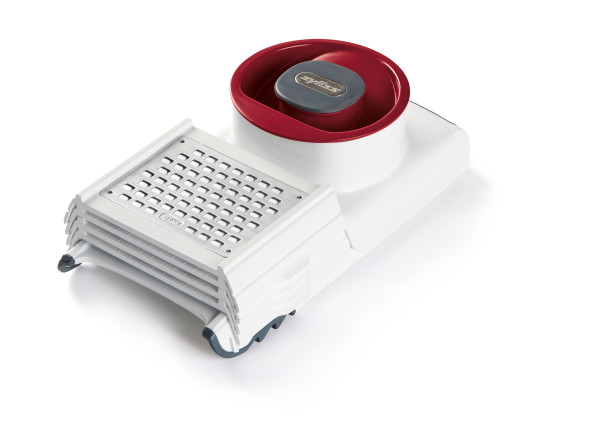 COMPACT STORAGE
All this functionality takes up no room at all in your cupboard. Designed to collapse and stack into a compact unit for storage
The Zyliss 4 in 1 Slicer & Grater offers you a variety of cutting options suitable for a range of foods. Choose from a 1mm or 3mm slicing blade or a fine or coarse grating plate.
The plates clip-in
easily
to allow you to
quickly
swap between grating and slicing functionality
.
The SmoothSlice food holder, with its unique wedge design, ensures perfect control during use and
securely
holds the food in place without tearing or damaging
.
The built-in feed tube enables you to slice longer foods such as cucumber, carrots or parsnips. The slicer can
be used
on a flat surface, built-in non-slip feet ensure stability, or over a bowl.
The slicer body and the slicing and grating plates clip together for compact storage, making this a functional and practical slicing and grating solution for any kitchen
.
<! –– Bazaarvoice Shopify Integration Version 2.0 ––>
<! –– Bazaarvoice Shopify Integration Version 2.0 ––>
Is my Zyliss item covered by a guarantee?
Yes. All our Zyliss items are covered with a manufacturer guarantee. 
How long is the manufacturer's guarantee?
Our guarantees vary by item, but most Zyliss items have at least a 5-year guarantee. Please refer to your packaging or manual documentation. 
How do I register my guarantee?
There is no need to register the guarantee, but please keep your original proof of purchase to validate any claim you make with us. 
What does the guarantee cover?
Our guarantee will cover manufacturer faults only within the guarantee period. 
What IS NOT covered under the guarantee?
Accidental breakage, poor care, damage from misuse, or dismantling of our items will invalidate any guarantee. Rust & corrosion is not covered under our guarantees as this is considered as misuse by poor care (and possibly poor storage). Blade sharpness is also not covered under any guarantee. From time to time we may request for you to return the item for inspection by our Quality Team. If the item is deemed not to meet the criteria covered by our guarantees, we will return the item to you as it was received and will therefore not replace under any of our guarantees.
How do I make a guarantee claim under the Zyliss manufacturer guarantee?
Please get in touch via our  CONTACT US page to start a guarantee claim. Please ensure you provide as many details as possible to help us to help you. 
My product is faulty, what do I do?
If you have purchased your item within 6 months, then you Consumer Rights should be with the retailer of purchase - please get in touch with the retailer directly. If your item is older than 6 months, then your consumer rights are with us, the manufacturer. Please visit our CONTACT US page to start a guarantee claim.
Zyliss Web Order Questions
At what temperature are my nylon tools heat resistant?
All nylon utensils are heat resistant up to 200C.

At what temperature are my silicone tools heat resistant?
All silicone utensils are heat resistant up to 200C.
Is Zyliss product packaging recyclable?
Most of our packaging is made with recyclable materials, look out for the recycling logo.

Have Zyliss products won any awards?
Various Zyliss products have won the prestigious Red Dot Award, including: Ice Cream Scoop, Gourmet Mandoline, Duo Cheese Grater, Rotary Cheese Grater, Tomato Peeler, Pizza & Pastry Cutter and Smart Touch Salad Spinner.

What is the Red Dot Award?
Red Dot stands for belonging to the best in design and business. Excellent design is selected by expert juries in the areas of product design, communication design, and design concepts. The accolade of the Red Dot Design Award (the 'Red Dot') is an internationally recognised quality label for excellent design.

Are Zyliss products made from materials that are food safe?
All products are tested to EU regulations in terms of food contact and safety. All materials used by Zyliss are unaffected by foodstuffs and free from cadmium.

Can I put my Zyliss products in the dishwasher?
All Zyliss products are dishwasher safe unless otherwise stated. However, we do recommend hand washing components with blades to maintain sharpness.

What is BPA?
BPA stands for bisphenol A. BPA is an industrial chemical that has been used to make certain plastics and resins. Polycarbonate plastics are often used in containers that store food and beverages, such as water bottles. All new Zyliss products are BPA free.

What is the Zyliss limited lifetime warranty?
The Zyliss Cook Ceramic pan is covered by a limited lifetime warranty for defects in material or workmanship under normal household use and when cared for according to the Use & Care Guidelines provided in the instructions. The non-stick coating on Zyliss Cook Ceramic Pans is guaranteed separately for 2 years from the date of purchase. This warranty does not cover stains, discolouration, or scratches due to normal wear and tear. Your original proof of purchase or receipt should always be retained to validate the warranty.

How can I place an order with Zyliss?
At the moment, orders can only be placed online via our website. 

How long will it take me to get my order?
We aim to ship orders from our warehouse within 2 business days after you have completed your order. Most UK delivery addresses can expect a next day delivery once we have shipped, however, some addresses not within mainland UK or in remote areas may take longer. Overall, please allow 3-5 days to receive your order from the date of your order confirmation. 

Do you deliver internationally?
We only deliver to addresses with a valid UK postcode, with the exception of BFPO addresses. We do not ship to ROI, EU or Internationally. Please get in touch with one of our International Brand Representatives via our Distributor information page. 

Liquid error: Error in tag 'section' - 'product-recommendations' is not a valid section type
Zyliss 4 in 1 Slicer & Grater