Best Ever Super Quick Chilli con Carne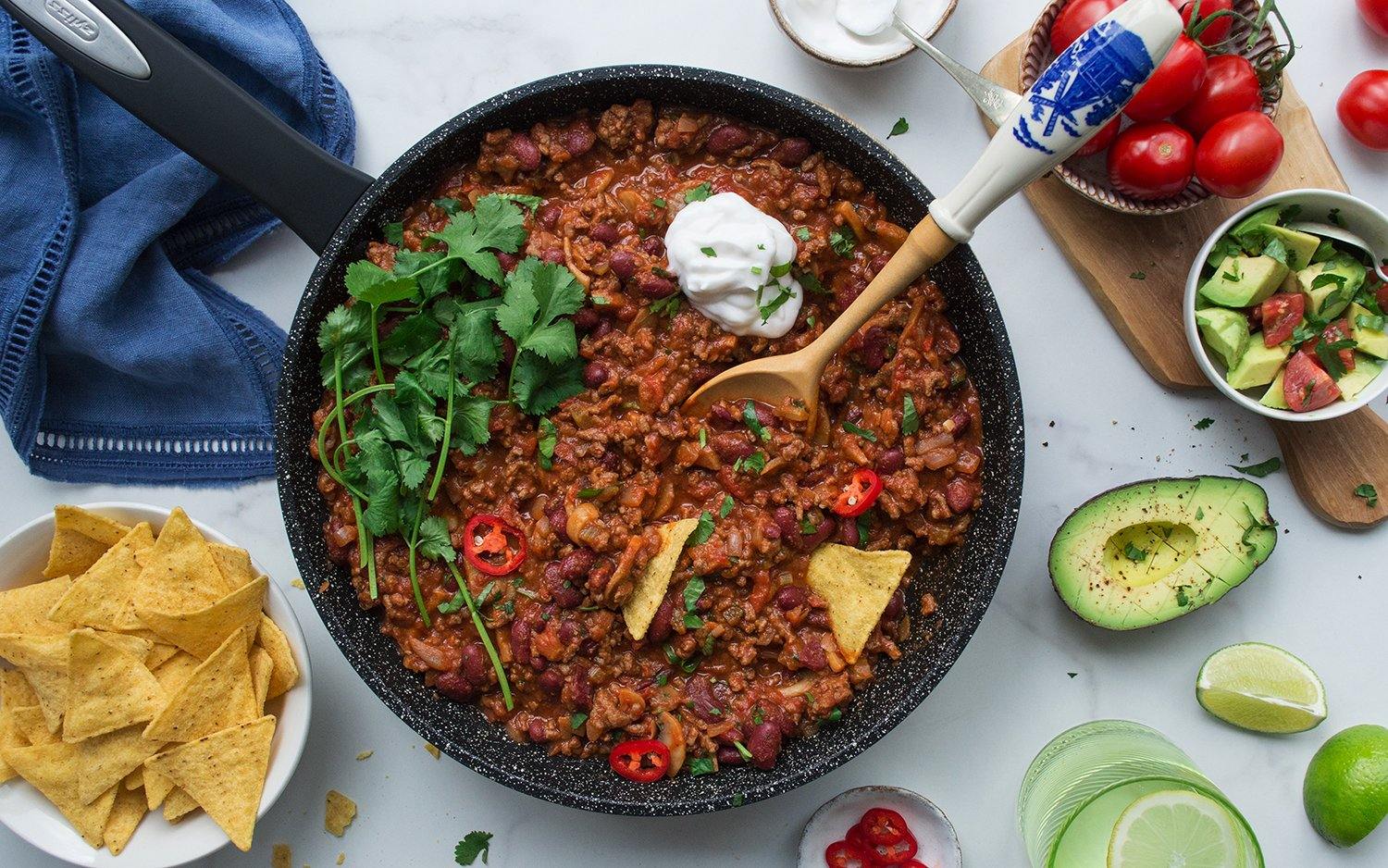 Prep: 10 mins
Cook: 40 mins
Product(s)
Easy Pull Manual Food Processor
Ingredients
2 tbsp olive oil

1 medium size white onion, finely chopped

2 garlic cloves, crushed

3 celery stalks, finely chopped

1 tbsp tomato puree

1 tsp ground coriander

1 ½ tbsp smoked paprika

500g lean mince meat

200g sliced mushrooms

1/2 red chilli, finely chopped

2 x 400g tins of organic chopped tomatoes

1 tin x kidney beans, drained

2 tsp brown sugar (or to taste)

Salt & pepper to taste

A bunch of fresh coriander, finely chopped

Water as required
Method
Heat up the olive oil in a pan over a medium heat. Add chopped onion into the pan and fry for a couple of minutes until translucent. Add garlic and celery and cook for a further 2 minutes until just softened.
Add tomato puree, ground coriander and smoked paprika to the onion and celery mixture and stir well.
Mix in the minced meat and cook over high heat for 8-10 minutes until the meat is golden brown. Add mushrooms and cook for a further 5 minutes. Stir in tinned tomatoes and kidney beans. Sprinkle chopped chilli, brown sugar and salt and pepper and cook over medium heat for 15-20 minutes until the sauce is reduced enough to the desired thickness (if the sauce is too thick, add water to get the sauce to the desired consistency). Sprinkle chopped coriander within the last 5 minutes of cooking.
Taste the chilli and adjust the seasoning if required.
Serve with your choice of sides. We paired ours with tortillas, natural yogurt and avocado & tomato salsa!