Vegan Mediterranean Vegetable Tian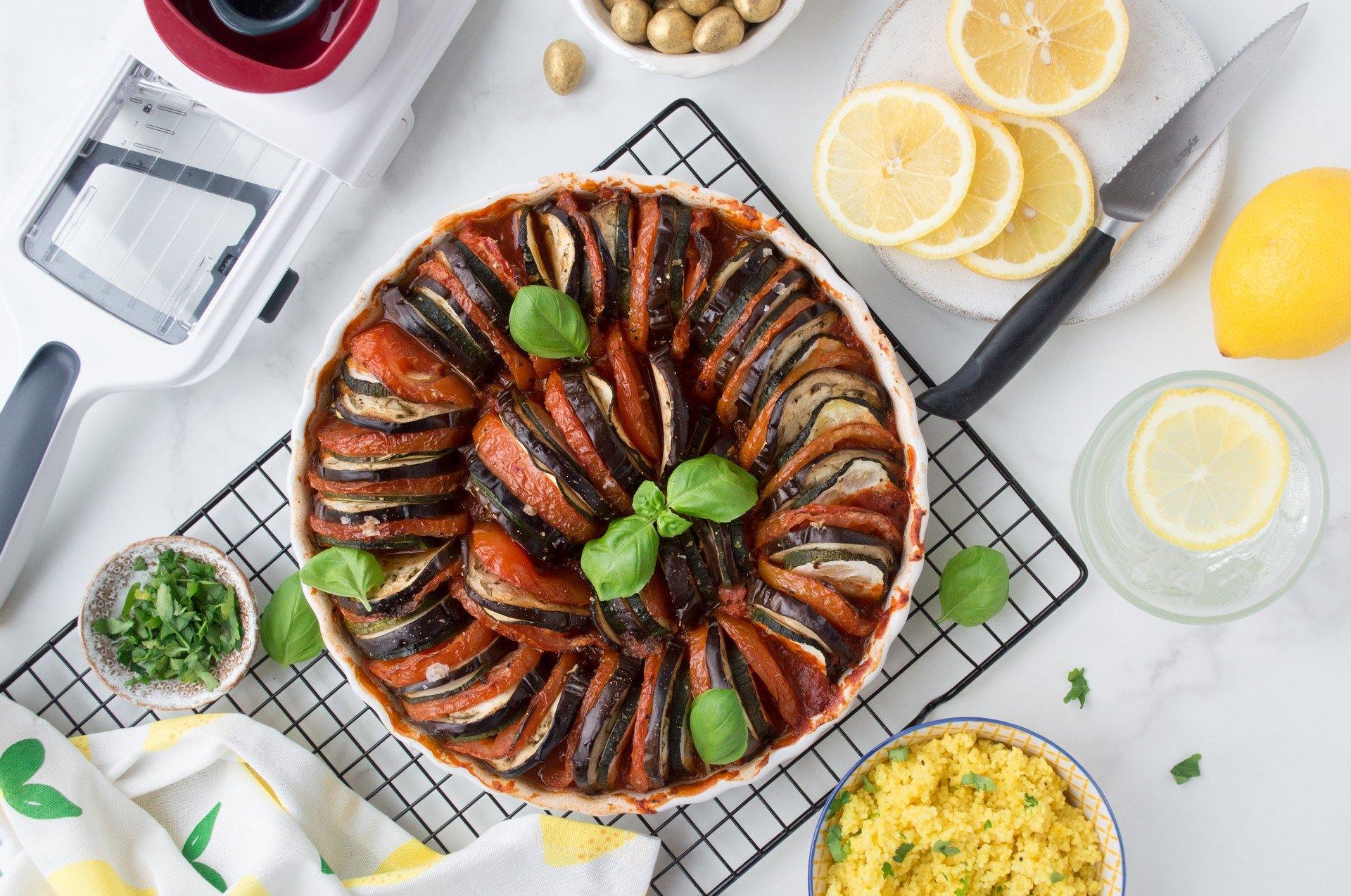 Prep: 10 mins
Cook: 1hr 30 mins
Product(s)
Easy Control Handheld Food Slicer
Ingredients
For marinara sauce:
1 tbsp olive oil

1 medium size onion, finely chopped

3 garlic cloves, crushed with Zyliss garlic press

1 tbsp tomato puree

1 tbsp smoked paprika

1 red pepper, finely chopped

¼ tsp chilli powder

1 cup passata sauce

¼ cup water, or as needed

A generous bunch of fresh basil, finely chopped (reserve some for garnish)

Salt & pepper to taste

1 tbsp sugar or to taste
For tian:
3 courgettes, sliced using Zyliss vegetable slicer

2 aubergines

4-6 tomatoes

Salt & pepper to taste

Couscous to serve

Optional: a generous sprinkle of parmesan for non-vegan version
Method
In a medium size pan, heat up the olive oil over medium heat. Fry the onions for 2-3 minutes until just softened. Add crushed garlic and fry for a further 2 minutes, stirring occasionally. Add the tomato puree, smoked paprika, chilli powder and fry for a further 2 minutes, to allow for the flavours to blend. Add passata sauce, water, basil, salt & pepper and sugar, stir well and simmer on medium to low heat for 10-15 mins until the sauce is reduced to your designed consistency. If it's too thick, just add more water. You might want to taste the sauce at this stage and adjust the seasoning, if required.
Pre-heat the oven to 180C. Whilst the sauce is cooking, slice all the vegetables using Zyliss handheld slicer. Set aside.
When the marinara sauce is ready, transfer it to a shallow pie dish and spread evenly at the bottom of the dish. Arrange the sliced vegetables in a circle on top of the marinara sauce, interchanging courgette, aubergine and tomato. Season with a little extra drizzle of olive oil and a generous sprinkle of salt & pepper. Cover with foil and roast in the oven for 60-70mins or until the vegetables have just softened and turned golden. Remove the foil within the last 30mins of cooking. If you're making a non-vegan version of this vegetable tian, sprinkle it generously with parmesan once you've removed the foil.
Serve with couscous and enjoy every mouthful.