Sofia Gallo's No-knead figs, blue cheese and rosemary focaccia bread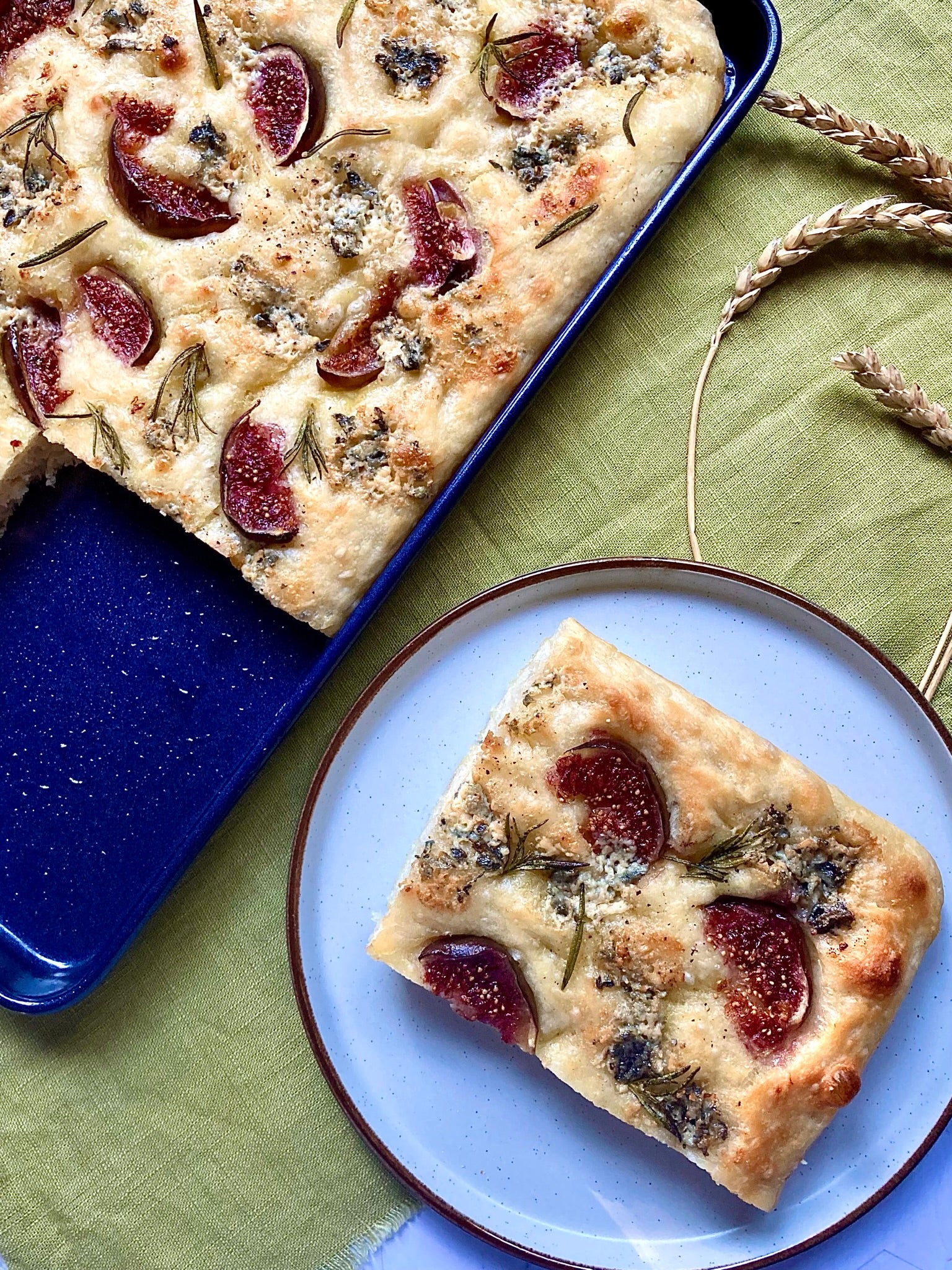 Our guest blogger and MasterChef UK contestant Sofia Gallo @in_cucinacon_sofia shares this delicious recipe for Zyliss UK. s
Kitchen tools needed: Zyliss non stick baking tray
Prep: 10 mins + proving time
Cook: 25 min
Difficulty: Easy
Serves 1 large focaccia
Ingredients
300 g strong white flour
200 g '00' flour – if not available at your supermarket, pasta flour or fine flour will be perfect
365 ml water
7g fast action yeast
10 g sugar
10 g salt
70 g blue cheese of your choice
4 figs, ripen but firm
Black pepper freshly ground – optional
Olive oil
2 sprigs of rosemary
Method
In a large bowl place your two flours, the yeast, sugar and mix well.
Create a well and start pouring the water in the middle. With a wooden spoon, start incorporating the flour.
Halfway through, sprinkle your salt and combine the remaining flour until the bowl is clean. The dough should be of a sticky consistency.
Cover with cling film and let it proof until double in size. Depending on the weather this can take up to three hours.
Once your dough has proven, prepare your Zyliss baking tray. Cover the tray in olive oil and place the dough. All you will have to do is create 4 folds, two per side, and replace the dough with the final fold at the bottom. Cover in cling film and let prove for another hour.
Pre-heat your over at Gas Mark 6/400 F°/200 C° or 180 C° fan. With your fingertips, gently stretch the dough until the corners of the tray. Help yourself using some more olive oil on your hands.
Once the focaccia is even and stretched to the corners, add olive oil on the surface and with the help of a pastry brush, brush all over the surface.
Place your figs cut into 8 wedges, scatter your blue cheese and your rosemary. Sprinkle with fresh ground black pepper and bake for about 25 minutes on the higher over shelf.
TIPS: 
To avoid the rosemary to burn, keep it in water for few minutes before adding to your focaccia.
To have a lovely crust, sprinkle some water just before baking
You can replace the blue cheese with Parma Ham
For an additional flavour, try and add some walnuts.
Easy to prepare the day before and let rise in the fridge overnight.