Luscious lemon berry cake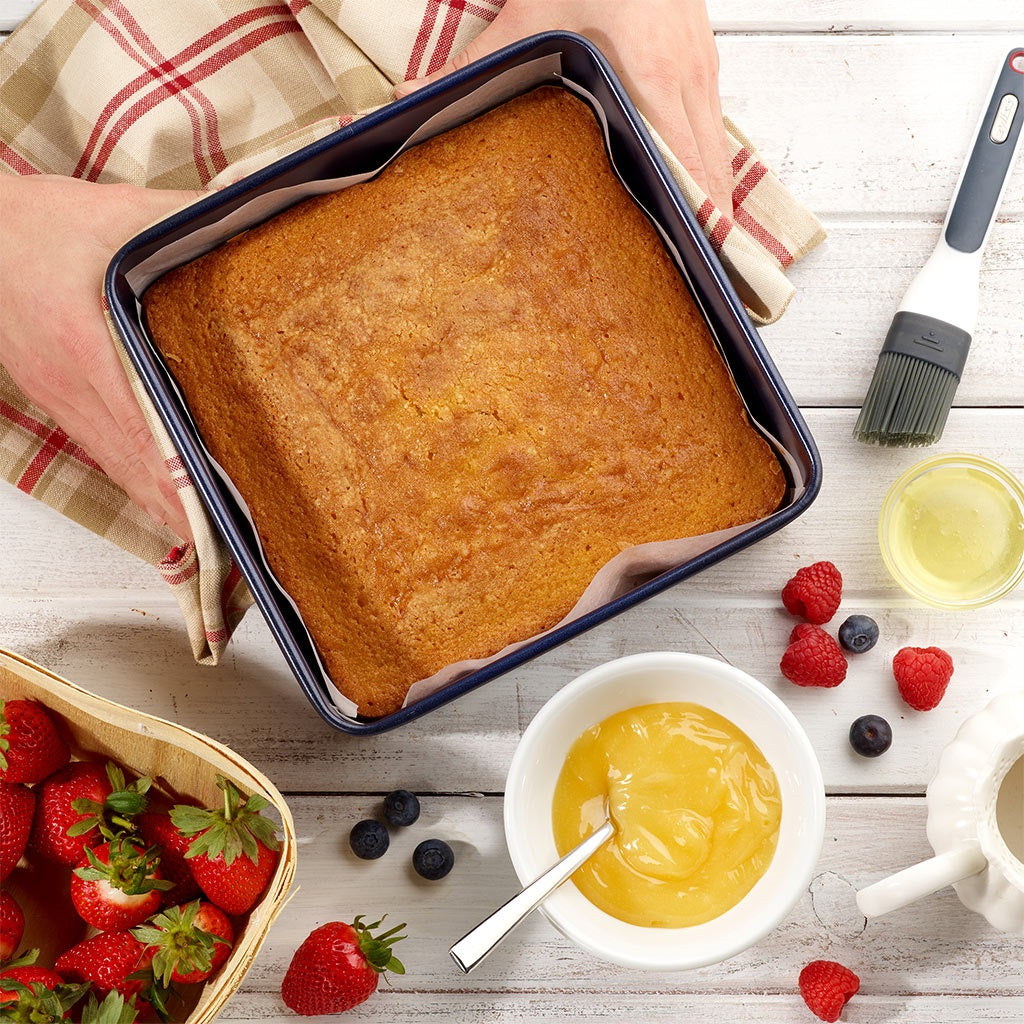 Makes: 9 squares
Prep: 30 mins
Cook: approx. 1 hr
Difficulty: easy
Ingredients:
225g unsalted butter, softened
225g caster sugar
4 large eggs
225g self-raising flour
1 tsp baking powder
Zest and juice of 2 lemons
2 tbsp milk
100g granulated sugar
For the decoration:
3 tbsp lemon curd
200ml double cream, softly whipped
200g fresh berries, such as strawberries (hulled and halved), raspberries and blueberries
1 Preheat the oven to 180C/350F/Gas 4. Lightly grease a 20 cm square Zyliss cake tin and line with baking paper.
2 Place the butter, caster sugar, eggs, flour and baking powder in a large bowl. Using an electric mixer, beat for 3-4 minutes until pale and creamy. Beat in half the lemon zest and juice then the milk.
3 Spoon the batter into the prepared tin and gently level the surface. Bake in the preheated oven for 1 hour – 1 hour 10 minutes, or until risen, golden and a skewer inserted into the centre of the cake comes out clean.
4 Mix the remaining lemon zest and juice in a small bowl. Cool the cake in the tin for 2-3 minutes then spoon the lemon sugar glaze all over the warm cake. Leave the cake to cool completely in the tin.
5 Remove the cake from the tin and place on a serving plate. Gently swirl the lemon curd through the whipped cream and spread on top of the cake. Decorate with the berries and dust with icing sugar. Slice into squares, to serve.
Tips
The lemon glaze will give a lovely tangy and crisp sugary crust as the cake cools. You can use a mix of lemon and lime zest and juice, if liked.
Store the cake (without the cream and fruit topping) for 2-3 days in an airtight container. The decorated cake will keep for 1-2 days in the fridge.