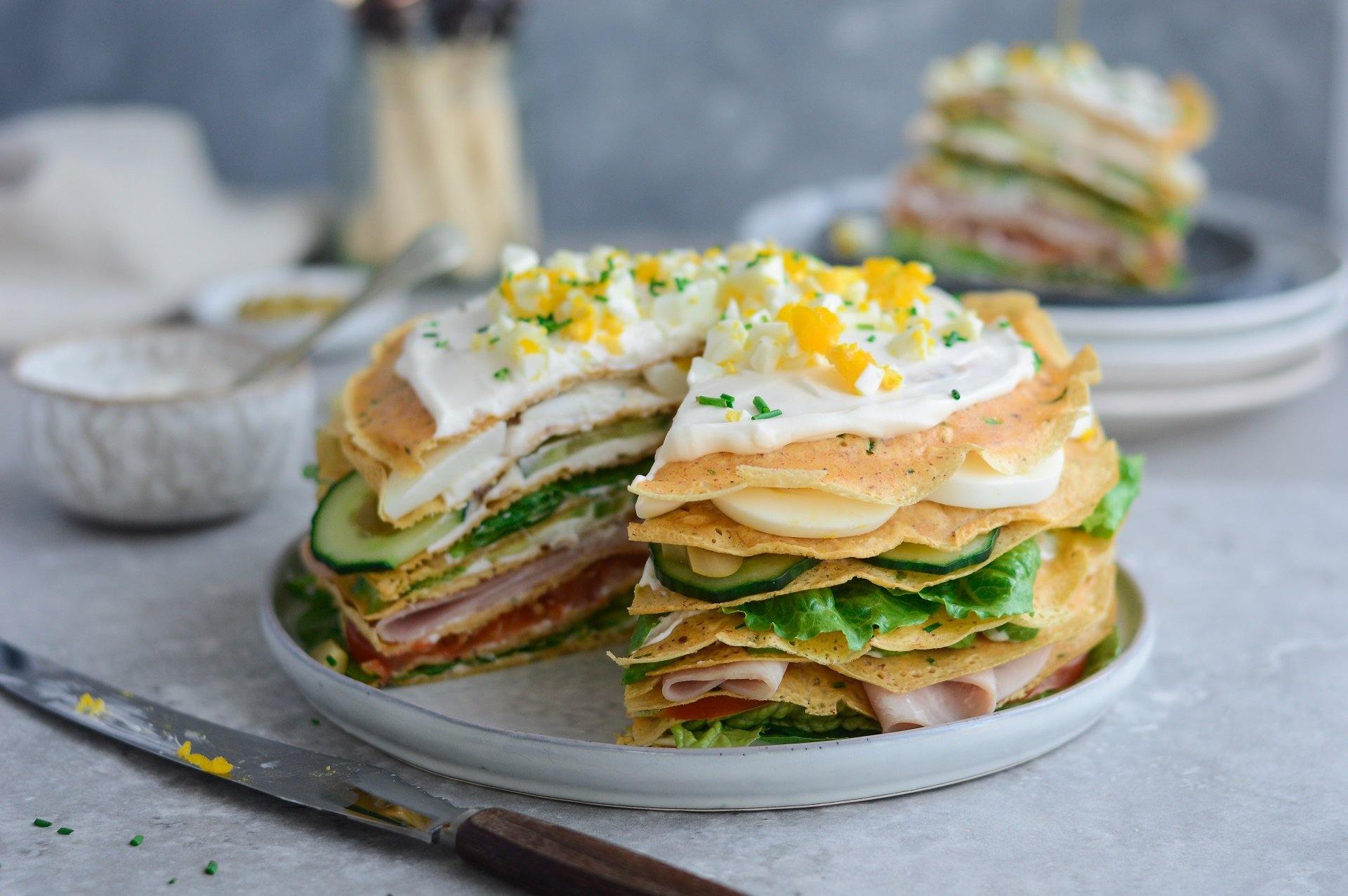 Prep: 45 mins
Cook: 5 mins
Product(s)
Ultimate Non-Stick Induction Safe Frying Pan
Smooth Food Blender Mixer & Pancake Dispenser
Ingredients
For the crepe mixture:
1 cup chickpea flour, sifted

1 tsp ground flaxseed

½ tsp smoked paprika

Salt & pepper to taste

A handful of chopped chives

1 cup water

Coconut oil for greasing the pan
For the filling:
½ cup light mayonnaise or cream cheese

200g sliced ham

Lettuce, 2 leaves

1 medium tomato, sliced

½ cucumber, sliced

2 hard boiled eggs

1 avocado, halved & sliced

¼ cup chopped green olives

2 tbsp chopped chives for garnish
Method
For the crepes:
Mix all crepe ingredients in the smooth blend. Pull the handle up and down to mix the ingredients together until smooth. Let the batter sit on the side for around 10 minutes to thicken up.

Heat up a medium size pan, grease with a little coconut oil. Over the pan squeeze the handle of the smooth blend to release the mixture, swirling around the pan to ensure the batter is spread evenly. Cook for 1-2 minutes on each side.
For the crepe cake:
Have ready: room temperature crepes, ham, rinsed and dried lettuce, thinly sliced tomato, cucumber, avocado, eggs (1 sliced and 1 finely chopped), olives and mayonnaise.

To assemble the crepe cake, place a crepe on a serving plate, spread a thin layer of mayonnaise over the crepe, arrange the ham on top of the mayonnaise layer. Place another crepe on top of the ham layer, spread a thin layer of mayonnaise, arrange the lettuce leaves. Repeat with all the other fillings and crepes. For the top layer, spread a thin layer of mayonnaise, top with finely chopped egg and chives