Sage & Clementines Roast Turkey with Sage & Onions Stuffing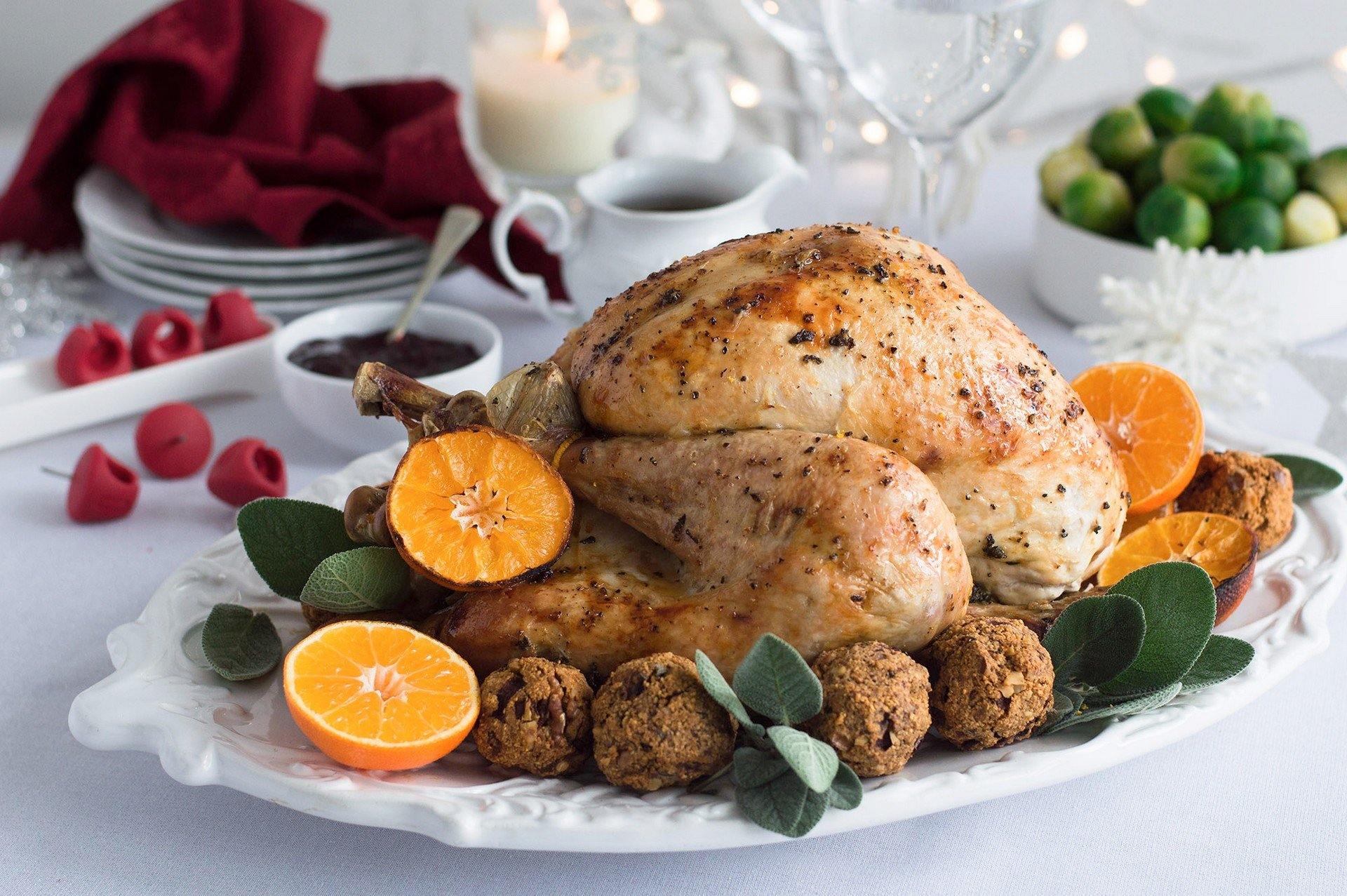 Prep: 15 mins
Cook: 2 hr 15 mins
Difficulty
2 hr 15 mins -
Product(s)
Easy Pull Manual Food Processor
Ingredients
For the turkey:
A small bunch of sage leaves, plus extra to garnish
3 twigs of rosemary
5-6 clementines, cut in halves
Zest of 1 clementine
100g butter (room temperature)
Salt & pepper to taste
3kg whole free range turkey
For the stuffing:
100g toasted walnuts
2 red onions, finely chopped
2 tbsp olive oil
2 tbsp brown sugar
A generous handful of sage leaves, finely chopped
150g breadcrumbs
Juice and lest of 1 clementine
2 eggs, lightly beaten
Salt & pepper to taste
Method
Preheat the oven to 190C, 170C fan.
In a small bowl, combine finely chopped sage leaves, butter, salt & pepper and clementine zest. Using your hands or pastry brush, paste the butter mixture all over the turkey to ensure its evenly coated. Stuff the rest of the sage leaves, rosemary twigs and clementine inside the cavity of the bird and tie the legs together with kitchen string. Season the turkey with salt & pepper, place it on the roasting risers and into the roasting tin. Cover with foil and roast for 1hr 45mins (allow 35 minutes cooking time per kilo) basting twice throughout cooking. Take the foil off within the last 30mins to allow the turkey to brown off.
Whilst the turkey is roasting, prepare the stuffing. Heat up a pan over high heat. When hot, add walnuts (no oil required). Toast until the walnuts turn light brown, tossing regularly to ensure they don't burn. Transfer the walnuts into a small bowl and once they're cool enough to handle, roughly chop them using Zyliss Easy Pull.
Heat up the olive oil in a pan over medium heat. Add chopped onions to the pan and cook for 3-4 minutes until just softened. Add brown sugar and cook for a further 2 minutes. Transfer the onion mixture into a big bowl. Add chopped toasted walnuts, sage, breadcrumbs, juice and zest of clementine and mix well. Slowly mix in the eggs until the mixture starts to bind together. Roll the stuffing into small balls and place on a baking tray lined with parchment paper and set aside.
Drain the turkey (reserve the cooking juices to add to the gravy), transfer on a serving plate and cover with foil. Rest for 30mins to 1hr.
Whilst the turkey is resting, transfer the stuffing balls into the oven for 30-35mins until they turn golden brown.