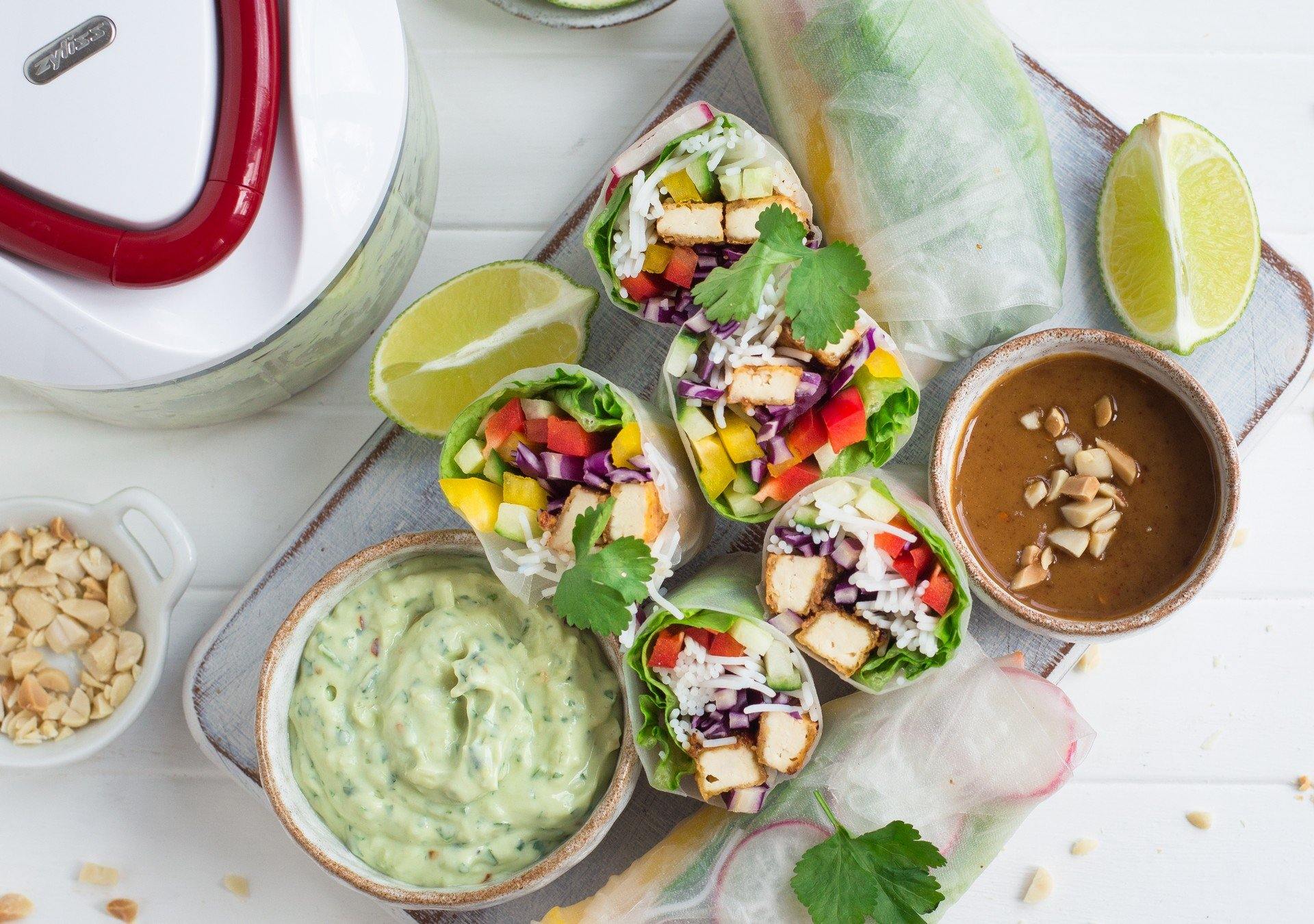 Prep: 30 mins
Cook: 20 mins
Product(s)
Easy Pull Manual Food Processor
Ingredients
For the spring rolls:

280g firm tofu

1tbsp sesame oil

100g rice vermicelli

2 carrots, cut in thin matchsticks

½ cucumber, cut in thin matchsticks

1 red bell pepper, thinly sliced lengthways

1 yellow bell pepper, thinly sliced lengthways

3 radishes, thinly sliced

100g red cabbage, thinly sliced

Salt & pepper to taste

Rice paper rolls

A bunch of fresh coriander
For avocado dip:

1 small ripe avocado

½ white onion

100g Greek yoghurt

Juice of 1 lime

1/4tsp chilli flakes (optional)

A bunch of fresh coriander

Salt & pepper to taste
Peanut sauce:

2tbsp smooth peanut butter

2tbsp soy sauce

1 1/2tbsp maple syrup

1tsp fresh ginger, minced

Juice of ½ lime

¼ tsp chilli flakes

2-3 tbsp water
Method
Cook the vermicelli according to the packet instructions. Rinse under cold water, drain and set aside.

To prepare the avocado dip, place all ingredients into

Zyliss Easy Pull food processor

and pull until you reach the desired consistency. Taste the dip and adjust the seasoning if required. Refrigerate until you'll need it later.

In a small bowl, combine peanut sauce ingredients and whisk until smooth. You might want to add a little more water if it's too thick. Set aside half of the sauce for dipping – you'll use the rest for tofu marinade.

Drain the tofu and pat dry with a paper towel to remove excess water. Cut the tofu block into thick strips. Heat up sesame oil in a frying pan. When the pan is very hot, place the tofu into the pan and fry on each side until golden brown. Pour the peanut sauce into the pan with tofu and fry for a further 2 minutes constantly turning the tofu to ensure it doesn't burn. Set aside for later.

Prepare the working surface where you'll be making spring rolls. Arrange all ingredients around the chopping board so they're within an easy reach when you assemble the rolls. You'll need a shallow bowl of lukewarm water, big enough to dip the rice paper sheets.

To assemble the rolls, immerse the rice paper sheet in a bowl of lukewarm water for 10-15seconds until it softens and transfer on a chopping board. Place a thin layer of vermicelli towards the bottom of the wrap, around 2 inches away, and arrange in a line leaving a couple of inches from either side of the wrap. Layer the rest of the vegetables and tofu on top of the vermicelli layer. Be careful not to overfill the roll, otherwise, the rice paper will split. Fold the left and right sides of the wrapper over the filling & keep rolling away from you. Fold the bottom of the wrap up over the filling.

When ready to serve, cut the rolls in half with a sharp knife. Serve with creamy avocado dip & crunchy peanut sauce.