Pepper, Squash and Feta Frittata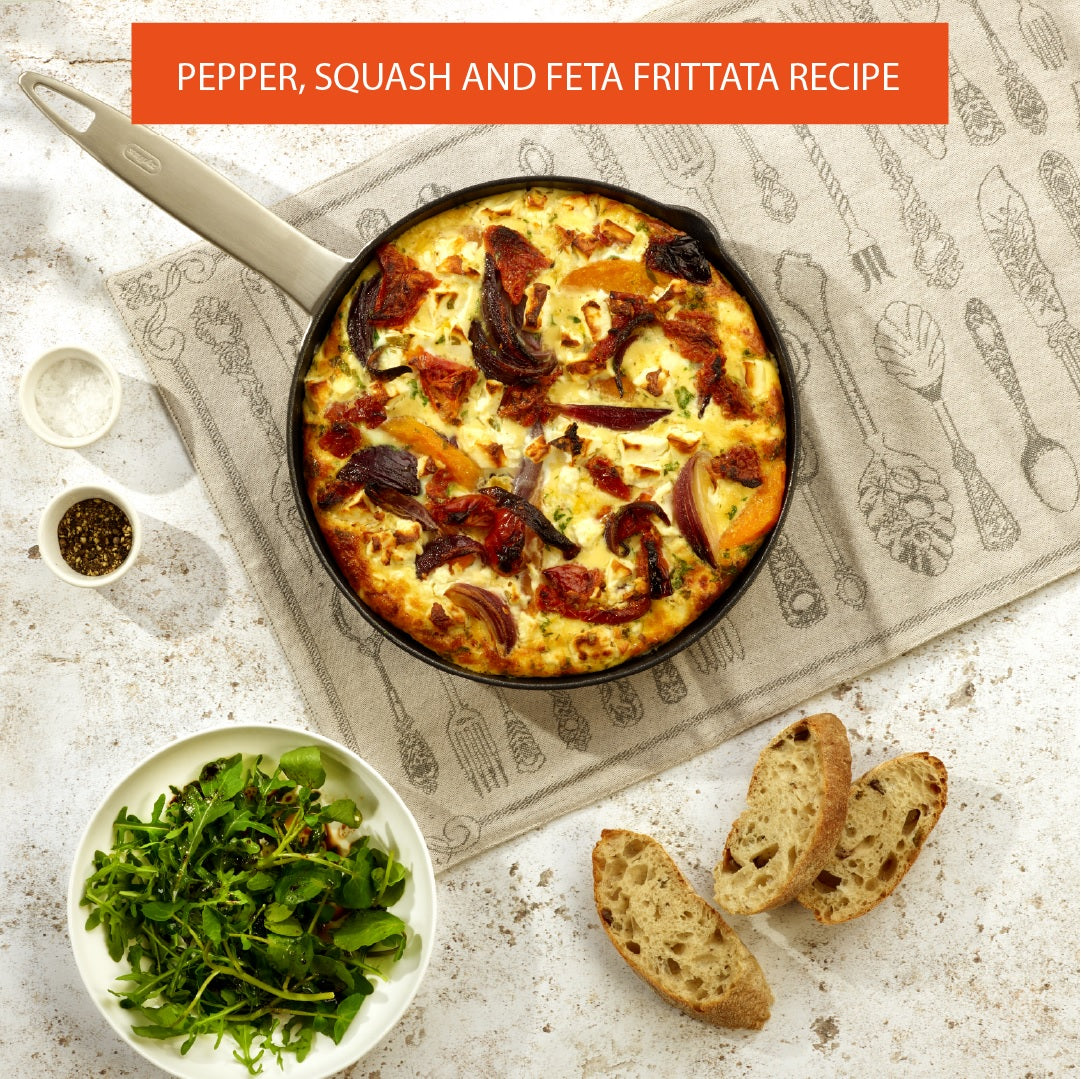 Serves: 4-6
Prep: 20 mins
Cook: 30-35 mins
Difficulty: easy
Ingredients:
2 tbsp olive oil
2 garlic cloves, peeled and crushed
2 red onions, peeled and cut into wedges
400g prepared butternut squash, cut into thin slices
1 large red pepper, deseeded and sliced
8 large eggs
100ml milk
2 tbsp freshly chopped parsley
Salt and freshly ground black pepper
200g feta cheese, crumbled
1 Heat the oil in a Zyliss 24 cm Ulitmate frying pan over a medium heat. Add the garlic, onion and squash and cook for 10-12 minutes, stirring occasionally, until the squash is almost tender. Add the pepper and cook for a further 4-5 minutes.
2 Beat the eggs, milk and parsley together in a Zyliss large jug and season to taste with salt and freshly ground black pepper. Pour into the pan. Lower the heat and cook gently for 5-6 minutes until the egg is nearly set and the base of the frittata is turning golden. Meanwhile, preheat the grill to medium-high.
3 Scatter over the feta cheese and place the pan under the grill. Cook for 5-7 minutes or until the egg is set and golden. Serve from the pan with a peppery green salad and warm ciabatta bread.
Tips
The frittata will taste just as good cold. Carefully ease out of the pan onto a chopping board, leave to cool then cut into slices.
Swap the butternut squash for sliced courgette, par-boiled new potatoes or diced sweet potato, if you prefer.