Moroccan vegetable tagine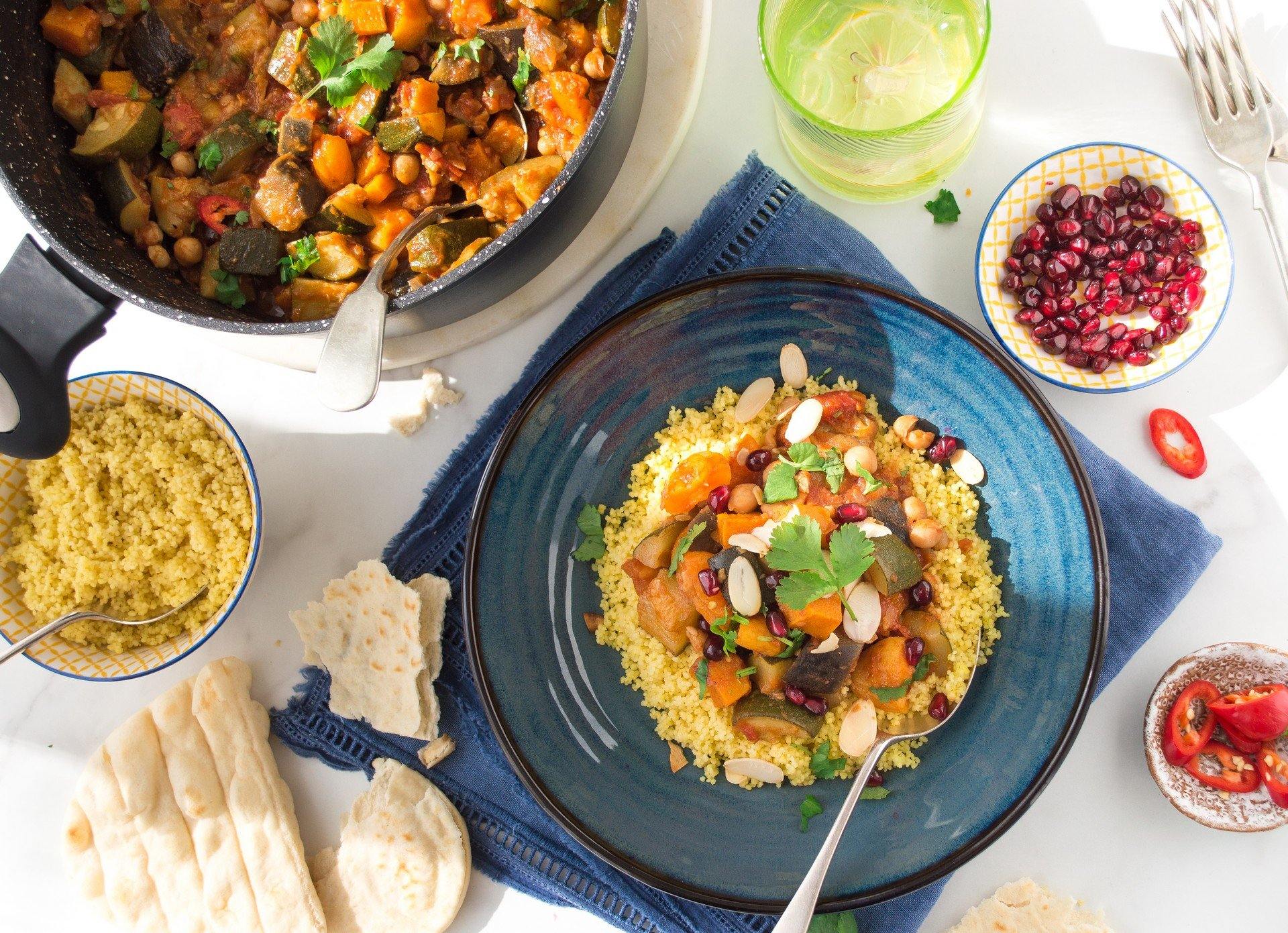 Prep: 10 mins
Cook: 50 mins
Product(s)
Ingredients
1/2 medium butternut squash (about 250g)

3tbsp olive oil

1 large aubergine, diced

2 medium courgettes, diced

1 red onion, finely chopped

2 garlic cloves, crushed

½ red chilli, finely chopped

1 tsp ground cumin

1tsp ground coriander

1 tsp harissa spice

1 tin chopped tomatoes

2tbsp clear honey

A handful of dry apricots, cut in half (around 100g)

200ml water (or as needed)

Salt & pepper to taste

A bunch of fresh coriander
To serve with:
Couscous + 1tsp ground turmeric

Toasted almond flakes

Pomegranate seeds

Flatbread
Method
Peel the butternut squash, remove the seeds and cut into medium size cubes.

Heat up 1 tbsp olive oil in

Zyliss Cook Ultimate Crockpot 24cm

over medium heat. When the oil is hot, add the butternut squash to the pot and fry for around 10mins until the squash has slightly softened. Transfer the squash into a separate bowl.

Put the stockpot back on the hob and heat up 1 tbsp olive oil. When the oil is very hot, add courgettes and aubergine and cook for 5-8mins over high heat to brown off the vegetables. Add the butternut squash into the stockpot & turn the heat down to medium.

In a separate pan, fry the onion and garlic in olive oil until golden brown. Add all the spices and mix well. Add a tin of tomatoes, water, honey & apricots, salt & pepper and cook for 2-3 minutes to allow the flavours to mingle. Transfer the sauce into the stockpot with vegetables and simmer for around 25-35mins. Add more water halfway through cooking, if required. Check the seasoning and adjust if required.

To cook couscous, add the couscous to a big bowl with 1 tsp ground turmeric, salt & pepper and mix to combine. Pour boiling water over the couscous (2 parts of water to 1 part of couscous), stir and cover with a lid for 5mins. Fluff up with a fork.

Serve the tagine with turmeric couscous, freshly chopped coriander, toasted almond flakes, pomegranate and flatbread.