Ginger Yule Log with Irish Cream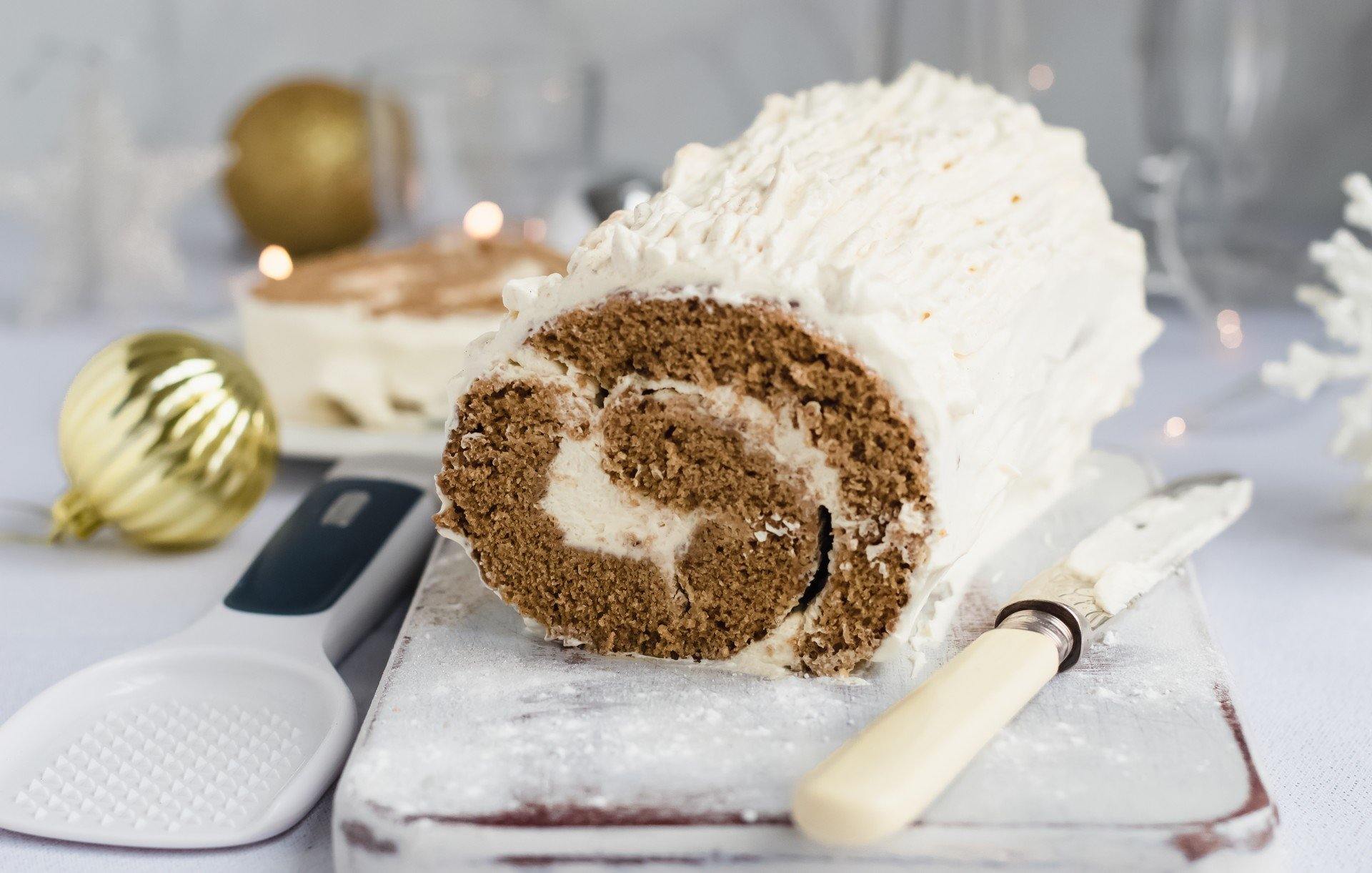 Prep: 35 mins
Cook: 12 mins
Product(s)
Ultimate Non-Stick Induction Safe Frying Pan
Ingredients
For the sponge:
4eggs

125g self-raising flour

125g dark brown sugar

1tbsp freshly grated ginger

1.5tsp ground cinnamon

1/2tso freshly ground nutmeg

1/4tsp ground cloves

2tbsp icing sugar for dusting
For the filling:
284ml double cream

4tbsp Baileys Irish Cream

1tsp ground ginger
Method
Preheat the oven to 180C/160C Fan/Gas Mark 4.

Grease a 23x31cm swiss roll pan with a little vegetable oil and line with parchment paper. Set aside.

In a mixing bowl, combine the flour, sugar, ginger, cinnamon, nutmeg and ground cloves and mix to incorporate all the ingredients.

In a separate bowl whisk the eggs with an electric whisk until light and fluffy, about 3-5mins. Add the whisked eggs to the bowl with dry ingredients and whisk until the mixture is well incorporated & smooth. Make sure not to overbeat the mixture to keep it light and airy.

Transfer the cake batter into the cake pan and spread evenly around the pan with a spatula. Gently shake the cake tin to allow the cake batter to distribute evenly around the tray. Bake in the centre of the oven for 10-12mins or until done. Insert a wooden skewer in the centre of the cake. If it comes out clean, the cake is done. Allow the cake to cool for 2mins.

Place a clean kitchen towel on the kitchen worktop and put a big sheet of parchment paper (a little bigger than the size of the cake tin) on top of the towel. Sift a thin layer of icing sugar (around 2tbsp) onto the parchment paper. Whilst the cake is still warm, turn the baked sponge onto the sugared parchment paper. Gently peel off the lining paper. Roll up the sponge from the short edge using the parchment paper and the kitchen towel to help you keep it tight. Leave it to cool for 10mins or so.

Whilst the sponge is cooling, make the filling. Combine all the ingredients in a mixing bowl and whisk on high speed using an electric hand mixer until it starts forming soft peaks, around 10-12mins. Then keep whisking on a slower speed until the cream starts to feel more solid and the peaks don't flop over.

Gently unroll the sponge and fill with whipped cream, spreading it evenly around the cake with a palette knife. Leave an inch gap around the edges. Using the parchment paper to help, roll the sponge from the short edge. Use the rest of the cream to cover the cake, smoothing it out with a palette knife. Use a fork a slide it along the cake to make 'log like' indentations. Keep the cake refrigerated until you're ready to eat it.