Easy Peasy One Pan Roast Chicken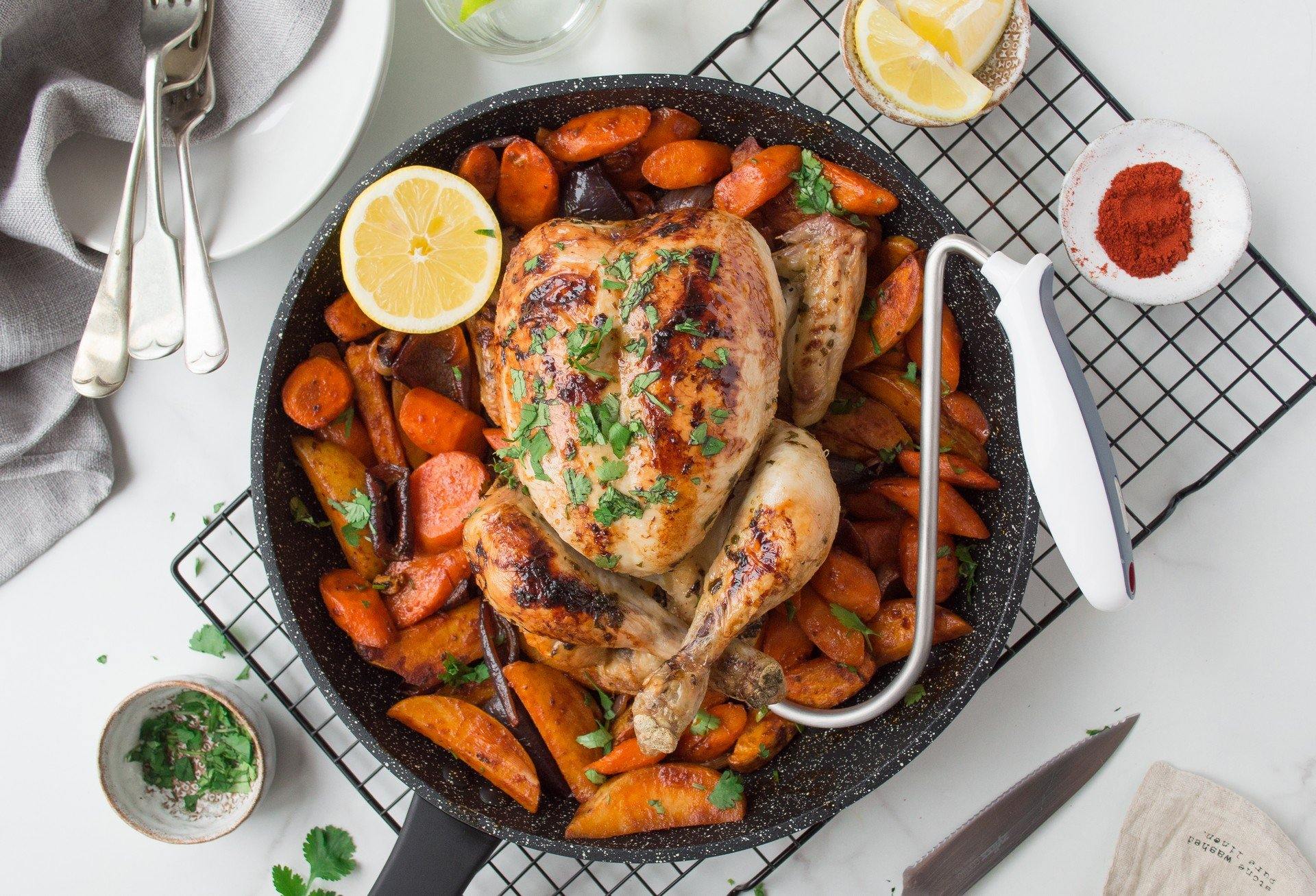 Prep: 20 mins
Cook: 1hr 25 mins
Product(s)
Ingredients
1.25kg whole free range chicken

50g unsalted butter, softened

1tsp lemon juice

A handful of coriander, finely chopped

Salt & pepper to taste

1 lemon, cut in quarters

400g carrots, peeled & roughly chopped

2 medium size red onions, quartered

300g potatoes, cut in wedges

2tsp smoked paprika

1/4 tsp cayenne pepper

2-3tbsp olive oil
 Method
Preheat the oven to 180C, 170C fan. In a small bowl, combine unsalted butter, lemon juice and chopped coriander and mix until combined. Using a pastry brush, rub the mixture into the skin of the chicken, making sure the whole of the bird is evenly coated. Season the chicken with salt & pepper. Stuff the lemon quarters inside the cavity of the bird and tie the legs together with kitchen string. Place the chicken into a pan, cover with foil and roast in the oven for 40mins.
Whilst the chicken is roasting, peel and roughly chop the carrots, quarter red onions and cut potatoes into evenly sized wedges. Combine all the vegetables in a big mixing bowl and add smoked paprika, cayenne pepper, olive oil and salt & pepper and mix well to ensure the vegetables are evenly coated in the spices.
Take the chicken out of the oven and arrange the vegetables around the chicken. Roast in the oven for a further 45minutes, basting the chicken and vegetables half way through and taking the foil off for the last 20 minutes of roasting.
When the roasting time is up, take the pan out of the oven. Using
Zyliss poultry lifter
, transfer the chicken from the roasting pan onto the chopping board for carving. Give the vegetables a good mix to ensure they're well coated in the chicken juices. Serve immediately.