Chocolate & Ginger Veganh Tart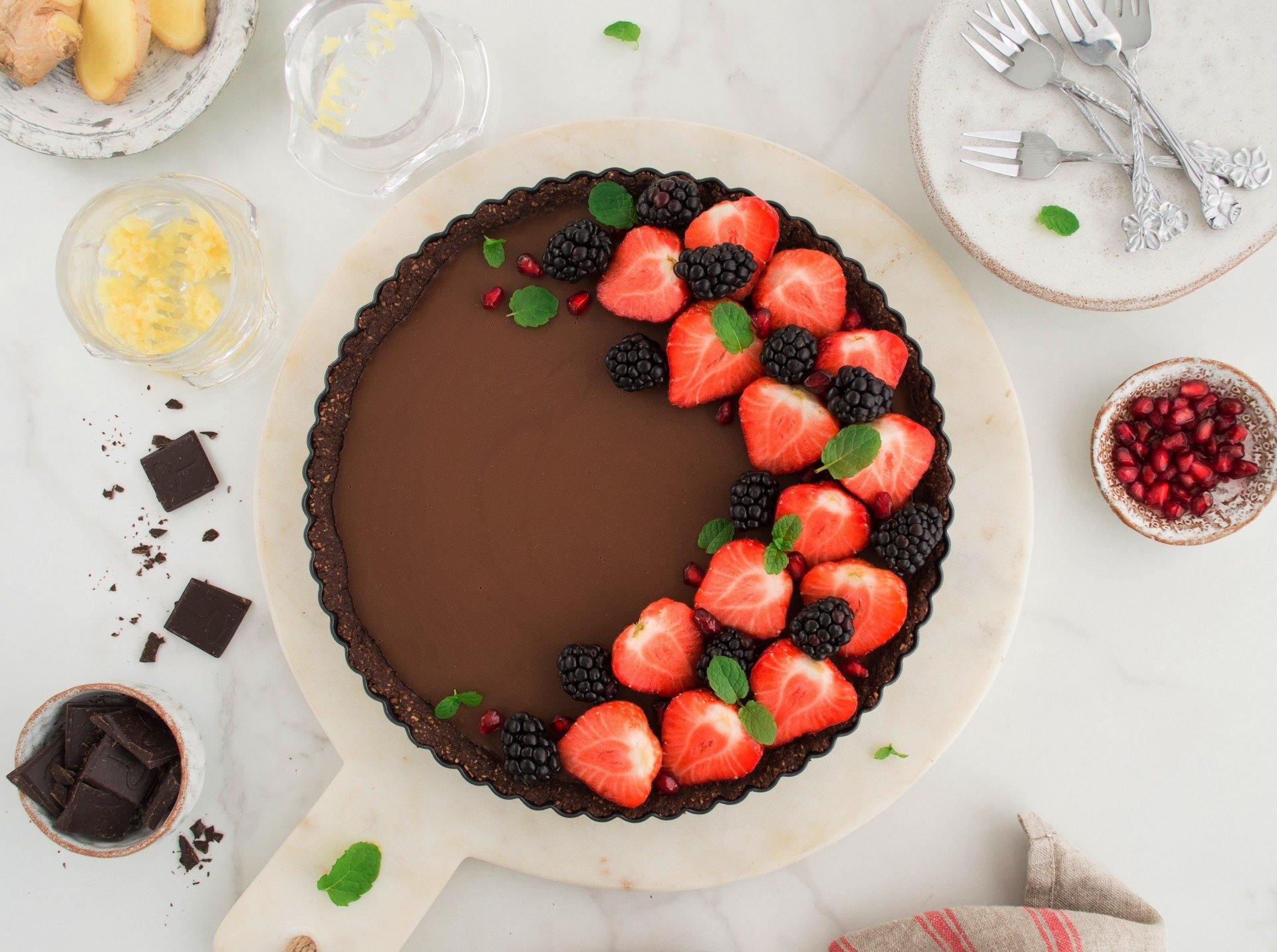 Prep: 10 mins
Cook: 25 mins
Product(s)
Manual Garlic Crusher & Root Grinder
Ingredients
Prep time: 10mins
Cooking time: 25mins
Setting time: 3-4 hours
For chocolate & ginger crust:
2 ½ cup ground almonds

¼ cups shredded coconut

1 thumb fresh ginger, minced in

Zyliss Garlic & Root Mincer

4tbsp organic cacao powder

¼ tsp ground cinnamon

4tbsp coconut sugar (or to taste)

4tbsp maple syrup

¼ cup coconut oil, melted

60g vegan dark chocolate, melted

1tsp vanilla extract

Fresh berries & mint leaves for garnish
For the chocolate filling:
400ml tin of full fat coconut milk

½ thumb fresh ginger, minced in

Zyliss Garlic & Root Mincer

½ cup dairy free milk

100g vegan dark chocolate, melted

2 tbsp cacao powder

4tbsp maple syrup

2tsp agar agar powder
Method
Preheat the oven to 170C fan. Grease a tart tin (24 x 2.8cm) with a little coconut oil.
In a big mixing bowl, combine ground almonds, shredded coconut, ginger, cacao powder, cinnamon and coconut sugar. In a separate bowl, combine maple syrup, coconut oil, melted dark chocolate & vanilla extract and mix until well incorporated. Add the bowl with wet ingredients into a bowl with dry ingredients and mix well until a 'dough ball' is starting to form. Transfer the 'dough ball' into the tart tin and gently flatten it out with your hands, spreading it evenly around the tin and the sides. Gently prick the base of the tin with a fork. Bake in the oven for 20-25mins or until the edges are starting to crisp up slightly. Remove from the oven and let it cool down slightly.
In the meantime, prepare the filling by combining coconut milk, ginger, milk, melted dark chocolate, cacao powder and maple syrup in a small saucepan. Bring to a gentle boil, add agar agar powder and let the mixture bubble gently for 5-7 minutes. Don't worry if the chocolate is starting to split, just keep whisking the mixture and it'll get back to its smooth consistency. Take the saucepan off the heat and let the mixture cool down. The mixture will thicken up as it's cooling down.
Pour the chocolate mixture into the crust and let it set in the fridge for 3-4 hours. Decorate with fresh berries of your choice.