Chilli Roast Pumpkin Soup with Cumin Roasted Seeds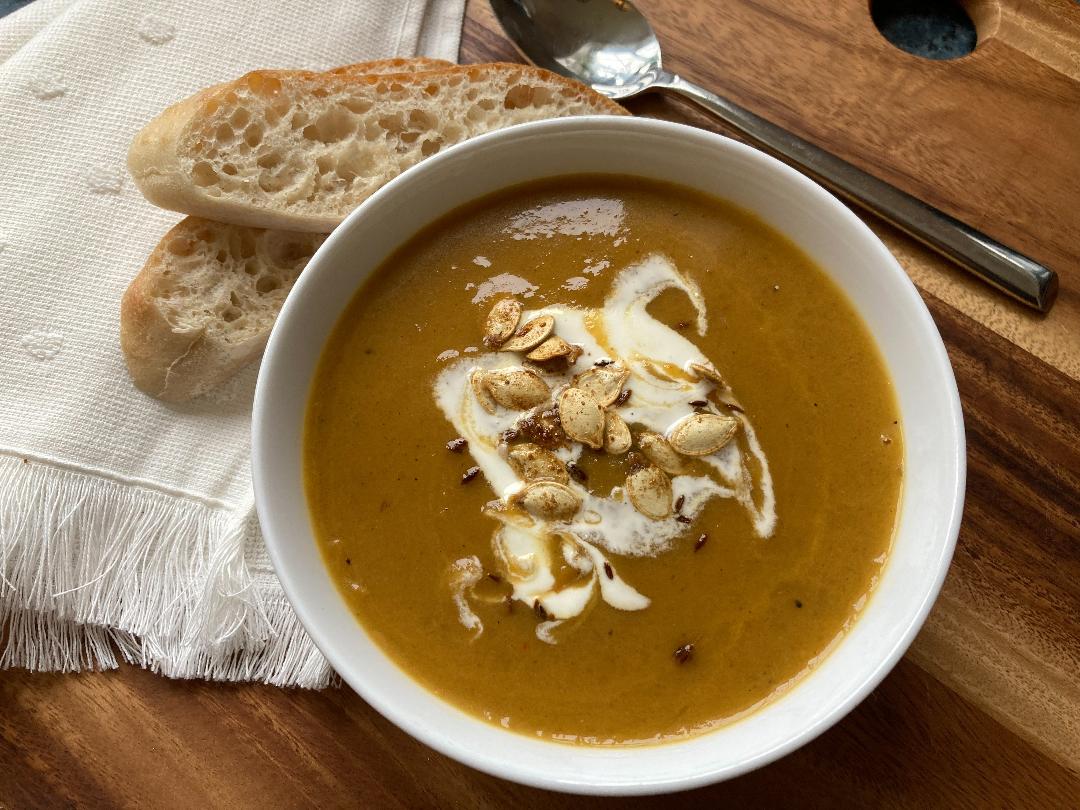 by Angela Patel
Whether you have leftover pumpkin flesh from making a Halloween lantern or just want to make the most of seasonal glut of squashes this chilli- spiced hearty veggie soup is just the ticket!
Kitchen tools needed:
Zyliss Pumpkin & Squash Scoop & Knife
Zyliss Cook Ultimate Stock Pot
Prep: 20 mins, plus cooling
Cook: 1 hr 5 mins
Difficulty Easy
Serves 4
Ingredients
1 x 1.5kg pumpkin (see Tips)
1 large red onion, peeled and roughly chopped
2 garlic cloves, unpeeled
1 red chilli pepper, halved lengthways, deseeded and roughly chopped
2 tsp mild chilli powder
Salt and freshly ground black pepper
21/2 tbsp olive oil
1/2 tsp ground cumin
1/2 tsp cumin seeds
800ml vegetable stock
Soured cream or natural yogurt and crusty bread, to serve
Method
Preheat the oven to to 200°C/180°C fan/Gas Mark 6. Cut the pumpkin in half and, using the Zyliss Pumpkin & Squash Scoop & Knife, scoop out the seeds and pulp from the pumpkin and set aside. Cut the pumpkin into wedges, cut away the skin and chop the flesh into large chunks.
Spread the pumpkin chunks, onion, garlic and chilli in a large shallow baking tray. Drizzle over nearly all the olive oil (reserve 2tsp) and toss to coat. Sprinkle over the chilli powder and season with salt and pepper. Roast for 40-50 minutes, turning once, until the pumpkin is tender.
Meanwhile, use the claws of the Zyliss Pumpkin & Squash Scoop & Knife to separate the seeds from the pulp. Pat the seeds dry with kitchen paper and spread the seeds on a small baking tray. Toss in the reserved oil and sprinkle with the ground cumin, cumin seeds and a little salt. Roast for 10-15 minutes until crisp and golden.
Pour the stock into the Zyliss Cook Ultimate Stock Pot and add the roasted vegetables. Squeeze the soft garlic pulp from the skins into the pan. Bring slowly to the boil and simmer for 10 minutes. Cool for 5-10 minutes then whizz in a food processor or blender until smooth (in 2-3 batches). Return the soup to the pan and heat through gently. Adjust the seasoning to taste.
Ladle the hot soup into warmed bowls, top with swirls of soured cream and a sprinkling of the cumin-spiced seeds. Serve with crusty bread, if liked.
TIPS:
If you want to use leftover pumpkin and seeds from making your Halloween Jack 0' lanterns then you will need about 1kg prepared pumpkin flesh and 4 tbsp pumpkin seeds.
Fresh chilli gives this soup a really fiery warm flavour - for a milder taste use half a small chilli or leave it out completely and up the chilli powder to 1 tbsp.
Any left over roast pumpkin seeds can be stored in an airtight container for a few days.