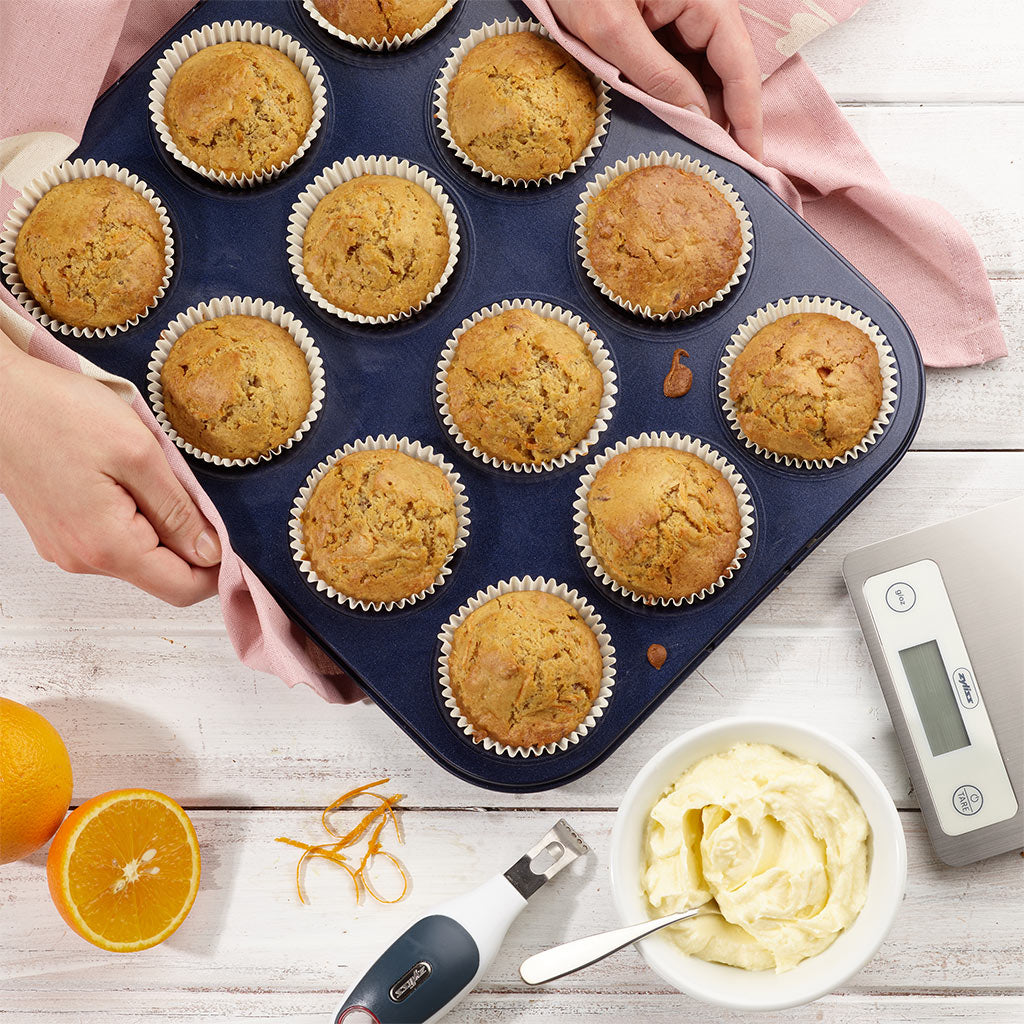 Makes: 12 muffins
Prep: 20 mins
Cook: 15-20 mins
Difficulty: easy
Ingredients:
250g plain flour
2 tsp mixed spice, plus extra to sprinkle
1 tbsp baking powder
125g golden caster sugar
Zest of 1 orange
75g butter, chilled and coarsely grated
1 large egg
175ml milk
125g carrots, peeled and coarsely grated
For the frosting:
100g unsalted butter, softened
2 tbsp orange juice
100g icing sugar, sifted
100g full-fat soft cheese, softened
Orange zest, to decorate
1 Preheat the oven to 200C/400F/Gas 6. Line a Zyliss 12-hole muffin tray with 12 paper muffin cases.
2 Sift the flour, mixed spice and baking powder into a large bowl. Stir in the sugar, orange zest and grated butter. Mix to coat the butter in the flour.
3 Beat the egg and milk together in a jug. Pour into the dry ingredients and stir until just blended – it should still be a little lumpy.  Fold in the grated carrot. Divide the mixture evenly between the muffin cases.
4 Bake for 20-22 minutes or until risen, golden brown and just firm to the touch. Cool for 5 minutes then transfer to a wire rack to cool completely.
5 To make the frosting, using an electric mixer, beat the butter and orange juice in a bowl for 2-3 minutes until pale and soft. Gradually beat the icing sugar with a wooden spoon. Once the sugar is incorporated, beat with the mixer again for 1-2 minutes then add the soft cheese and beat until smooth and creamy.
6 Swirl a spoonful of frosting over the top of each muffin. Decorate with orange zest and a sprinkling of extra mixed spice, if liked.
Tips
Muffins are best eaten on the day of making but they will freeze well without the frosting. Cool completely then pack into freezer bags. Defrost at room temperature for 2 hours then top with the frosting.
Add 50g chopped pecans or walnuts to the muffin mixture.