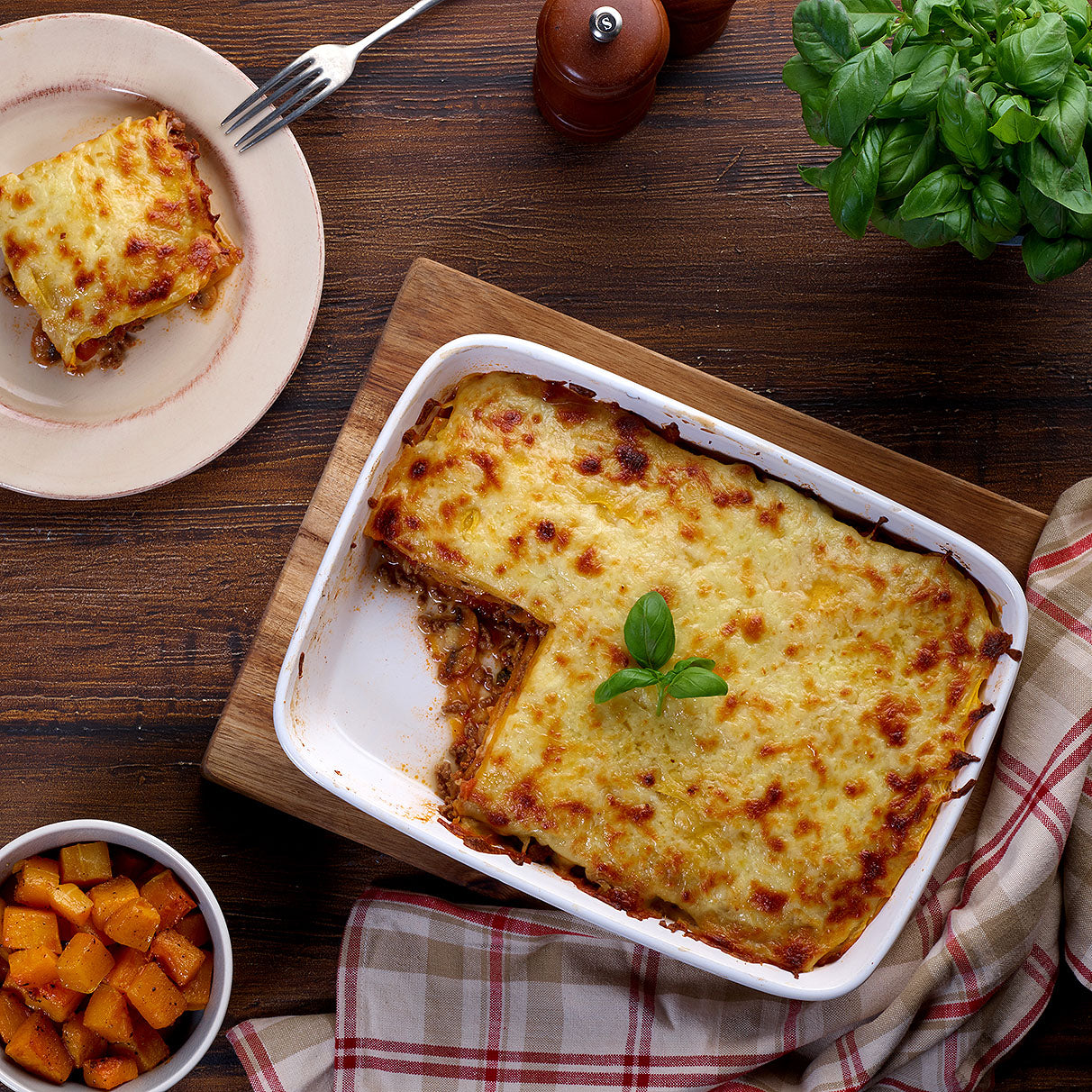 Prep: 30 mins
Cook: 1 hr. 30 mins
Product(s)
Ingredients
2 small butternut squash (or 1 large squash) 

1tbsp. olive oil
1 onion, finely chopped
2 garlic cloves, crushed
1 tbsp. smoked paprika
1tbsp tomato puree
500g lean beef mince 
200g mushrooms, thinly sliced
400g tin good quality chopped tomatoes
1tsp red chilli paste
1 tsp sugar
A few fresh basil leaves, finely chopped, plus extra to garnish
Salt and freshly ground black pepper
2

x 150g mozzarella balls, drained and thinly sliced
Method
In a large frying pan, heat up the olive oil. Add the onion and garlic to the pan and fry over medium heat for 5-6 minutes until softened. Add paprika and tomato puree and cook for a further 1-2 minutes.

Add the mince to the pan and fry over high heat for 5-6 minutes until browned, breaking up any lumps with a spatula and add the mushrooms and cook for a further 3-4 minutes then stir in the tinned tomatoes, chilli paste

&

and sugar and bring to the boil. Reduce the heat and simmer for a further 10-12 minutes, adding the chopped basil in the last 2 minutes of cooking. Season to taste with salt and freshly ground black pepper.
Meanwhile, peel the butternut squash and cut into 6-7cm long chunks. Using Zyliss SpiraSlice sheet blade, spiralise the squash into long sheets. Cut the sheets to the width of your ovenproof baking dish (we used a 22 x 28cm dish). The bulbous part of the butternut squash with soft core and seeds won't spiralise due to its soft core. Don't discard it – just dice this part of the squash after you've removed the seeds, to roast it and serve as a side with lasagne– see Tip below. Preheat the oven to 200C/180C fan /Gas Mark 6.
Place a layer of the squash sheets at the bottom of the dish so they slightly overlap each other. Cover with half the mince mixture (ensure you've covered all the squash and there are no gaps) and dot half the sliced mozzarella on top. Repeat with half the remaining butternut squash sheets and the rest of the mince and sliced mozzarella to make a second layer. Top with the rest of the butternut squash sheets and scatter over the grated mozzarella. (ensure you cover all of squash). Bake in the preheated oven for 40-45 minutes until the top is golden and bubbling.
Serve garnished with basil sprigs and with the roasted squash.
TIP: 
The squash that you diced earlier –place in a roasting dish, sprinkle with smoked paprika, season with salt and freshly ground black pepper and drizzle with a little olive oil. Roast alongside the lasagne for 25-30 minutes until tender and golden.