Blinis with Horseradish, Beetroot and Smoked Trout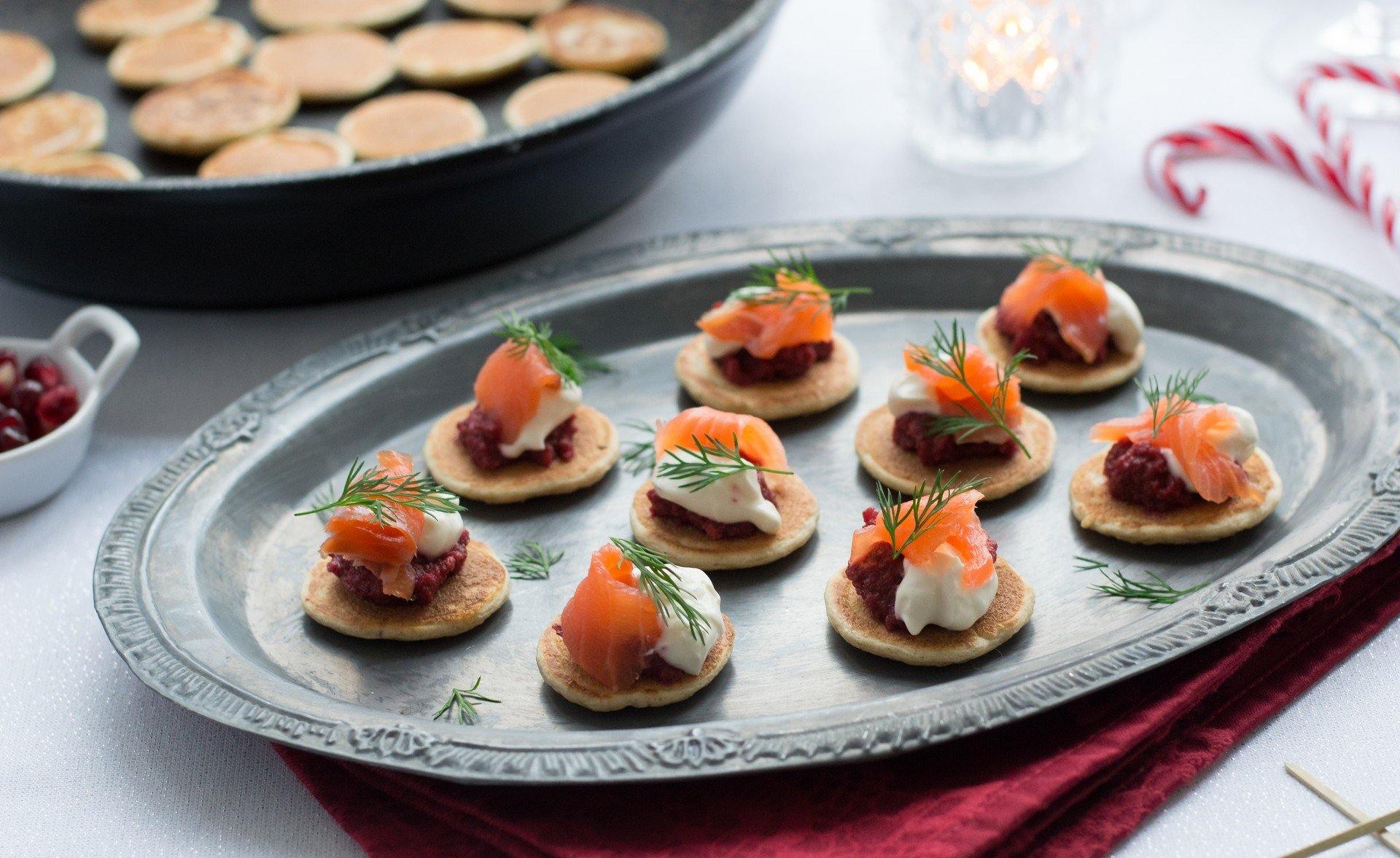 Prep: 40 mins
Cook: 25 mins
Product(s)
Easy Pull Manual Food Processor
Ultimate Non-Stick Induction Safe Square Grill Pan 26cm
Ultimate Non-Stick Saute Pan & Lid 28cm
Ultimate Non-Stick Induction Safe Crepe Pan 25cm
Ultimate Non-Stick Induction Safe Saucepan
Ingredients
For the blinis:
¼ cup buckwheat flour

¼ cup + 3 tbsp plain white flour

1tsp baking powder

½ tsp baking soda

¼ tsp salt

7g packet of dry yeast

1 tsp sugar

1 egg, lightly beaten

140ml lukewarm milk

1 tbsp olive oil for frying
For the topping:
150g vacuum packed beetroot

1 heaped tbsp horseradish

6-7 tbsp tbsp crème fraiche

Salt & pepper to taste

150g smoked trout

Dill for garnish
Method
To make blinis, combine buckwheat flour, plain flour, baking powder, baking soda, salt, yeast and sugar in a bowl and mix well. Combine the egg and lukewarm milk in a jug and pour into the bowl with dry ingredients and whisk well. Cover with cling film and set aside for at least 30 minutes (or overnight).
To prepare the beetroot topping, place the beetroot, horseradish, 1 tbsp crème fraiche, salt & pepper into a food processor and blitz until well combined. Adjust the seasoning if required.
Heat a little olive oil in pan over medium heat. Spoon the blinis batter into the pan (allow 1 tbsp per pancake) and fry for a minute or so on each side until cooked through.
Top the blinis with beetroot topping, a little blob of crème fraiche, smoked trout and fresh dill. Serve immediately.