Autumnal veggie-protein-punch salad with mustard dressing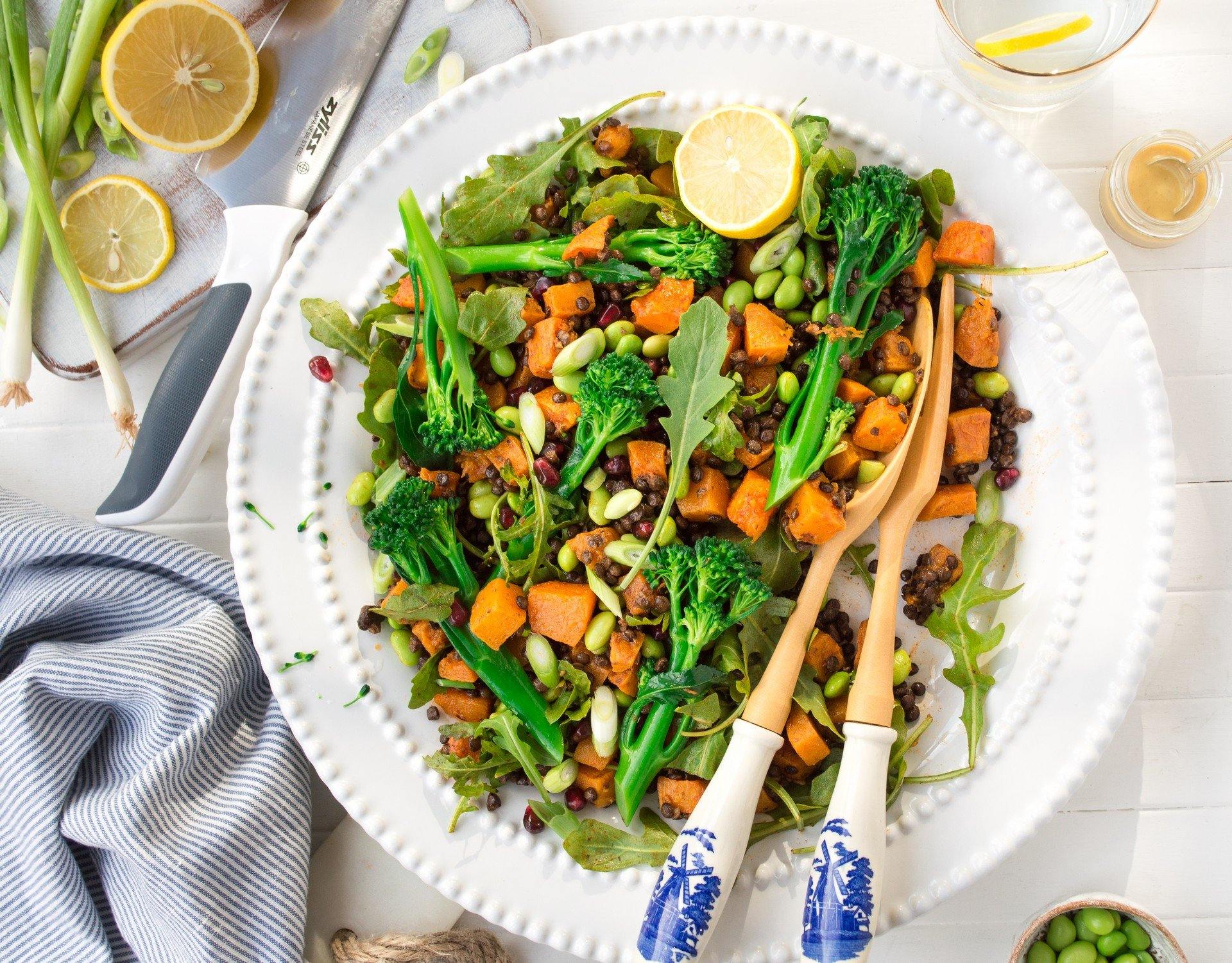 Prep: 10 mins
Cook: 45 mins
Product(s)
Ultimate Non-Stick Saute Pan & Lid 28cm
Ingredients
For the salad:
1 small butternut squash

2tbsp olive oil

Salt & pepper to taste

1tsp smoked paprika

150g tender stem broccoli

200g fresh edamame beans

250g cooked puny lentils

2 big handfuls fresh rocket salad

A handful of pomegranate seeds & spring onions for garnish
For the mustard dressing:
Juice of 1 lemon

2tsp Dijon mustard

2tbsp olive oil

2tsp maple syrup or to taste
Method
Preheat the oven to 180C Fan.

 Supported by Zyliss Comfort Chef's Knife, peel the squash, cut in half, remove the seeds & dice in small cubes. Place the squash cubes on an oven tray, sprinkle with smoked paprika, olive oil, salt & pepper and mix well to ensure the squash is coated well. Roast in the oven for 30-35mins or until done.

In the meantime, boil some water on

Zyliss Ultimate Sauté Pan

. Add tender stem broccoli and boil rapidly for 2-3 minutes. You want the broccoli to be tender yet still a little crunchy. When cooked, drain the broccoli and place in a big bowl of iced water – this will stop the broccoli from cooking further & it'll preserve its bright green colour. To warm the broccoli up, place it in a sieve and pour boiling water from the kettle over the broccoli.

To prepare the dressing, whisk all the ingredients until well combined. If required, adjust the sweetness of the dressing by adding more maple syrup.

In a big mixing bowl, combine the lentils, edamame beans, rocket salad, warmed up broccoli and roasted butternut squash and mix well. Garnish with pomegranate seeds and sliced spring onions and a generous drizzle of lemon & mustard dressing.