Argentinian Chimichurri Steak, Tomato and Onion salad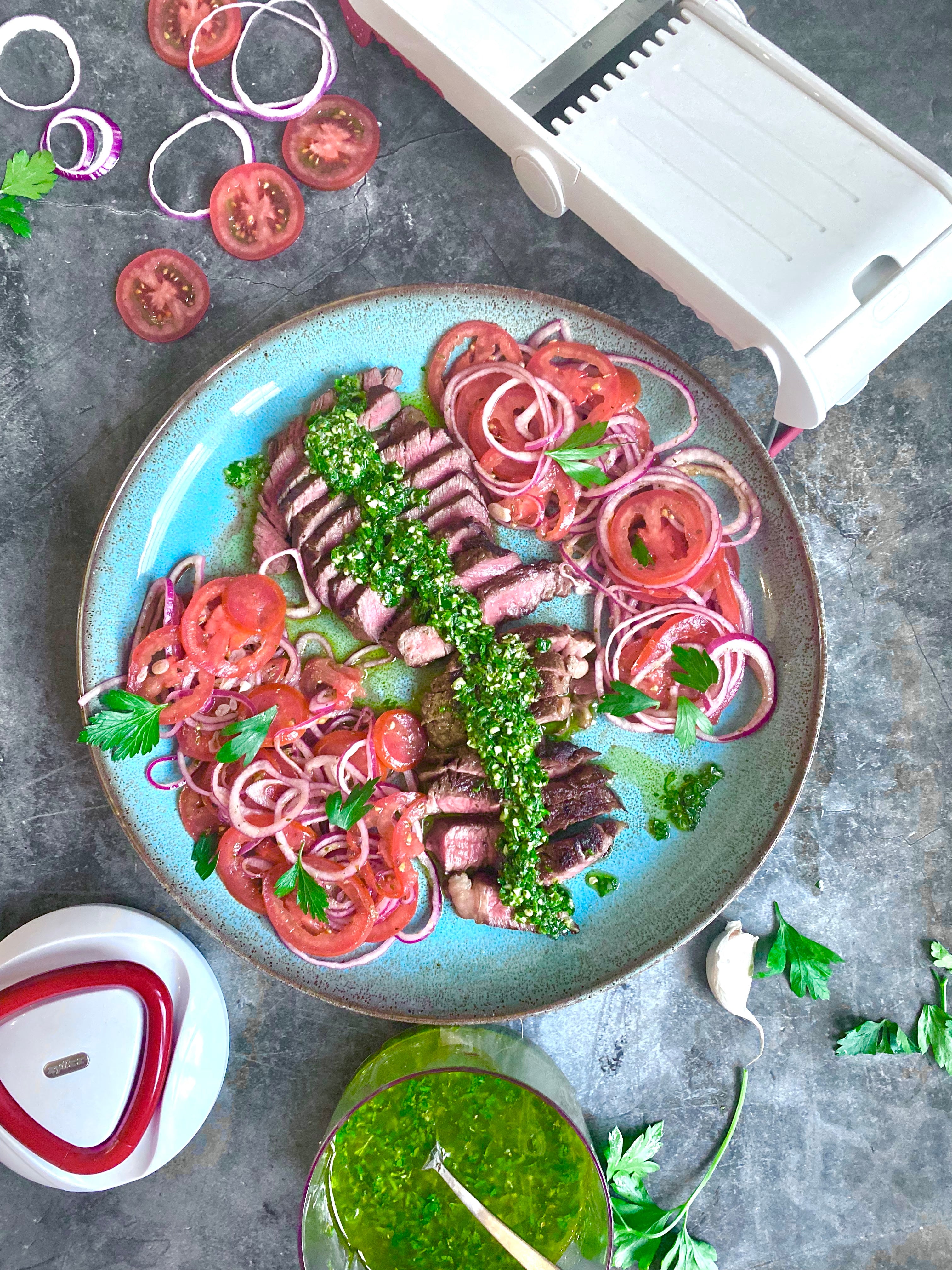 By MasterChef's James Bacon @jamesbaconcooks
For me, this is one of the best ways to eat steak, slathered in a fiery yet fresh sauce made with parsley, garlic, chilli and oil, served with fresh sweet tomato and onion salad. It always brings a smile to my face not only for the taste but also for how much everyone else is enjoying it! Pair this with a nice Argentinian Malbec for a truly magical meal. 
Kitchen tools needed:
Zyliss Easy pull food processor

Zyliss folding Mandolin food slicer Zyliss knife 

set

Zyliss superior ceramic frying pan
Prep: 10 min + 1 hour for Chimichurri flavours to develop in the fridge
Cook: 4—10 mins with extra time to rest
Difficulty: Easy
Serves: 4

Ingredients for the Chimichurri :

1 bunch of Parsley (about 60g)

2-4 cloves of peeled Garlic (depending on how strong you like it)

2

tbs 

of red wine vinegar

The juice of 1/2 a lime (you can add the other half at the end if you like it with

more zing)

1/2-1 green chilli (if you don't like it too spicy remove the seeds)

1

tbs 

of dried Oregano

225 ml of Olive oil

Salt to taste

Ingredients for the Tomato and Onion salad:

6 ripe Tomatoes

2 Red Onions

60 ml Olive oil

60 ml Vinegar (white wine or cider)

1tsp of dried Oregano

1tsp of Salt

4 fresh mint leaves finely chopped

Ingredients for the Steak

3-4 Steaks depending on size (you should have 250g-300g per person)

1 tbs of Olive oil

plant of Sea Salt

Method
Add the Garlic to the Zyliss Easy pull food processor and chop until fine, then do the same with the chilli
In small batches, add the parsley as not to overload and chop until everything is nice and fine.
Add in all the wet ingredients, the dried Oregano and a good pinch of salt
Then place in fridge for at least an hour, then taste, it may need more salt, vinegar or lime depending on your taste so add accordingly.
Just before you cook the steaks, slice the tomatoes on the Zyliss Folding
Mandolin Slicer setting 2 or 3, then the Red Onions on setting 1 or 2 (I like the onions to be slightly thinner) and place in a shallow dish,

Mix the rest of the ingredients in a cup and the pour over the tomatoes and onions, gently mix (

I use my hands) and set aside.

Fire up your BBQ until searingly hot or place your pan on the hob and heat it up until it starts to smoke,
Either brush or rub the oil in to the steaks and season with lots of sea salt and then gently place on grill or the pan (if using the hob you may need to open the window or door, there will be a lot of smoke!) and cook for three and a half minutes on each side for a medium cooked steak, reduce or increase depending on how you like you meat cooked.

Rest the steaks! I put them on 

a plate and brush with the chimichurri, this lets them relax and become soft and tender and also gives extra flavour.

Slice the steaks, arrange on serving platter and drizzle with more of the chimichurri, serve with the tomato and onion salad and if you fancy, some crusty bread!

TIP: Try to buy steaks as thick as possible (one to two inches thick) and I like to mix it up with lean and fatty cuts so there's something for everyone. The chimichurri can be made a day in advance.