Banoffee Ripple Ice Cream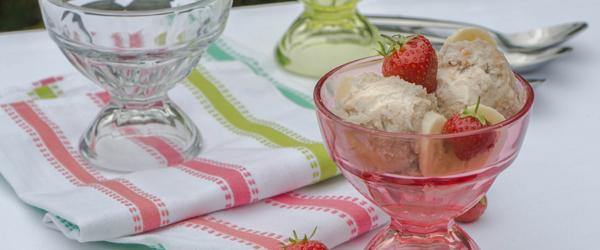 Prep: 10 mins
Cook: 20-30 mins
Product(s)
Ingredients
300ml milk

½ tsp vanilla extract

4 large egg yolks

125g light muscavado sugar

300ml double cream

3 ripe bananas

½ tsp lemon juice

2 tbsp banana liqueur

8 tbsp bought Dulce de Leche caramel toffee/caramel sauce (optional)
Method
Pour the milk into a saucepan, add the vanilla extract and gently bring to the boil.
Beat together the egg yolks and sugar until they are pale and creamy. Stir in the milk, return the liquid to the saucepan and stir continuously over a low heat until it thickens and just starts to coat the back of your spoon (it should be the consistency of  double cream).
Make sure you don't boil the custard because it may separate and curdle. If you feel it is getting too hot, remove from the heat  and just continue stirring until it thickens.
Remove the pan from the heat, stir in the cream and leave to cool.
Once the custard has cooled down, mash the bananas well with the lemon juice and stir into the custard, along with the banana liqueur, if using. If you have an ice cream machine, then follow the manufacturer's instructions to freeze the ice-cream, and you should have softly frozen ice cream within about 20 minutes.
If you don't have an ice-cream machine, then pour the banana custard into a metal or plastic container, cover and freeze for about 1½ hours until the base and sides are becoming frozen. Remove and blitz in a food processor, with an electric hand whisk or energetically by hand with a balloon whisk until smooth. Refreeze, and then repeat a couple more times at hourly intervals so that you end up with a smooth, creamy ice cream rather than one that is full of icy crystals.
Whichever method you use to freeze the ice cream, once it is softly frozen, you can then stir the Dulce de Leche caramel toffee or caramel sauce through the ice-cream to create a ripple effect. Freeze until needed.
Use your Zyliss Ice Cream Scoop to serve when ready!