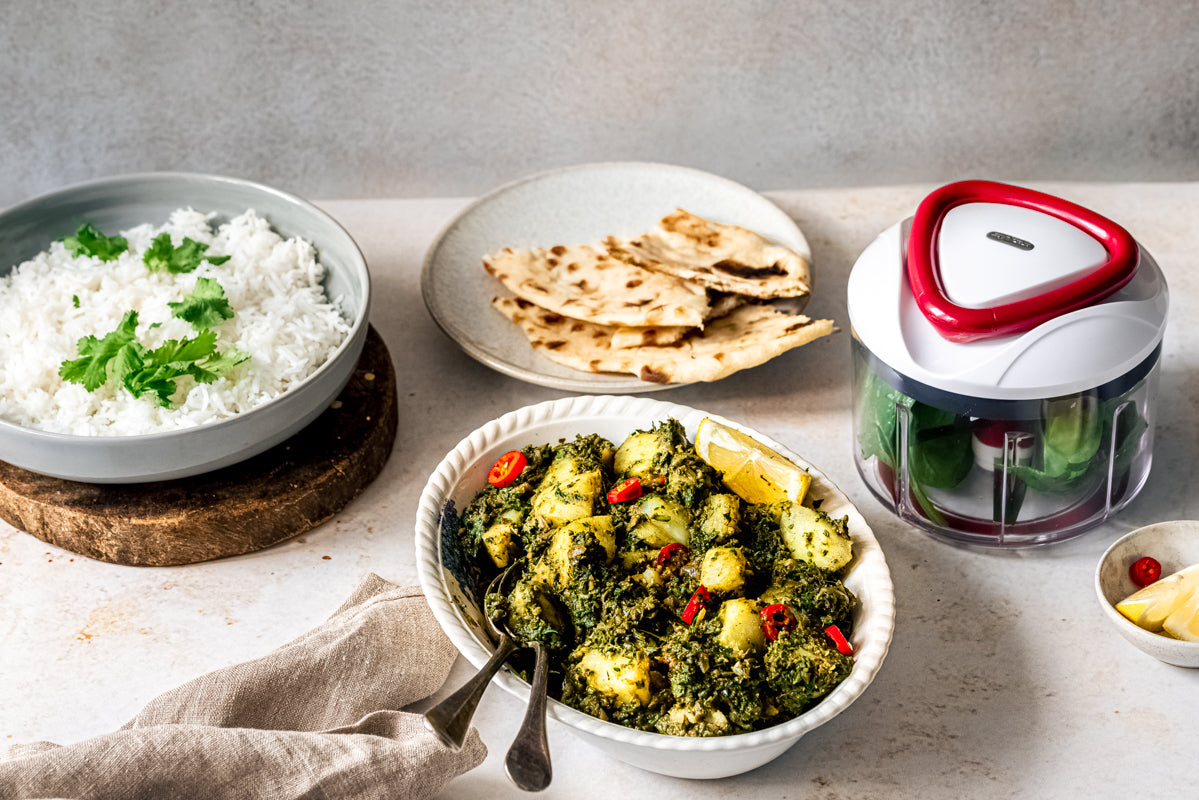 by Sandhya Hariharan - @sandhyaskitchen
This Indian Spinach and Potato curry ticks many boxes. It is easy to make, quick, delicious, uses seasonal veggies, and is ready in under 30 minutes. The recipe also uses easily available ingredients and is perfect for budget-friendly mid-week meals.
I make this Spinach Potato curry with tender baby leaves and potatoes, cooked with a whole range of aromatic spices.
We also make this curry with other seasonal greens like mustard greens and collard greens. Together they taste fantastic and transport you back to roadside Dhaba in India.
This dish is a bit on the drier side. If you like saucier, add a splash of stock or a little coconut milk.
For an extra spicy curry, sprinkle with diced red chilli.
Spinach and Potato curry
Prep time - 10 minutes
Cook time -  15 minutes
1 tsp sunflower oil
1 medium red onion, diced
1 tbsp ginger garlic paste
1 green chilli, finely diced
1 medium tomato, diced
250g spinach, diced
500g potatoes, peeled and cubed
1/2 tsp turmeric
1 tsp red chilli powder
1 tsp coriander powder
1/2 tsp cumin powder
1/2 tsp garam masala
salt to taste
Juice of 1/2 lemon
Method:
Place the potatoes in a pot of boiling water, along with 1 tsp salt. Cook until tender. About 10-12 minutes. Drain and set aside.
Heat oil in a large pan over medium heat.

 

Add onion, and ginger garlic paste and saute for 3-4 minutes until translucent.
Add the tomatoes, green chilli, turmeric, chilli powder, cumin powder, coriander powder, and salt and stir. Cook until the tomatoes begin to soften and the masala comes together. About 3-4 minutes.
Now add the drained potato and spinach, stir and cook on a medium flame for 5-6 minutes.
To finish add lemon juice and a sprinkle of garam masala.
Serve hot with rice, naan bread and a yogurt sauce.