Zesters or Graters? We Answer the Big Questions!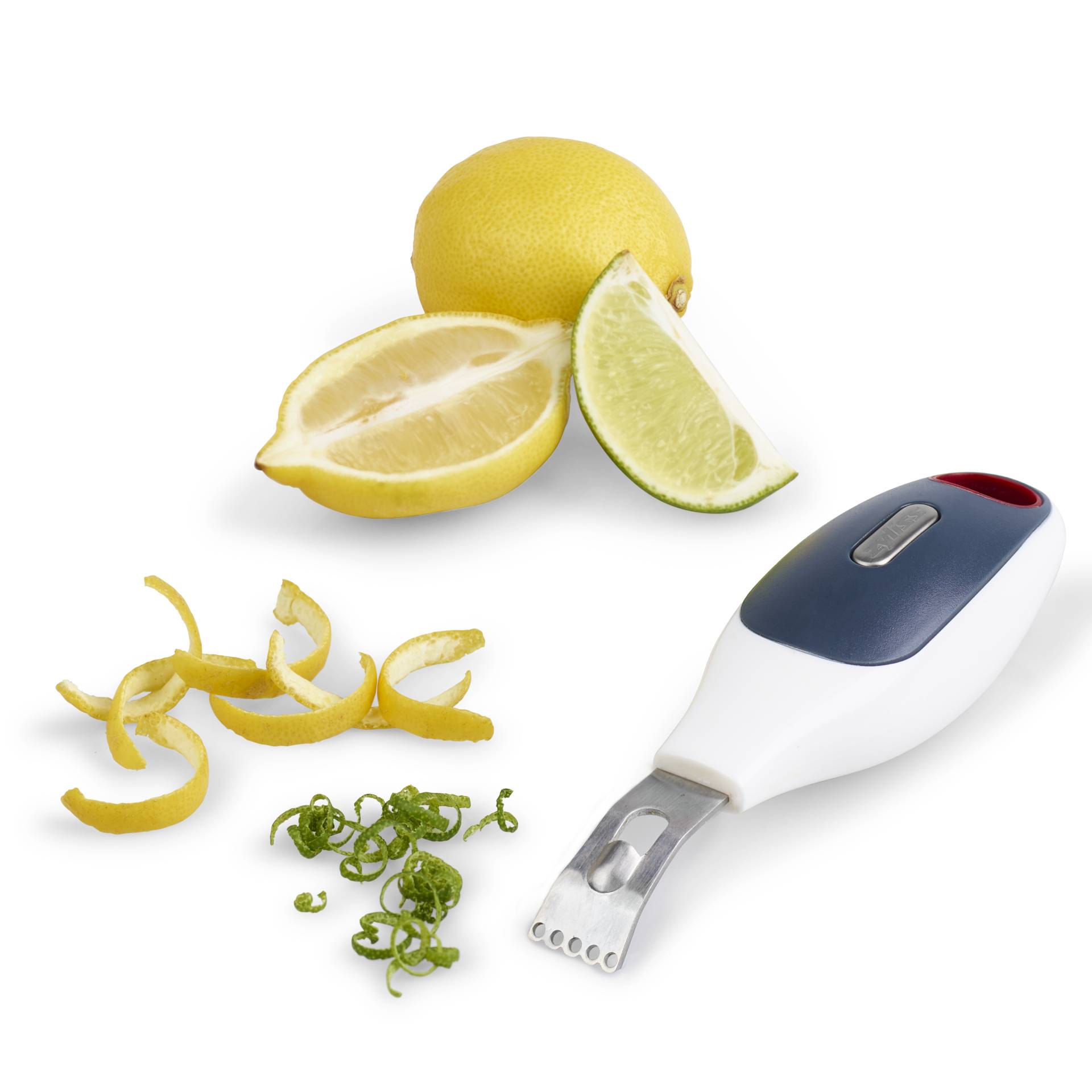 Whether you're adding fresh lemon to a delicious citrus cake or topping your pasta bake with lashings of cheddar, zesters and graters are excellent tools for adding flavour and texture to your dishes. But have you ever wondered about the difference between these implements? And is it really necessary to have both? 
Let's explore how best to get the most out of your ingredients with zesters and graters.
What is the difference between zesters and graters?
Both zesters and graters consist of small blades that break whole ingredients into strips or shavings. Often, this action helps release an ingredient's flavours and aromas to bring a new level of intensity to a dish. 
Although they share many properties, understanding the differences between zesters and graters can help you choose the best tool for the recipe at hand. 
On the whole, zesters create very fine shavings. They have a metal head with tiny shredding holes that are angled to produce thin strips. Zesters are perfect for releasing powerful flavours in aromatic foods — particularly roots and spices.
Graters, on the other hand, tend to create coarse strips of ingredients. The coarseness levels of graters vary, however, and there are different styles to choose from:
Flat handheld graters

have one flat grating board and usually consist of large or medium sized grating holes. 

Mandolins

are similar to flat handheld graters. However, they tend to produce larger, flat strips or sheets and often have interchangeable blades.

Box graters

have four panels with different sized grating blades so you can easily switch from coarse to fine. There's usually a mandolin side.

Rotary graters

consist of a circular grater blade drum attached to a crank handle. You place the food inside the drum and turn the handle to grate it. 
Which foods to zest
When you're looking to add a bit of pizzazz to your food, a zester might just be the perfect tool. Aromatic foods packed with flavour can be truly unleashed with a bit of zesting.
Citrus 
Perhaps the most commonly zested ingredients, citrus fruits are brimming with scent and flavour. You can use a zester to get the most out of lemon or orange rind — perfect for fruity cakes or desserts. Because the shavings from a zester are so fine, you get the citrus flavour without too much bitterness or an unpleasant texture. Using a grater on citrus peel would result in a coarse, waxy texture.
If you'd like to become an expert citrus zester, why not check out our tips on how to use a lemon zester?
And if you want to get a bit creative with your citrus, you could always try out a Zester Knife to produce perfect twists of peel to garnish your cocktails.
Ginger
Another ingredient that lends itself to zesting is fresh ginger. Although you could finely chop ginger, zesting is far quicker and gives you fine, even results. Check out our Zyliss Ginger Tool
Spices
Whether you're topping a hot chocolate with a pinch of cinnamon or adding a sprinkling of nutmeg and cloves to your homemade christmas cake, a zester can give you far better results than a grater. When it comes to small or delicate ingredients that pack a lot of flavour, the tiny grating holes of a zester are the way to go.
Nuts 
Chopping nuts with a knife is possible but it can be fiddly and result in uneven pieces. For a uniform dusting of crushed hazelnut or a pinch of ground almond, a zester can give you fine results quickly. 
What foods to grate
With so many grater styles available, these tools are ideal for shredding a wide array of ingredients.
Cheese 
What goes hand in hand with a grater more than cheese? Whether you're looking for a coarse smattering of cheddar for your lasagne or a fine sprinkle or parmesan, there's a grater to suit every cheese need. You might like a traditional grater with large holes, like the Zyliss Smoothglide Coarse Grater. Or perhaps you'd prefer something with smaller holes, like our Smoothglide Fine Parmesan Grater. 
Another great option for hard cheeses is a rotary grater. With a crank handle that turns a razor-sharp blade drum, the Zyliss Classic Cheese Grater makes light work of hard cheeses like parmigiano and pecorino.
And for the best of both worlds, why not go for a Dual Grater, which features both coarse and fine blades? Ideal for any cheese fiend!
Fruit and vegetables
As well as cheese, graters are perfect for shredding vegetables like carrots, potatoes and cabbage, as well as fruits like apples. From crunchy coleslaw and potato rosti to healthy breakfast toppings, grated fruit and veg can add colour and texture to your dishes. 
Chocolate
Grated chocolate makes an elegant cake and dessert topping. If you've ever tried to finely chop a chocolate bar, you'll know it can be quite brittle and messy — even with the sharpest of kitchen knives!
However, both coarse and fine graters are the ideal, fuss-free way to add the finishing touch to your bakes and hot chocolate drinks.  
Things to know before you buy
Before buying a zester or grater, there are a few things to consider.
How large is the grating area?
The bigger the grating plane the more you can prepare at once. Do you need a large grater for big batches or will a smaller plane suffice?
What is it made from?
The most effective material for both zesters and graters is durable stainless steel. All Zyliss graters feature acid-etched stainless steel blades to provide smooth and effective grating every time and stay sharper for longer. 
How comfortable is it?
The last thing you want when grating or zesting is to catch your fingers on the blades. A good grater or zester should have a comfortable, ergonomic handle that keeps your hands safe and doesn't cause any discomfort. 
How easy is it to clean?
Let's face it, cleaning ingredient particles from grater holes can be a bit of a pain! For quick and easy maintenance, look for a tool that can go straight in the dishwasher without rusting or becoming damaged. We're pleased to say that all our manual graters and zesters are completely dishwasher-safe.
So whether you're adding a citrus tang to your baked goods or topping a pasta dish with cheese, you're sure to find a zester or grater to suit your needs. Manual, rotary, fine and coarse — there's something for everyone!