Which Chopping Board Is Best?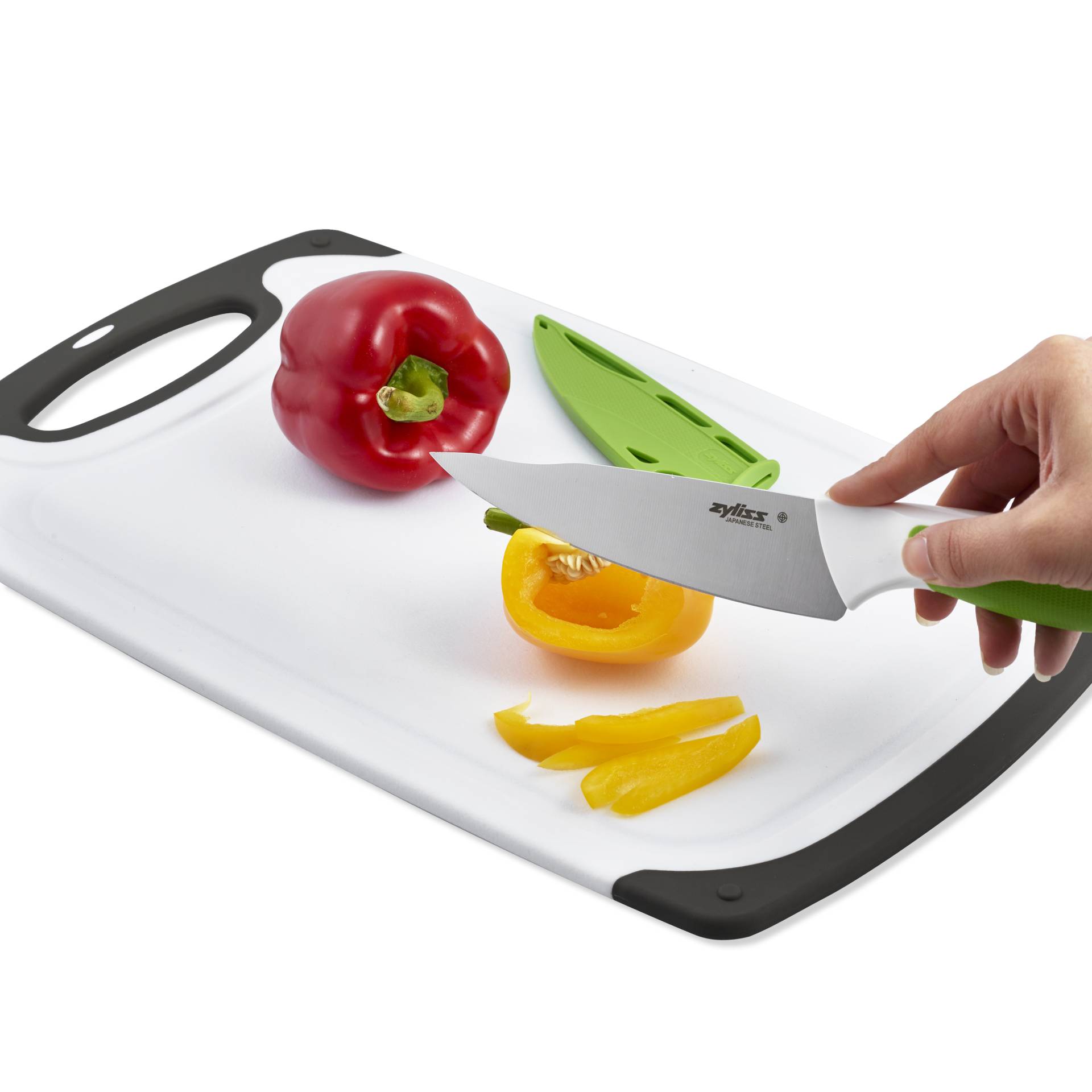 Whether you're slicing, dicing or mincing, a chopping board is an essential piece of culinary equipment to protect your kitchen surfaces and prevent your ingredients from sliding about — and most importantly, keep your fingers safe! But how do you choose the best kind of chopping board? Here, we explore which chopping board is right for the cooking you do.
Things to Consider when Choosing a Chopping Board
When choosing a chopping board, there are a few things to consider. It all depends on the kind of cuisine you like to cook, how much you need to prepare, and how much maintenance you have time for.
Size
Firstly, what size chopping board do you need? If you tend to prepare small ingredients or single portions, a compact board may suffice. However, if you have a big family and need to chop lots all at once or like to prepare large ingredients, you might want something that gives you a bit more space.
Cleaning and maintenance
How easy is it to clean? Do you want something you can pop straight in the dishwasher after use? You might also want to consider whether or not you need to treat or condition the board's surface at all. All Zyliss Chopping Boards are easy to clean, and dishwasher safe.
Knife impact
The harder the surface, the more quickly it will dull your knives. If you choose a particularly tough material for your chopping board, you may need to sharpen your kitchen knives more frequently. 
Durability and cost
You might want to consider your budget and the durability of your chopping board. Would you prefer to spend a little more on something long-lasting? What options are there that bring both durability and value?
Wooden chopping boards
Wooden chopping boards certainly have a distinguished aesthetic. Whether you go for the clean, straight edges of a butcher's block style or something more rustic, they are an attractive option. And because most wooden chopping boards are quite chunky (usually at least 4cm high), they are sturdy and can be resurfaced multiple times.
There are many types of wood you can choose from, too, and each brings different qualities. So what kind of wooden chopping board is best? Well, hardwoods like cherry, maple, walnut, and cedar are the traditional timber choices for end grain boards. This style of board is manufactured from glued pieces of wood where the grain is perpendicular to the boards surface. This cross-section construction gives the board resilience against the impact of the knife — the blade can go between the wood fibres. 
End grain boards are tough and durable and can last a lifetime when cared for properly. A cheaper alternative to an end grain board is an edge grain board, which consists of wood that has been cut with the grain parallel to the board's surface. Although edge grain boards are more affordable, they aren't as sturdy as end grain ones.
A stylish wooden chopping board can make an excellent gift for the gourmet cook in your life! 
Caring for Wooden Chopping Boards
Whichever type of wooden chopping board you go for, it's important to remember that they can't go in the dishwasher — the high-temperature water can cause the wood to warp. If you cut ingredients like raw meat, it's crucial to make sure you sanitise your board before using it for other ingredients to avoid cross-contamination.
Wooden boards tend to absorb odours and can stain easily. So to freshen them up, you can try rubbing half a lemon over the surface and remove stains with baking soda. 
Conditioning your wooden chopping board with food-grade mineral oil will keep it supple, prevent it from cracking, and keep it somewhat waterproof, so it absorbs fewer liquids and smells.
Pictured is the Cole & Mason Acacia Chopping board, coming soon.
Bamboo chopping boards
As bamboo is fast-growing and biodegradable, many people consider bamboo chopping boards the most eco-friendly option. They also tend to be more affordable than hardwood boards. 
Lightweight and durable, bamboo boards are great for transporting from side to sink with ease. The tough surface doesn't dent easily, meaning it's difficult for knives to slice bacteria-harbouring grooves. However, because the surface of bamboo chopping boards is so hard, it can blunt kitchen knives more quickly than other materials.
Similarly to hardwood chopping boards, bamboo boards are not dishwasher-safe and require regular oiling to keep them in tip-top condition. A treatment of food-grade mineral oil every two or three weeks is best. 
Plastic chopping boards
Plastic chopping boards come with an array of benefits over wooden and bamboo options. There are many styles to choose from in a variety of sizes for different types of food prep. Perhaps you'd like a Mini Chopping Board and Knife Set for prepping herbs and vegetables, for example. 
Similarly to bamboo boards, plastic options are lightweight, so you can easily transfer food from the side to a pot or bin. 
Many people consider plastic boards to be more hygienic than wooden designs, as they don't retain as much bacteria in the crevices. In addition, many plastic chopping boards, including all Zyliss chopping boards, are dishwasher safe, meaning you can be sure they're completely clean after use. 
As well as being easier to clean and maintain — no need for oiling — plastic boards have the added benefit of being slimline so you can have a stack of them for different ingredients to avoid cross-contamination. 
The Zyliss 4 in 1 Chopping Board Set and Mat gives you four separate surfaces that connect together for easy storage. Each one has a symbol, so you can dedicate it to a singular ingredient type (for example, meat or fish) and minimise the risk of cross-contamination. The set is ideal for recipes with lots of components. As a bonus, there's a baseboard with a channel that collects liquids neatly. 
One slight downside to plastic chopping boards is that they can be more unstable than chunky wooden ones and may slide around. If you go for a plastic option, look for one with non-slip feet. All Zyliss chopping boards include non-slip feet to reduce the risk of injury. 
Discover the wide range of Zyliss chopping boards here
Chopping boards for every kitchen
As essential pieces of kitchenware, it's important to find the chopping boards that suit your culinary lifestyle. Perhaps you'd like to pair your bread knife with a wooden board but would prefer a selection of plastic boards for your meat or vegetable prep. Whatever your kitchen needs, take a look at our Zyliss collection, and you're sure to find something to suit!