Vegetarian Tomato & Mozzarella Galette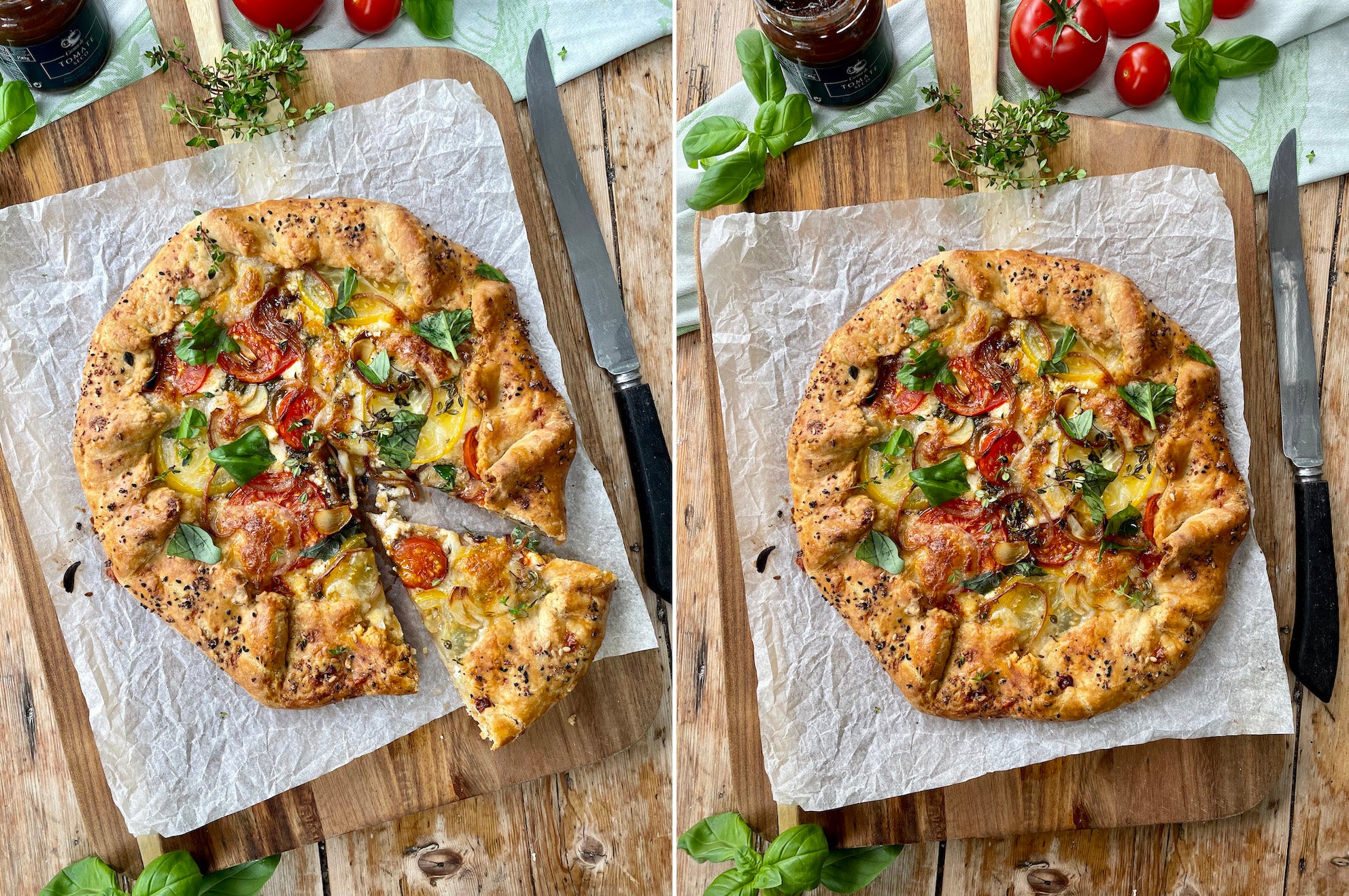 by Dominic Franks from DomInTheKitchen.com @DomInTheKitchen
I love a galette.  It's so basic and rustic and easy to create and perfect for a summery picnic or any al-fresco dining you're planning. It can be made a few days in advance and eaten cold or is yummy hot out of the oven.  Very much like a pizza, it's really all about making a scrummy shortcrust and laying whatever you want on top. I'm celebrating the humble tomato which are so tasty and summery right now, especially if you find some unusual shaped and coloured ones.
Kitchen Tools Needed:
Zyliss non-stick carbon steel baking sheet tray
Zyliss Twist and Seal Storage Container
Prep:  15mins (plus 2 hours to rest the pastry)
Cooking time: 35 mins
Difficulty: Easy
Serves: 6
Ingredients:
for the pastry
225g plain flour
100g salted butter – cold from fridge
20g strong cheddar cheese
1/2 teaspoon apple cider vinegar
a little ice-cold water to mix
for the galette
1 tablespoon sun-dried tomato paste or tapenade
2 or 3 tomatoes – thinly sliced (it's nice to have different colours and sizes)
75g grated cheddar
roughly 75g feta
75g mozzarella
1 clove of garlic – thinly sliced
fresh basil and thyme (dried oregano would work well here)
Start with the pastry.  Place the flour, cheddar and butter into a food processor and whizz till it resembles breadcrumbs (this can be done by rubbing the fat into the flour with your fingertips).
Tip the crumbly flour into a bowl and add the apple cider vinegar and a splash of ice cold water.  
Using a butter knife, start to stir the mixture together and then as it begins to form lumps, go in with your hand.  If it feels a little dry or it's not forming one larger ball, add a splash or two more water.
Once it forms into a ball, knead it in the bowl for a few seconds, then flatten into a disk, wrap in clingfilm and pop in the fridge.  It needs to stay refrigerated for at least 2 hours.
Prep a large baking sheet.  I use a square one that it 35cm x 35cm. When you're ready to make your galette, pre-heat the oven to 180C fan and roll the pastry out into a large round disk.  It needs to be larger than baking sheet.  Roughly 45cm round.
Lay the pastry disk onto a sheet of parchment, then spread a tablespoon of the tomato paste onto the base leaving 2cm or 3cm clear all the way round.
Next sprinkle on the cheddar and feta, followed by some fresh basil and thyme and some salt and pepper.  
Lay your tomatoes onto of this followed by some torn mozzarella, more fresh basil and slithers of garlic.  Season well and top off with pink pickled onions.
Now, carefully fold over the clean edges of the pastry, going around the galette, pleating as you go.  Don't bother trying to be too neat.  A rough and rustic look is what you're after.
Brush the edges with beaten milk and sprinkle with some salt.
Bake for 35 mins or until darkly golden.  Allow it to sit for 10 mins before you tuck in, I always think a galette should be eaten at room temperature.
Tip: You can make the pastry the night before and keep it in the fridge in the brilliant Zyliss Twist and Seal Storage Container or it can be made up to a month in advance and kept in the freezer.