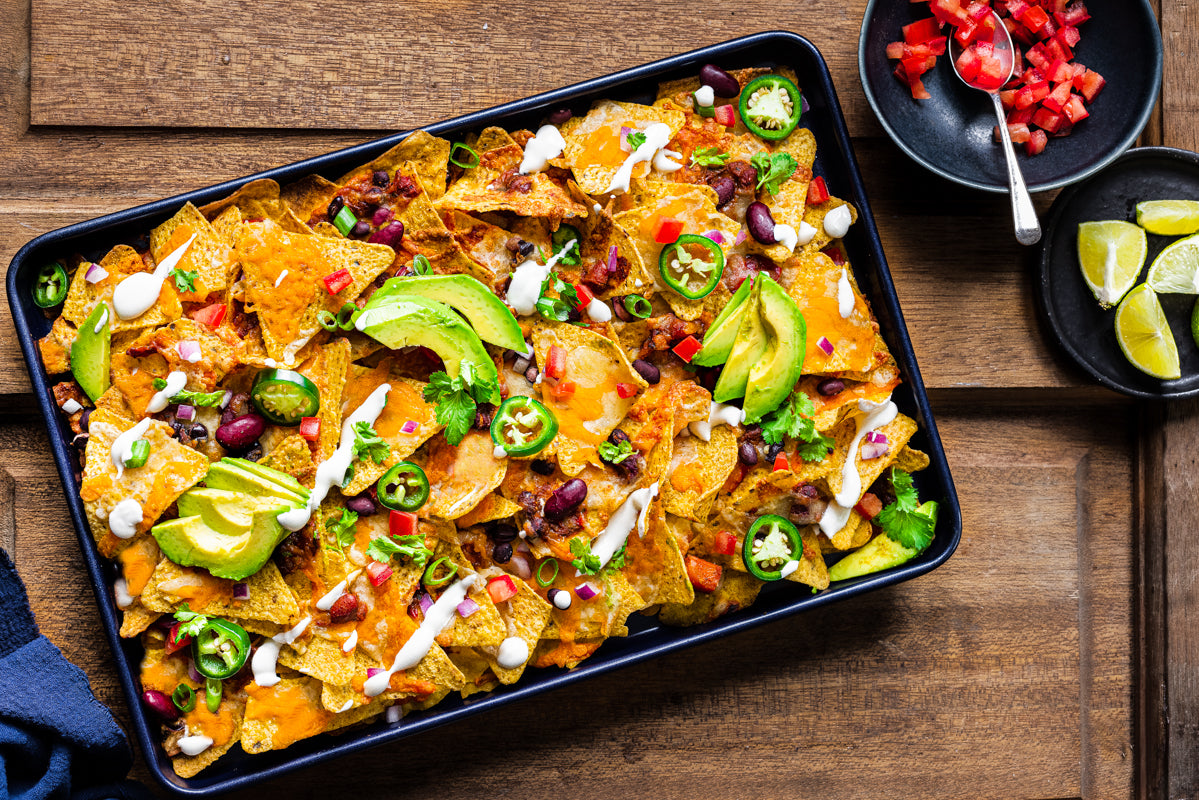 by Sandhya Hariharan - @sandhyaskitchen
This easy Loaded Nachos Sheet Pan is Mexican-inspired and can be made in 20 minutes flat. So much flavour and so simple and easy. Simply layer your ingredients on this Zyliss oven baking tray and bake until the cheese is melted. 
We love sheet pan dinners, especially because its quick and requires less clean up.  It is a fantastic meal for busy weeknights as well as party food that is crowd pleasing. 
Loaded nachos are also super versatile, you can even customise each side of the pan with different types of nachos and toppings. How convenient is that!
I like to serve with fresh avocado, jalapeños, tomato, onion and sour cream. Customise with more / less toppings on your preference. Most importantly serve them as soon as you make it! 
A super fun cheesy loaded veggie nachos meal ready in 20 minutes. 
Prep time - 14 minutes
Cook time - 6  minutes
Serves: 6 
Ingredients
Tortilla chips enough to cover the pan
1 can vegetarian chilli, 392g
100g cheddar cheese
150g red Leicester cheese
Toppings
1 vine tomato, diced
1/4 cup red onion, diced
1 jalapeño, sliced
sour cream as needed
fresh coriander
avocado, sliced
Method:
Preheat oven to 200C.
Place tortilla chips in a single layer onto the baking tray. Top with cheese and vegetarian chilli.
Now layer with another layer of chips, vegetarian chilli and cheese.
Bake for 5-6 minutes or until the cheese have melted.
Now add all your favourite toppings - tomato, red onion, avocado, jalapeño, coriander leaves and sour cream.

 

Serve immediately.