Easy Vegan Gluten Free Root Vegetable Chips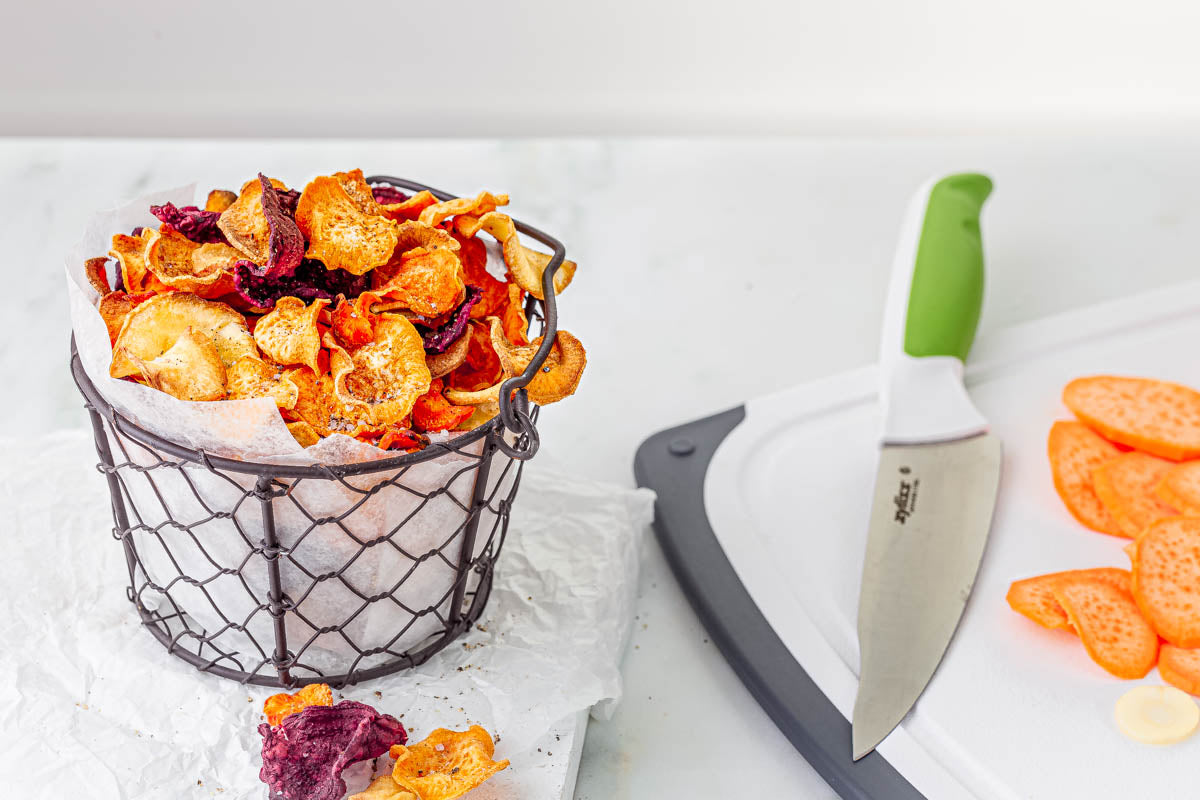 by Sandhya Hariharan @sandhyaskitchen
I remember first indulging in vegetable chips at a friends place, many years ago. My son who was a picky eater loved it too. However, they were fried and not baked!
In a mission to get him to eat more vegetables, I started baking vegetable chips at home. These homemade veggie chips are crispy, crunchy and seriously addictive. The best part is that these chips are easy to make and can be enjoyed guilt-free. 
Prep time - 10 minutes
Bake time - 40 minutes
Snack on these baked vegetable chips guilt free. These crispy veggie chips are loaded with flavours and crunch, yet light in calories. Super fun way for sneaking in additional vegetables in your diet. Naturally vegan and gluten free!
Ingredients:
1 Beetroot
2 Carrots
1 Parsnip
2 Sweet Potato
2 Tbsp Olive Oil
1 tsp Sea salt
Black Pepper as needed
Method:
Preheat the oven to 300F/ 150 degree C Gas mark 2 or 130C fan assisted oven. Line 2 Baking Sheets with Parchment Paper.
Wash, dry and peel the vegetables. Slice the vegetables thin to equal thickness using the Utility knife from Zyliss Comfort Chopping Board and Knife 4 Piece Set.
There is one additional step for making Beetroot chips. After slicing them thin, place the beetroot slices between two kitchen paper towel for at least 10 minutes to absorb the extra moisture.
Toss the parsnip, carrot and sweet potato slices in olive oil and arrange the vegetable slices in a single layer on the baking sheet. Sprinkle Sea salt over them evenly.
Toss the beetroot slices in oil separately and arrange them on the baking sheet. Sprinkle Sea salt over them evenly.
Bake for approximately 25-30 minutes, turning the chips at half time or as you see the edges crumble. Turn again and bake for an additional 5-10 minutes or until the chips are brown and feel slightly crispy.
Remove the baking sheet from the oven. These chips will crisp up more as they cool down.
Season with salt and pepper as desired
TOP TIP -  Slice the vegetables thin and as uniform as possible. The key is to bake until there are no wet shiny spots on the vegetables. The starch and water content varies for vegetables - so keep an eye as they bake.