Non-stick vs Ceramic Cookware: Which Should I Buy?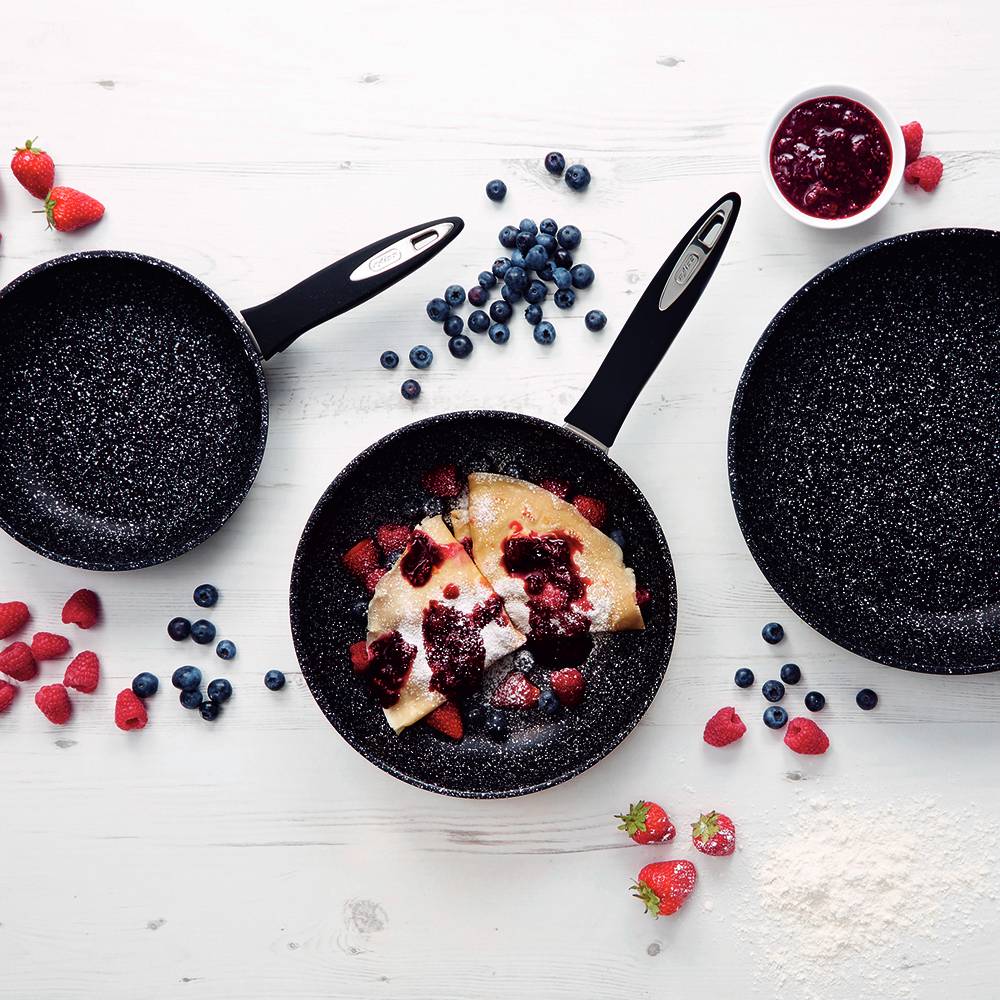 When it comes to cookware, there are a lot of options to choose from. Once you've decided on curating a collection of essential pots and pans, you then need to decide what you want your cookware to be constructed from. Two of the most popular material choices are non-stick and ceramic. Each one has its pros and cons — but which one is best for you?
Well, fortunately, we're here to help you decide! Let's explore the benefits of non-stick and ceramic cookware and the differences between them.
What is non-stick?
When people refer to 'non-stick' cookware, they're usually talking about pots and pans that have a special coating to prevent food sticking. 
Often, these non-stick coatings contain plastic polymers known as PTFE and PFOA . (It's worth noting that PTFE is usually referred to as Teflon, a popular brand name.) They create a slick surface so that no food will stick on and burn. Over the years, these polymers have faced controversy over safety. This is because, at very high temperatures, the non-stick coating starts to wear, breaking down the polymers and increasing the risk of exposure to harmful chemicals.
However, many modern non-stick coatings are free from PTFE and PFOA. For example, the Zyliss Cook Ultimate Non-Stick range utilises innovative Swiss technology for a chemical-free stick-resistant coating. With a textured surface and three non-stick layers, you can cook with confidence - these pans are always safe, even at very high temperatures. 
You might be wondering what's beneath that non-stick coating. Well, that varies from brand to brand, but Zyliss pots and pans are forged from robust aluminium to ensure even heat distribution on any kind of hob. 
As you'll see, non-stick cookware has a number of fantastic benefits. Still, it's also worth checking whether or not your non-stick pots and pans are dishwasher-safe (like the Zyliss collection). Many traditional non-stick coatings can become damaged in the dishwasher, so it's best to wash them by hand. Similarly, the Ultimate range is suitable for use with metal utensils, but you may need to stick with silicone spatulas for other types of non-stick cookware.
What is ceramic?
Ceramic pots and pans are another brilliant cookware choice. A relatively new innovation, this type of kitchenware is usually made from a base of durable metal and has a coating of glazed, kiln-baked clay.
Just like non-stick pans, the clay layer makes ceramic pans stick-resistant so you can cook with the worry of burning ingredients onto the pan surface. Because there are no chemicals in the clay coating, many people feel safer using ceramic pans over Teflon varieties. The Zyliss Superior Ceramic collection has a toxin-free XERA-DUR2 coating, which is three times longer-lasting than traditional non-stick pans!
If you decide to go for ceramic pots and pans, you might find it helpful to read our guide on the best ceramic cookware. Here you'll find more information on how ceramic coatings work and the difference between ceramic and porcelain cookware.
Benefits of non-stick cookware
One of the main benefits of non-stick cookware is its ease of use. It heats up quickly and is easy to clean after use. Plus, because it's designed to prevent food from sticking, there's no need to worry about scraping away burnt ingredients! Simply wiping the surface with a cloth or paper towel should remove any residue. 
Non-stick cookware is also a great choice if you're looking to reduce your butter and oil intake. A good non-stick coating helps cook food effectively without the need for excess fat to stop ingredients clinging on. Whether you're making a light stir-fry or frying an egg, non-stick pans can help you create healthier homemade dishes. The Zyliss Ultimate range has a variety of pan shapes and sizes — from crepe pans to large saute pans — so you can whip up all kinds of healthy cuisine.
Of course, accidents happen! You take your eye off the dish for a minute or accidentally turn the temperature up too high, burning the surface of your pan. But don't worry, if you ever do burn your non-stick cookware, you can take a look at our top tips for cleaning a burnt pan.
Benefits of ceramic cookware
Considered one of the safest cookware types, ceramic pots and pans give you a slick surface without the need for chemicals. Whether you're slowly simmering or flash frying at a high temperature, ceramic pans heat quickly, evenly, and safely.
As with other forms of non-stick cookware, ceramic pots and pans are also a great choice if you're looking to use less butter and oil in your cooking. So why not try out that new healthy recipe?
In addition, ceramic pans are extremely versatile. You can transfer them straight from the hob to the oven — ideal for keeping dishes hot before guests arrive or melting a gooey layer of cheese.
For the style-conscious chef, ceramic cookware is often available in an array of colours and designs so you can make a real statement in the kitchen! What's more, these pans are simple and easy to clean and care for — no need to soak for hours to dissolve that stuck-on rice or scrambled egg; it should just wipe away! The Zyliss Superior Ceramic Cookware range takes this one step further — all our pans are dishwasher-safe for ultimate ease. 
The best cookware for your kitchen
Whether you're looking for a new frying pan or stockpot to add to your kitchen collection or want to invest in a full cookware set, both non-stick and ceramic pans are excellent options. Is there one that stands out more to you? Perhaps you'd like the design and colour variety you get with many ceramic options. Or maybe the clever Swiss coating on our non-stick range appeals to you.
Stick-resistant and easy to clean, both of these versatile cookware types are perfect for all cuisines. So why not explore the Zyliss Cook Ultimate Non-stick and Superior Ceramic ranges today and find the best cookware for your kitchen?
------
Liked this? Read more related articles from the experts at Zyliss: