Kitchen tools every home cook needs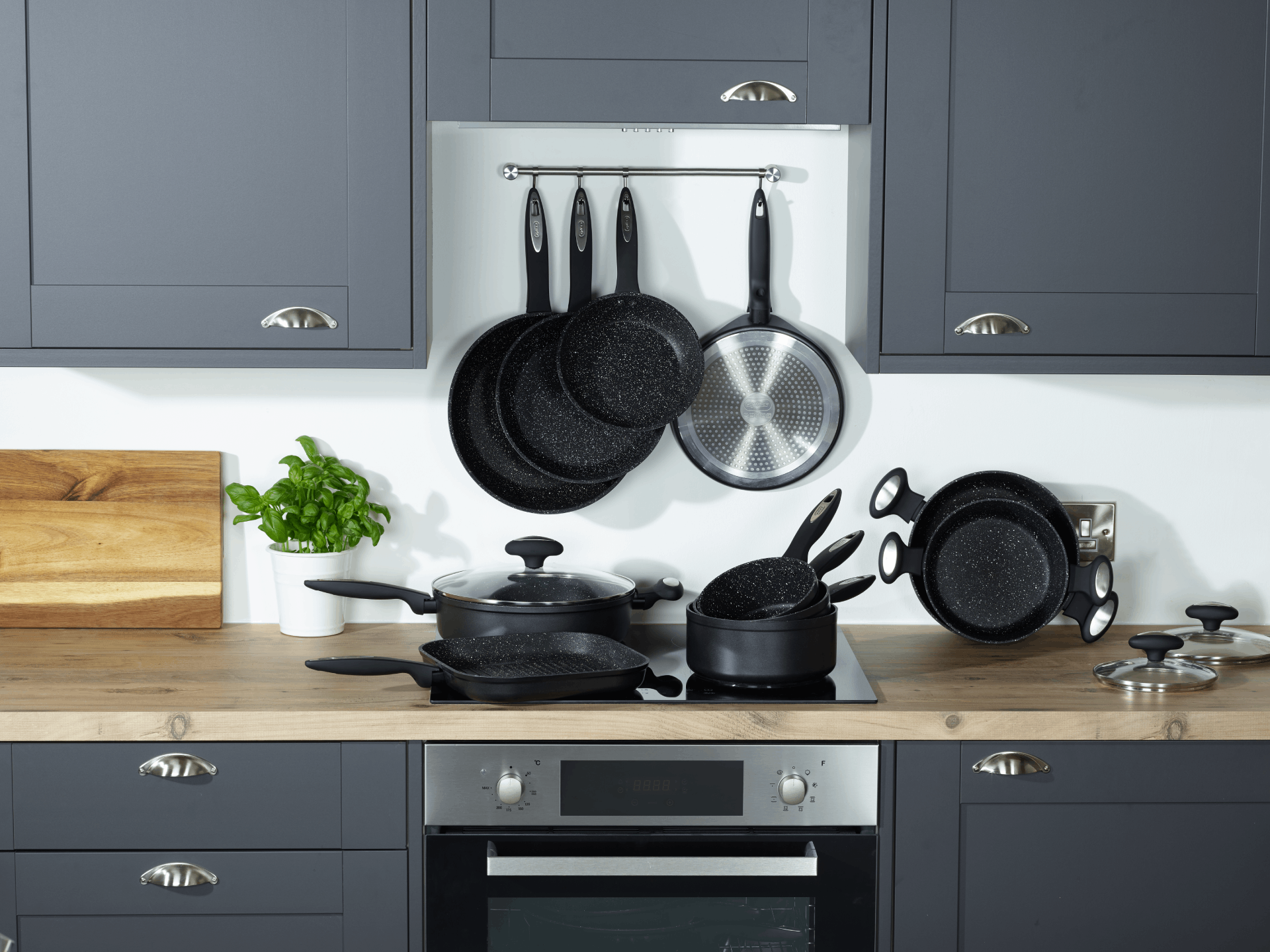 Non-stick frying pan
From cooking up a speedy fried egg for breakfast to searing ingredients, a non-stick frying pan is a fundamental part of your kitchen collection. It's particularly beneficial if you're looking to cook healthier dishes — an effective non-stick coating eliminates the need to use excessive amounts of butter or oil. 
In fact, the Zyliss Cook Non-stick Frying Pan collection uses advanced Swiss coating technology for ultimate slickness without harmful chemicals. Shop our frying pans here.
Ceramic saucepan
A ceramic saucepan is another kitchen tool that everyone needs. Ideal for everything from warming beans to prepping a big batch of pasta, a ceramic saucepan can help your food heat evenly. These pans come in a range of sizes to suit all needs, whether you're making a single portion or cooking for a large group. 
A pan with a lid will help you retain heat and can prevent food with a high liquid content from boiling over. Shop our saucepans here.
Knife set
A high-quality knife set not only makes food preparation easier but can also make it safer. Different blades suit different types of ingredients. For example, a paring knife is ideal for chopping fruit and veg or carrying out intricate cutting tasks. A large Santoku knife, on the other hand, is great for chopping tougher produce.
Shop all Zyliss Knives here
By investing in a comprehensive knife set, you can make sure you always have the right tool for the job. If you'd like to learn more about keeping your tools in tip-top condition, why not read our guide on how to keep your kitchen knives sharp? 
Chopping boards
Once you've curated your dream kitchen knife collection, you'll need some chopping boards to keep your work surfaces safe and scratch-free. 
A wooden chopping board is great for slicing bread and other dry ingredients. However, it's a good idea to have a chopping board for each different ingredient type to avoid cross-contamination. For example, you could go for a set of colour-coded boards to separate vegetables, meat, and fish. 
Alternatively, why not take a look at the Zyliss 4 in 1 Chopping Board Set? With symbols on each interconnected board, you can keep your ingredients separate. Plus, the baseboard helpfully collects any liquid so you can pour it away and limit mess. Shop all Zyliss chopping boards here.
Food processor
Manual or electric, a food processor can make preparing spicy salsas and fresh pesto a doddle. If you go for a manual option, like the Zyliss Easy Pull Food Processor, you can have ultimate control over the coarseness of your ingredients. An electric food processor, on the other hand, can offer you an array of settings. 
For smoothies and soups, you might also want to consider investing in a blender.
Coarse grater
A coarse grater is ideal for adding lashings of cheddar to your pasta. However, its uses go beyond cheese. You can use a grater to add texture to salads and coleslaw or use it to get delicious chocolate shavings to top desserts. For the best of both worlds, you could go for a dual grater that gives you both coarse and fine options. Discover our range of graters here.
Weighing scales
Even if you usually prefer to eyeball your measurements, a set of weighing scales can make all the difference when it comes to certain types of cuisine. If you plan on baking or creating dishes that require precision, every gram can count, so weighing scales are a helpful gadget to have in the kitchen cupboard. Shop our Zyliss Digital Kitchen Measuring Scales here.
Baking dish
Casseroles, roasted veggies, and fruit crumbles turn out beautifully when you have the perfect baking dish. You can choose ceramic or glass to cook lasagnes and layered pies to perfection. Plus, a baking dish will keep your food hot for serving.
Baking trays
Ideal for making delicious cookies, a baking tray is also a handy tool to have when it comes to roasting too. So why not try your hand at creating some tasty sweet potato fries? A good-quality baking tray will have a non-stick coating to prevent any crispy bits from burning onto the surface. Whether you go for a flat sheet or one with a bit of a lip to keep ingredients in, baking trays are a versatile piece of kitchen apparatus every home cook needs. The Non Stick Bakeware designed for you is coming this October. Stay tuned and be notified when launched by signing up to our newsletter.
Timer
For those recipes where precision is key, a kitchen timer can help you achieve perfect results. Though many ovens have in-built timers, a separate one is ideal for keeping track of cooking times when you have lots of different elements heating in different ways.
Air-tight food storage
Once you've whipped up your delicious meals, you'll surely need some effective food storage tubs to keep any leftovers fresh. Twist and seal containers are a great solution. Their airtight locks seal in freshness and keep moisture at bay. When choosing food storage, consider whether you want to keep your food in the cupboard, fridge or freezer, and make sure the options you go for are suitable.
Kitchen tools everyone needs
For some cuisine types and recipes, you may need specialist cooking utensils. So when building your kitchen collection, it's worth considering your favourite dishes and any particular gadgets you might require. However, as you can see, there are a number of kitchen tools that we feel everyone needs as a base for everyday food preparation and home cooking.