Top Hacks to Organise your Kitchen Cupboards and Make Them Insta-worthy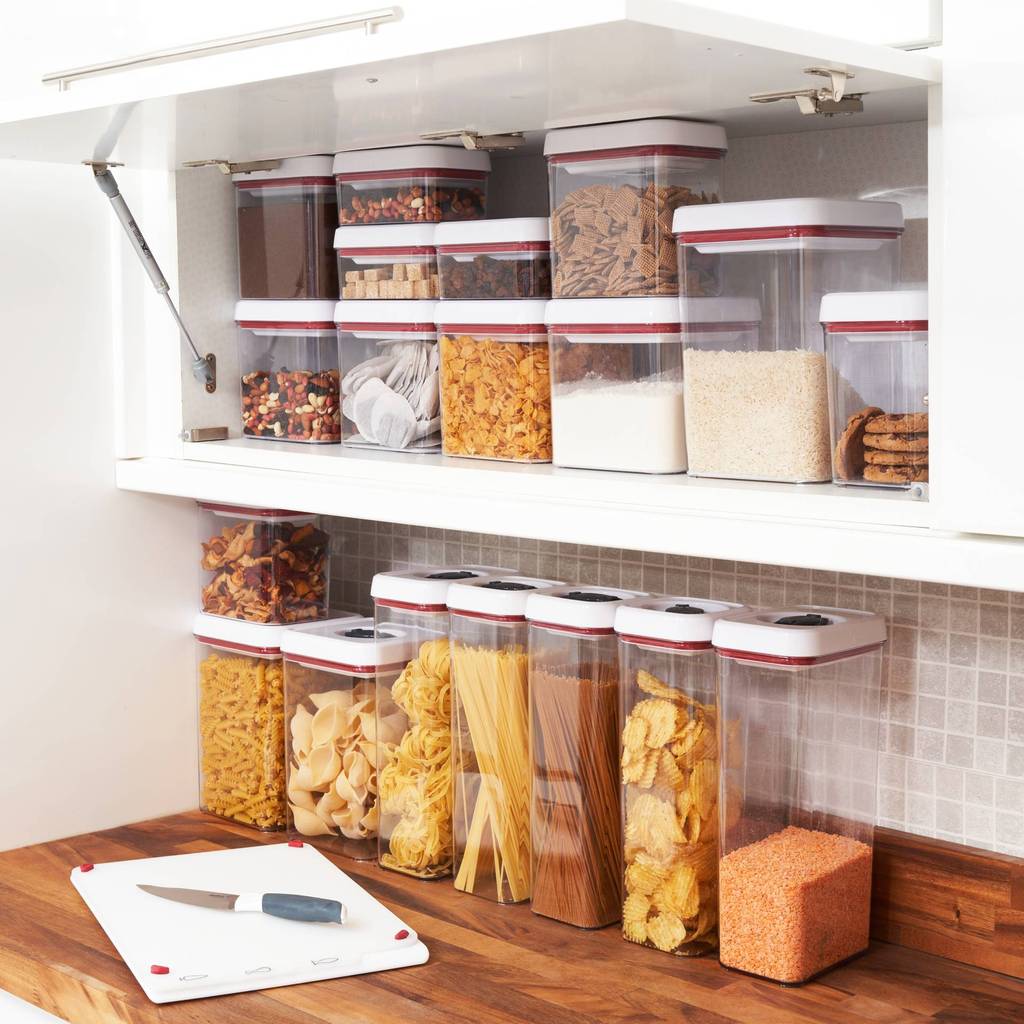 The kitchen is the heart of the home. It's the hub of family fun and a place where those that love to cook can really unwind. Unfortunately, this means it's often the most cluttered and disorganised place in the home. If your kitchen counter is cluttered and your cupboards are practically bursting at the seams, our Zyliss food storage boxes are going to be your new best friend. 
Here's how to restore order in your kitchen... 
Declutter away!
This step should be first and foremost. Before embarking on any organisation task, it's always a good idea to clear out what you don't use. You've probably accumulated a lot of the same kitchen items over the years, and now it's time to say goodbye. It might take some time, but it's certainly worth it. 
Decluttering means you'll know exactly what's been lurking in those cupboards. Plus, you'll have a fresh canvas when it comes to reorganising.
To succeed in the decluttering game, you need to be ruthless. Show no mercy. As a general rule of thumb, anything that hasn't been used in the past three months can go. Of course, you may wish to keep certain items if they hold sentimental value.
If you're decluttering your food cupboards, you'll probably be hit with a wave of tinned food that you continue to buy with every food shop. If that's the case, consider donating some unused canned goods to a food bank near you.
Give your cupboards a good clean 
With your cupboards being completely bare and empty, you'll probably notice quite a bit of food debris. A handheld hoover is ideal for getting rid of those pesky crumbs. But if you don't have one, a swipe with a dry cloth should do the trick.
Once your cupboard is crumb-free, we recommend using some antibacterial spray to sterilise your shelves. Make sure you get into all the corners, as well as the sides and the top of the cupboards. A beautiful blank canvas!
Set up your kitchen cupboards to work for you
Now that your kitchen cupboards are spick and span, everything needs to be put back in the right place. 
By the right place, we really mean whatever layout makes sense to you. Everything you use frequently should be in easily accessible cupboards — think oils and spices in one cupboard, with pots and pans in another close by.  
Once you organise your kitchen cupboards, half the battle is keeping them shipshape. Ensuring that things are easy to put away is just as important! If you have to remove a few items to reach one, you're probably going to stuff it back in and disregard the order that you so carefully implemented. You can avoid this by making sure that everything can be reached by only moving one other item, rather than having to take loads of things out. 
Organise your fridge
Keeping your fridge organised is a whole other story. While the bottom fridge drawer tends to be the go-to place for fruits and vegetables, things can often be forgotten. How many times have you found a soggy or shrivelled courgette lurking in there? Try keeping fruit and veg at eye level, instead. You'll be more likely to reach for those healthy ingredients and reduce waste.
Another handy option is to use airtight storage boxes, like the Zyliss Multi-function Food Keepers. They're ideal for storing partially-used ingredients, like half a lemon or onion to keep them fresh. 
Organise your food cupboards with containers
Food containers are also helpful in keeping your kitchen cupboards mess-free. Take for instance, the rice spill. We've all been there. You'll be finding grains of rice for weeks. However, by pouring your rice into a container, such as the Zyliss Twist and Seal, you can prevent pesky foods from spilling throughout your cupboard. Twist and seal tubs are perfect for dry goods, as they're designed to maintain freshness and keep moisture out. 
Plus, they provide easy pouring and the transparent boxes mean you can easily keep track of your ingredients. And, with a range of shapes and sizes available, there's a container for every food type — from a tall 3.6L container that's ideal for spaghetti to more compact options for smaller foods.
Make use of your countertop
Finally, we've reached the last stage to organising your kitchen cupboards. No kitchen cupboard is whole without a decluttered, clean countertop. Kitchen counter space is usually limited, so finding ways to store the items that you don't use so much will:
1) leave enough room for the stuff that you do use regularly
2) look clean and tidy
3) give you space to actually use the countertop for preparing food
One way you can keep things ship-shape is to make sure you invest in easy-to-store kitchenware. For example, look for chopping boards that can stack and tuck away neatly or go for compact choppers and Manual Food Processors, rather than cumbersome blenders. 
However, you can also make use of the countertop itself. Need somewhere to keep larger kitchen utensils like spatulas and whisks? You could store them in a stylish jar or canister on the side. And how about your kitchen knives? Make sure they're always accessible, yet neat and tidy (not to mention, safe!), with a Knife Storage Block.
A better kitchen experience
Organising your kitchen cupboards can feel like a big feat. But tackling it step by step will simplify the process, and you should now feel a bit more prepared going into it. Following these tips will help you design beautifully organised kitchen cupboards that enable you to access all your cookware and preparation tools quickly and easily. 

Creating a kitchen experience that is as smooth and enjoyable as possible is at the heart of everything we do at Zyliss, and keeping your kitchen cupboards and countertops clutter-free will make cleaning and preparing food so much easier and more enjoyable. Give it a try!
------
Liked this? Read more related articles from the experts at Zyliss: