Essential pots and pans — cookware every kitchen should have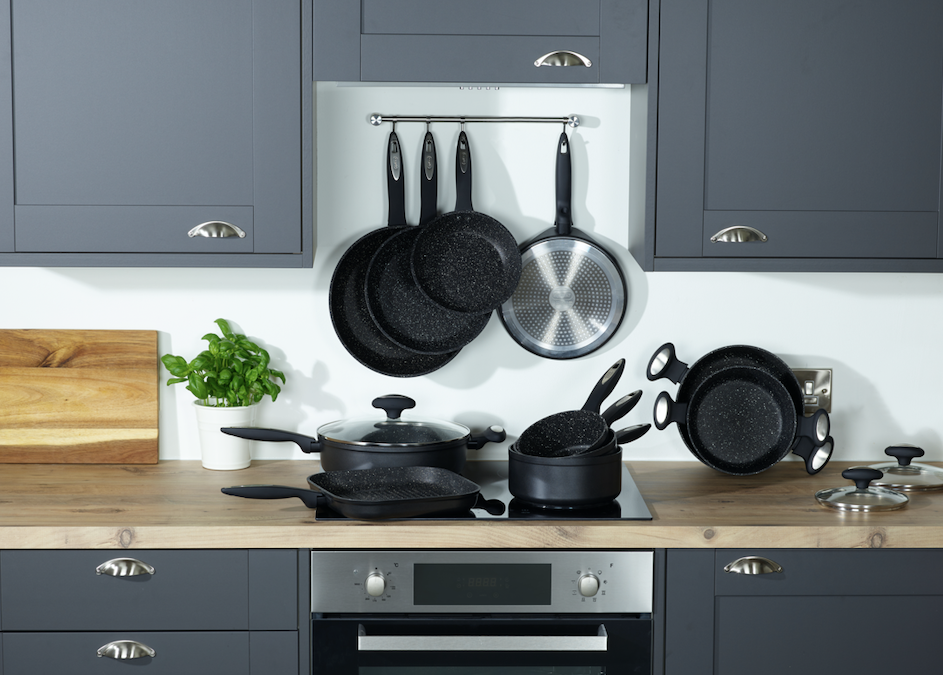 Whether you're building up your own collection of essential pots and pans or looking for the perfect gift for a foodie friend, take a look at our list of cookware for every kind of cuisine. From baking and slow-roasting to whipping up a sizzling stir fry, the right type of pots and pans can enhance flavours and get the most out of your dishes.
A non-stick frying pan
A frying pan is a versatile piece of equipment you can use for a whole host of dishes. Whether you're a crepe connoisseur or just want the ultimate fried egg for breakfast, our frying pans come in a range of sizes so you can adjust your portions. 
A non-stick frying pan can give you the confidence to cook at high temperatures, knowing you'll get perfect results every time. No need to worry about food getting stuck on the pan's surface. Non-stick cookware is also an excellent choice for creating healthy dishes. The naturally slick surface means you can get crisp, tasty results without using too much oil or butter.
Zyliss Ultimate Non-stick pans feature a unique textured surface and advanced Swiss coating technology that's free from PFOA. Zyliss Superior Ceramic pans are free from PFOA and PTFE due to their innovative coating technology too. Healthier for you and kind to the environment whilst also 3 times as long-lasting so you can slow fry or simmer foods without any worry of sticking.
A saucepan
What kind of pots and pans set is complete without a saucepan? The depth of a saucepan makes it the perfect apparatus for heating liquids and foods with a high liquid content. 
The most effective saucepans have walls that are as thick as the base to ensure even heat distribution.
Our 3 piece saucepan set is a great way to make sure you have the most suitable sized saucepan no matter what you're cooking. Small pans are ideal for heating up single portions of baked beans. If you're preparing a large batch of pasta sauce, on the other hand, you might benefit from a large saucepan with a lid. 
An oven dish
Just as with cooking on the hob, finding the right sort of cookware can help you get the best results from your baking. A glass or ceramic oven dish is ideal for baking pies and layered dishes that need to heat evenly. They'll retain the temperature to keep your lasagnes, pasta bakes, and apple crumbles piping hot for serving. 
Just be careful not to transfer a hot oven dish to a very cold surface — sudden temperature changes can cause the glass or ceramic to crack.
A wok
A wok is the go-to for flavoursome, crunchy stir-fries. Why? The wide shape means you have enough room to move your veggies, meat, and noodles around, so they cook evenly. Room to stir also allows you to distribute delicious seasonings throughout.
Did you know you can use a wok for deep-frying, too? The large volume can hold lots of ingredients, with space for oil.
A saute pan
A saute pan has taller sides than other frying pans, making them a great option for searing foods at high temperatures. You can turn up the heat without the worry of oil splashes and splatters. The wide surface makes a saute pan a multi-use tool. 
Many saute pans come with lids to seal in the heat and let the flavours of your ingredients infuse. As an added bonus, our Zyliss Cook 28cm Non-stick Saute Pan is oven safe so you can transfer it straight from hob to oven for easy reheating. 
A large stockpot 
If you're looking to prepare a big batch of soup or stew, a large stockpot might be your best pot option. With plenty of room to heat up veggies, meat, or pasta, you can cook ahead for the week or store extra portions in the freezer to use at a later date. 
A non-stick stockpot is suitable for sauteing an onion base without the risk of a burnt surface. Then you can top up with whatever nourishing ingredients you fancy and simmer. Choosing a stockpot with a lid, like our Zyliss Cook Ultimate Stockpot, means you can leave your soup or stew to slowly bubble away, sealing in all those flavours. 
Baking sheets 
Baking trays are, of course, ideal for delicious cookies. However, they also make a great vessel for roasting veggies and crispy potatoes. Flat baking sheets are good for spacing out biscuit dough with room to spread. For roasting vegetables or other ingredients, however, a baking sheet with a raised rim can prevent any oil spillages and keep everything contained.
Some baking sheets have a non-stick surface, while others may need baking parchment or a bit of oil for best results. Why not invest in a silicone pastry brush to get a light, even coating of oil without excess?
A Dutch oven 
A Dutch oven is a durable and heavy-duty pot with a lid and thick sides. These cooking pots are traditionally made from cast iron. However, many modern models either have a porcelain or ceramic coating to give them a non-stick surface.  
Dutch ovens feature tight-fitting lids to keep in moisture and flavour. They are an excellent choice for recipes that call for heavy searing followed by slow cooking. You can brown meat or vegetables, then either braise the ingredients in the oven or simmer them on the stove. You can also use a Dutch oven for hearty stews, hot pots, and chilli dishes.
Pots and pans for every occasion
No matter what kind of meal you're whipping up, the most suitable cookware for the job will make the process smooth and hassle-free. The best pots and pans are made from high-quality materials. They're practical, durable, and comfortable to use — these are all things to consider when choosing kitchenware.
Having a collection of essential pots and pans at the ready means you can be prepared for any recipe! Discover our range of Zyliss cookware.
------
Liked this? Read more related articles from the experts at Zyliss: