Creamy Braised Chicken in Wine with Tarragon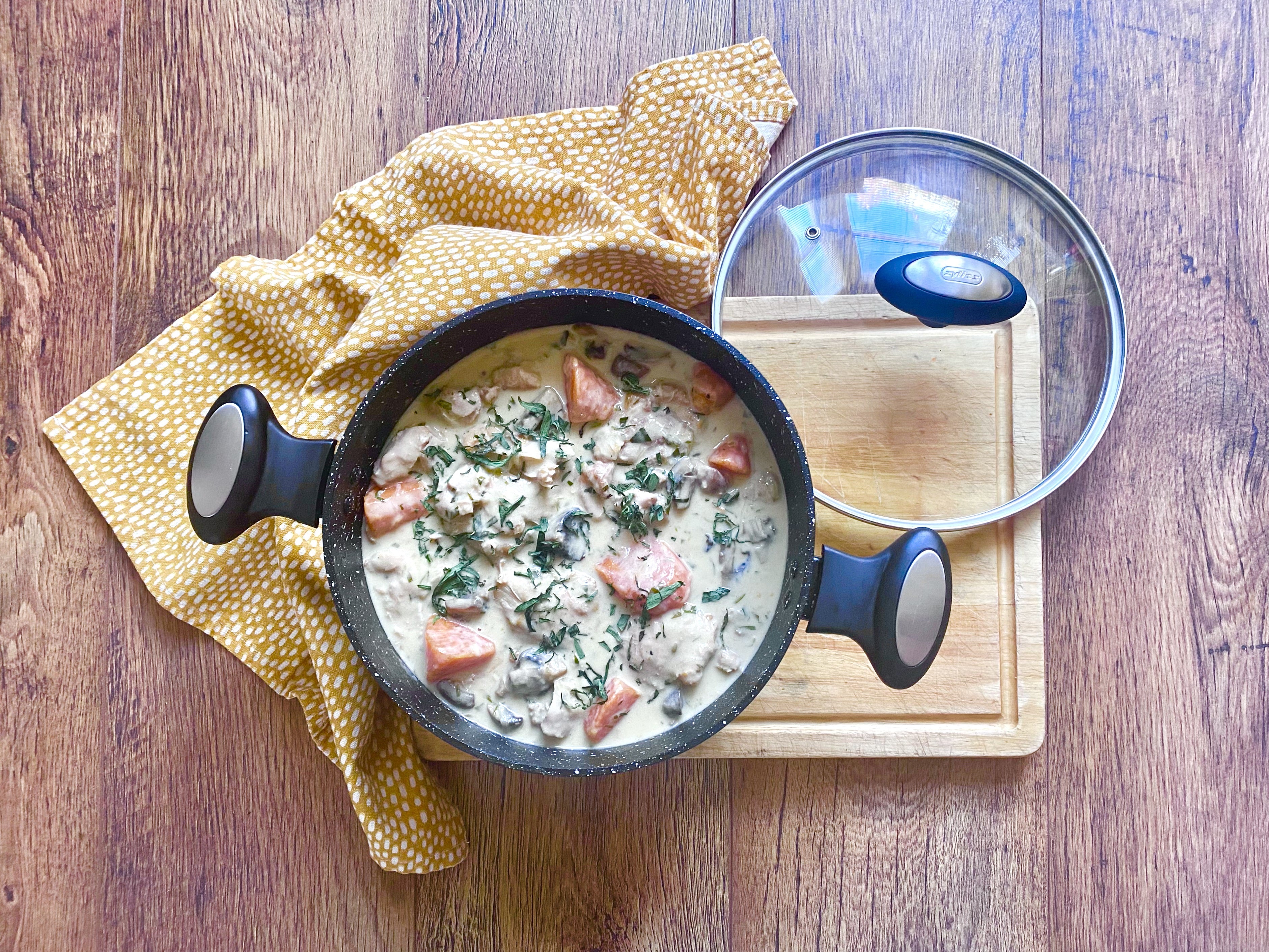 by James Bacon @jamesbaconcooks
Creamy braised Chicken in Wine with Tarragon, Garlic and Rosemary Hassleback Potatoes, Tenderstem Broccoli.
On a cold dark November evening, there's no dish more comforting for my girlfriend than Creamy Braised Chicken in Wine with Tarragon! This decadent casserole sees Chicken Thighs slowly cooked until falling apart, tender Carrots and Mushrooms all in boozy White wine and cream sauce brought alive with the delicate aniseed flavour of Tarragon.
Prep: 30 mins
Cook: 1 hr. 10 min
Difficulty Easy
Serves 6 
Kitchen tools needed: Zyliss ultimate stock pot (pictured) 28cm 3 piece knife set with board  Zyliss nonstick bakeware, chopsticks, slotted spoon

Ingredients for the Braised Tarragon Chicken
2kg of boneless and skinless chicken thighs (free range preferably)
4 medium banana shallots, halved and sliced lengthways
3 Cloves of garlic, grated
2tbsp olive oil
1tsp of fennel seed
3 large carrots, sliced diagonally
250g of chestnut mushrooms, quartered
1l of chicken stock, a good quality stock cube is fine for this
350ml of white wine
200ml of double cream
2 good handfuls of fresh chopped tarragon, just leaves, not the stalks
a good few twists of salt and pepper
2-3tbsp of cornflour
Ingredients for the Garlic and Rosemary Hasselback Potatoes
New potatoes
4-5 garlic cloves, peeled and left whole
3-4 rosemary sprigs
2-3tbs olive oil
lots of sea salt
Start by trimming any unwanted parts of the chicken thigh, but leave whole and pat dry with kitchen paper. This step will really pay off when eating the dish. Heat a large casserole dish, add the oil, season (with salt only) and fry the chicken thighs on a high heat to get as much colour as possible in batches and set aside in a bowl
Reduce the heat to medium and fry the shallots until soft for 4-5mins, add the fennel seeds and garlic and cook for a further 3mins. Add the wine to deglaze the pan and let reduce for 2 mins
Add the chicken, carrots, cushrooms and stock bring to the boil, reduce to simmer cover and cook on a low heat for 1hr
Pre heat the oven to 200 degrees. For the hasselbacks, you'll need a sharp knife and two chopsticks. Place the chopsticks either side of a potato and slice down at 2-3mm increments - the chopsticks will stop the knife slicing the whole way through the potato. Place the potatoes in a large bowl and cover in the oil and season generously with salt 2-3 large pinches is about right, turn out on to a preheated Zyliss non stick baking tray and bake for 30 mins. Remove from the oven, shake gently, add the garlic and rosemary and cook for a further 20-30mins
The chicken should be cooked and this is where it gets a bit messy. Gently remove the chicken, carrots and mushrooms with a slotted spoon and reserve in a bowl, mix the cornflour with a little cold water and stir in to the sauce, turn the heat up and let the sauce thicken (if it doesn't thicken enough mix more cornflour until it does), add the cream and Tarragon and then return the chicken, carrots, and mushrooms and keep warm.
Blanch 2-3 tenderstem broccoli per person and then serve it all in bowls
To help with plating and portioning, first start with stacking up the hasselbacks, next distribute the chicken, then carrots and mushrooms and sauce, and finally the broccoli.